'A draw is very much possible'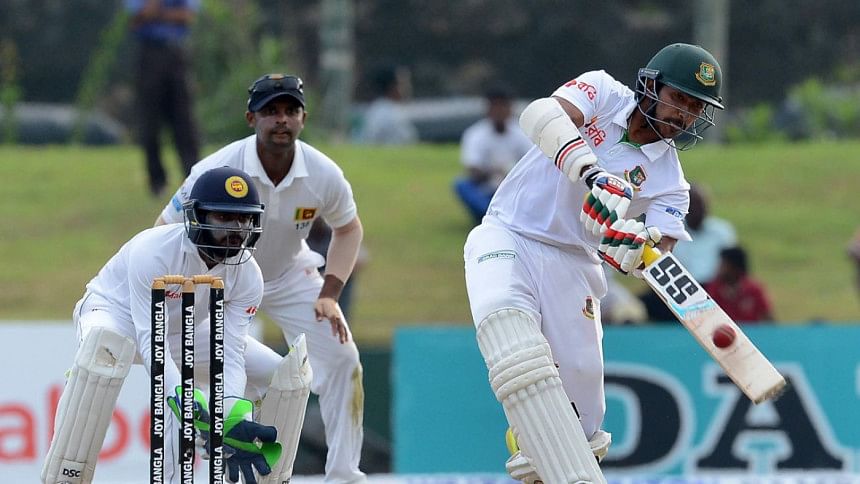 Given the situation they were in halfway through the fourth day of the first Test yesterday with Sri Lanka's lead reaching 400, Bangladesh could not have asked for a better situation than to have all 10 wickets in hand when play ended prematurely because of bad light with 11 overs left to be bowled.
By then Bangladesh had reached 67 without loss, with Soumya Sarkar batting on 53 off 47 balls and Tamim Iqbal keeping him company on a 44-ball 13, and were 390 runs adrift of an unlikely win with a maximum of 98 overs to bat on the final day today.
Bangladesh's ace all-rounder Shakib Al Hasan, who had one of the more fruitless Tests with the ball with three wickets for 204 runs in 57.1 overs of bowling across both innings, was happy with the start the openers provided and thought that a draw was a realistic possibility.
"Draw, since we still have 10 wickets," Shakib said when asked during the post-day press conference what the most realistic outcome was. "I think we need two or three partnerships. The first session is very important. The whole day will depend on how we play the first session. If we survive the first session, [losing] maybe not more than one wicket, I think then we can reassess the situation and look from there on."
Although he said the wicket was still good for batting, he did not seem to be thinking about a win, saying it would be huge for Bangladesh if that did happen.
"At the same time we have to think of playing session by session; not look at the end result. If we try too many things at the start of the session, we might lose a few wickets and end up losing the game.
"Of course on the fifth day the pitch may behave differently. The ball has started to turn a bit now, so it may turn more tomorrow. But I think our batsmen are capable and since we still have 10 wickets, we genuinely believe that if not a result, a draw is very much possible."
The left-hander believed the way Tamim and Soumya batted yesterday evening was a good blueprint for the rest to follow.
"Every batsman coming to the wicket has to try and bat [for a] long [time], and also score runs because that increases a batsman's confidence and he becomes more comfortable. You cannot just defend or just attack. It has to be balanced, like Soumya batted today. He did not play any loose shots but he had a good strike rate.
"At the other end Tamim also batted very well. Maybe he did not get that many bad deliveries so he took a bit of time to score runs. Hopefully they can repeat it tomorrow and those of us batting later can also repeat it," explained Shakib. "The whole team wants them to bat as long as possible, then it becomes easier for the rest of the batsmen."
Although the Sri Lankans plundered runs almost at will and -- other than Shakib's dismissal of Asela Gunaratne -- all the wickets fell because of the batsmen's rush to score, the all-rounder thought all the bowlers had done well.
"All the bowlers put in a special effort on a wicket like this. You won't be successful every time, but the desire was there, and that is important. Mustafizur [Rahman's] return is very good for us. [Mehedi Hasan] Miraz has been bowling well from his debut. Obviously one or two spells will not be good, for any bowler. But overall, not just them, but Subashis [Roy] and Taskin [Ahmed] also bowled well.
About his own performance, Shakib, who had never before conceded 100-plus runs in both innings of a Test, was philosophical.
"I would have felt better if I got wickets. I bowled so many overs. But that's okay, it's not as if every time will be a good time. There is an innings left. I was batting well in the first innings, so I will try to bat well in the second innings and at the same time bat long for the team."