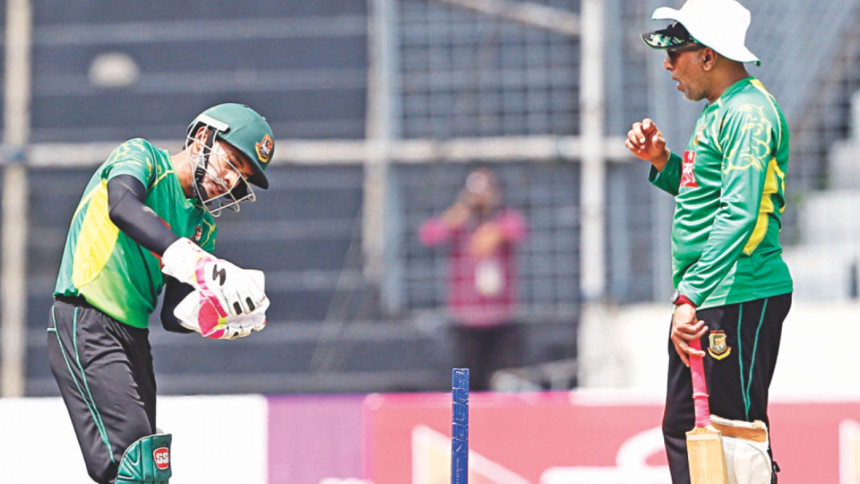 Mushfiqur Rahim may be one of the most consistent and hardworking batsmen of the national team. But in the last year or so he has been making headlines for a few unfortunate reasons.
He was heavily criticised for not finishing the game against India in the World Twenty20. Soon after, sections of the Indian media came down hard on him after he posted a tweet celebrating India's defeat against the West Indies. He was compelled to delete that soon after.
He was at the centre of discussion after Bangladesh's defeat to Afghanistan in the second ODI as well, when he missed a crucial stumping chance in the second-last over of the second ODI.
It therefore was not a surprise when a question was raised regarding the player during the pre-match press conference ahead of the third and final ODI against Afghanistan at Mirpur yesterday. Is the team a bit concerned about Mushfiqur?
Bangladesh captain Mashrafe Bin Mortaza however said that he had no complaints about the wicketkeeper-batsman.
"Look, each person has a different thought process. If you look at Mushfiqur's professional aspect, you will see that he is a step ahead of all of us. Mushfiqur gives a hundred per cent from that aspect. If you have complaints about him, then you can have complaints about us as well.
"It's not right to blame Mushfiqur for the defeat. Had we scored 20 more runs in that game, we would have won that match," explained Mashrafe.
"With regards to his personal decisions, I can't say much. For instance, his decision not to talk to the media. That's his call and I can't say anything about that. But if you talk about his attitude and professionalism as a player, I have no complaints. We are not concerned," added Mashrafe.