'Want to get better in Tests'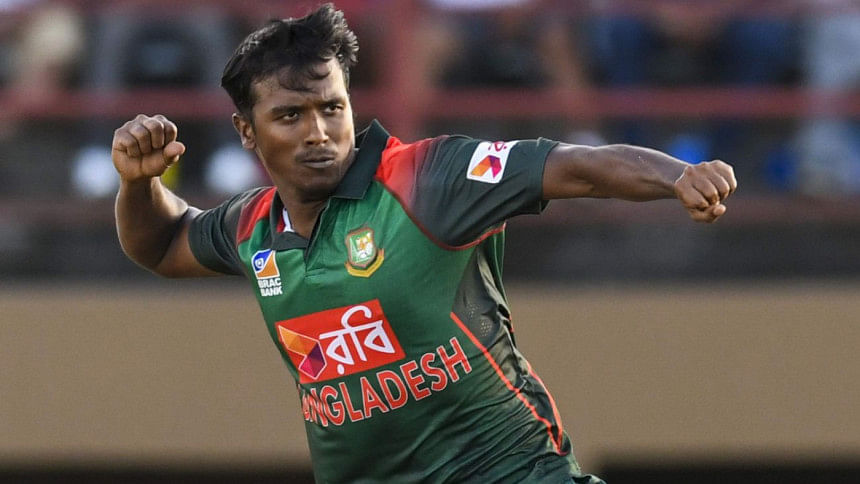 There were high expectations for fast bowler Rubel Hossain since making his debut for Bangladesh in 2009. The cricketer from Bagerhat has gone through many ups and downs in his career and is now the side's second-most experienced pacer after Mashrafe Bin Mortaza. However, despite having all the attributes of a good fast bowler, Rubel hasn't quite been able to lift himself to the next level. The 28-year-old, who played a vital role in the third ODI against West Indies to help Bangladesh clinch the series, spoke to The Daily Star's Mazhar Uddin about his career and many other aspects in an exclusive interview.
The Daily Star (TDS): Being the second-most experienced fast bowler in Bangladesh, how do you try to live up to the expectations?
Rubel Hossain (RH): Obviously I have been playing international cricket for the past nine years now and after Mashrafe bhai I think I am the most experienced fast bowler in the team. I know there are high expectations on me and also from the whole nation and I always try to fulfil that. It's also a big challenge for me to perform as an experienced bowler.
TDS: Do you think your injuries had an impact on your confidence?
RH: Yes, after my shoulder injury during the Test series against Pakistan [in 2015] I was out of cricket for over a year which was a very tough time for me. It's difficult for a pacer to make a comeback after any injury but I was determined to return strong and the selectors also kept faith in me as I was performing well before that.
TDS: Are you slightly disappointed in your performance in Tests when you compare it to your ODI record?
RH: To be honest, I try my best in all formats but in Test cricket a fast bowler needs to be consistent and hit a particular zone but my strength is to attack the batsman. But the reality is that I am unable to get wickets in Test cricket, which also hurts me. There are times when I bowled well but did not managed to pick wickets and ultimately people look at the scorecard to see who picked up the wickets. Obviously I can do better in Test cricket and will try my best to improve in this format.
TDS: You don't seem to bowl yorkers that often in recent times. Any reason behind that?
RH: The yorker is my strength and I am working even more in the nets and also working on how to bowl in the death overs. As you know I gave away too many runs in the penultimate over in the Nidahas Trophy, against Afghanistan in Dehradun and also against West Indies in the second ODI. To be honest it had a huge impact on me mentally as despite bowling well in the start and in the middle overs I went for runs in the late stage. I am trying to overcome that and the yorker is the biggest weapon in the death overs. But there are other situations in the game, such as the middle overs, and it also depends on the batsman as you won't be benefited by bowling yorkers in such situations. Obviously I don't want to repeat my mistakes.
TDS: Do you think you should have been in the elite group of five senior Bangladeshi cricketers considering the experience and ability you have?
RH: Why not? But it's difficult for a pace bowler to perform consistently as it's international cricket. But I am really inspired by Mashrafe bhai -- the way he has been performing in international cricket. The amount of experience I have I also feel sometimes that I should step up my game on a consistent basis.