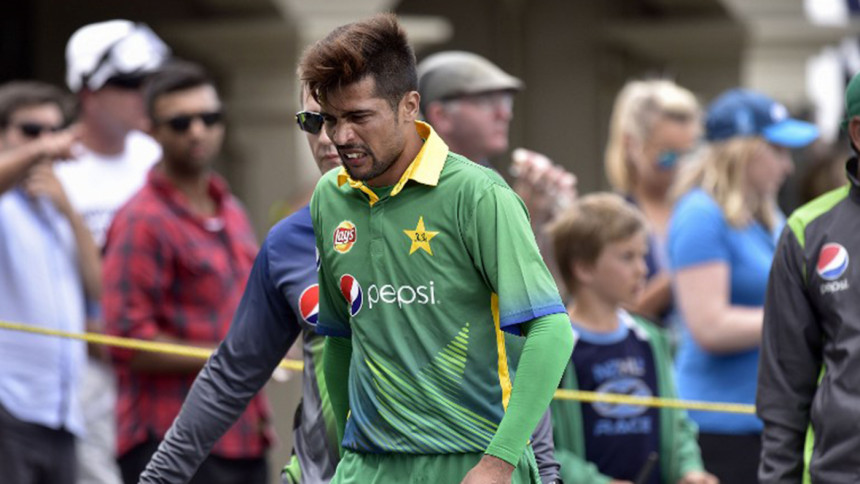 Pakistan fast bowler Mohammad Amir has been granted a UK visa and will travel with the team on June 18 for their tour of England and Ireland, the PCB announced on Thursday.
Amir was picked in Pakistan's 17-member squad for a four-Test series, which starts at Lord's from July 14. But there had been concerns whether he would be granted a UK visa after his involvement in the 2010 spot-fixing case, for which he was given a six-month jail sentence in England and a five-year suspension from the ICC.
The PCB had filed an application for Amir's visa on May 20 and was confident of an approval, which eventually came after 21 days; his application was also supported by the ECB. Amir had earlier applied for a UK visa in a personal capacity in 2014, but his request was rejected.
Amir is likely to make his Test comeback in the first match at Lord's, where the spot-fixing scandal occurred in August 2010. The bowler, on his first tour of England at the time, was the highest wicket-taker for Pakistan in the four-Test series, with 19 wickets at an average of 18.36. He also shared the Player-of-the-Series award with Jonathan Trott. In the preceding MCC Spirit of Cricket Series, Amir took 11 wickets in two matches against Australia.
Both England captain Alastair Cook and fast bowler Stuart Broad said they had no issues with Amir's selection in the Pakistan Test team. "Amir has served his time, he was punished for what he did and quite rightly so because we have to protect the integrity of the game," Cook said. "But I have no problems in playing against him at all.
Broad praised the skill Amir had shown in 2010. "I think he's served his time and the ICC have got their guidelines to what the punishments are for certain crimes and people have their opinion on that," he said. "At the end of the day as an England team to win a Test series like that is a brilliant feeling and you want to play against the best possible team you can and for quality of bowler I don't think there is much doubt that he is up there with anyone.
"I've not played him for six years but in 2010 he was a constant threat and he was Man of the Series I think. It swung round corners for him."