Bangladesh-India 'rivalry' a media hype: Shakib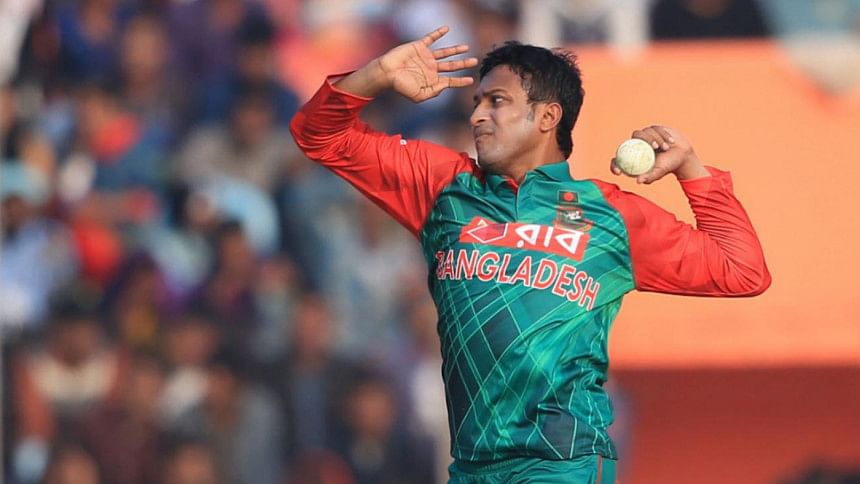 Bangladesh ace allrounder Shakib Al Hasan has said the so called rivalry between Bangladesh and India in cricket is a hype created by media.
The star cricketer from Bangladesh made the comment in an interview with Hindustan Times, which was published yesterday.
Shakib is now in India to participate in the Indian Premier League (IPL) for Kolkata Knight Riders (KKR).
When asked about his thoughts on the growing rivalry between the two teams, Shakib said it is mostly an off-the-field notion, and is nothing but a hype created by the crowd and the media.
On field, both the teams know that the better side will win, and try to play their best cricket, he said.
Regarding the World T20 campaign of Bangladesh team, Shakib said as a team they learned from every match and the campaign was not completely a disappointing one.
"Yes, you can say that we didn't achieve the results we wanted. But other than that we played good cricket. If we could have won one or two matches, the team would have looked different. Crucial situations happen more frequently in T20 matches and you get to learn a lot from them," he said.
"We know expectation will increase as we get better. It shouldn't be taken in a negative way. Instead, we should think on the lines that 'since they expect so much from us maybe we have that ability'. We take it positively," Shakib added.
When asked what was going on in his mind during the last few minutes of the game against India at Bangalore, he replied that when Mushfiqur Rahim got out after hitting a couple of boundaries, the first thing that went through his head was that Mahmudullah Riyad had to get a single at any cost.
"If he had got that, India would have had to bring up the field for the last delivery. The worst case scenario was if we didn't get a run then we could have at least tied the game. Such is cricket," he added.
As he disclosed that his closest buddies in KKR are West Indies spinner Sunil Narine and allrounder Andre Russel, he was asked whether West Indies cricketers are very popular with Bangladesh players.
In reply, Shakib praised the friendliness of the West Indies players and said "If I don't go to them, they will come to me. That itself can start a great rapport".