Tushar, Razzak a cut above: Mash
Young Liton Das surpassed Tushar Imran with a big double hundred to become highest run-getter in this season's Bangladesh Cricket League (BCL) but it is not a story of the ascension of young players in domestic longer-version cricket; instead it is one of two veterans standing tall and setting new standards.
It is not just the length of their journeys that helped them achieve landmarks of 10,000 runs and 500 wickets; as much is owed to their mastering of the art of patience that is required to win longer-version matches. These qualities of the two stalwarts not only gave South Zone a dramatic success in the last round, but also separated them from the three other teams in the competition.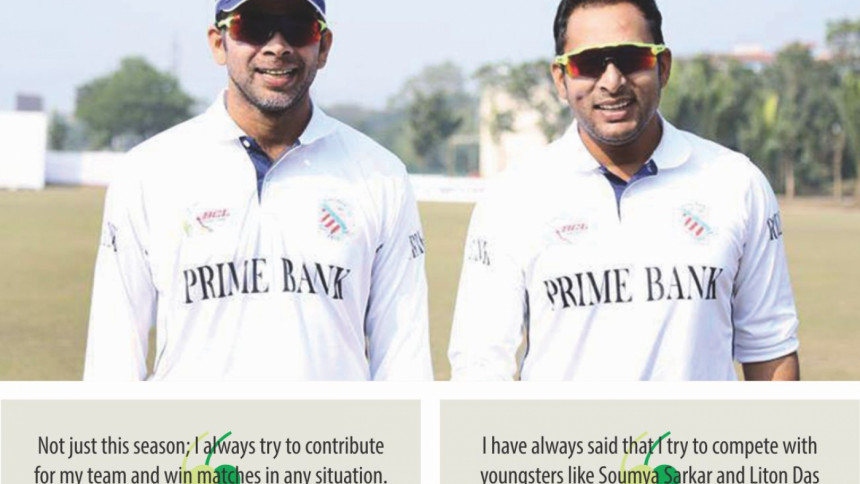 Besides stupendous batting from Liton, there were other batsmen like Mizanur Rahman, Nazmul Hossain Shanto, Abdul Mazid and Shadman Islam who made some headlines, but Mashrafe Bin Mortaza opined that Tushar stood head and shoulders above the young batsmen in terms of quality in longer-version innings. On the other hand, there was no one near Razzak, who finished as the highest wicket-taker with 43 wickets, followed by Shohag Gazi with 27 wickets.
"The difference is they know the art of longer-version cricket while the young players are yet to master it," said Mashrafe.
"Yes, many young players scored hundreds and double hundreds but they are still far behind Tushar. If you research Tushar's longer-version knocks you will find the craft of building an innings and it's not all about runs, but his management of innings is unique. In terms of real character of longer-version innings and the art of patience, the young batsmen are well beneath Tushar," he continued.
"I am not the right person to talk about their international careers, though I hope Raj [Razzak] can retain his place, as it's not in my jurisdiction; the selectors will decide but the way they have been performing sets a huge challenge for young cricketers. There is no doubt that if you want to be successful in longer-version international cricket you have to have the quality of these two cricketers," suggested Mashrafe.