Tigers into the blues again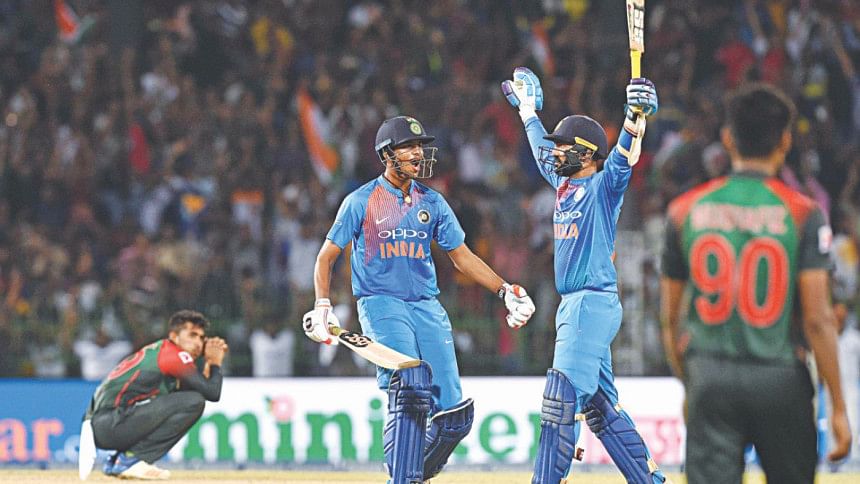 Tragic heroes they remain. After four abortive attempts the Tigers were tantalisingly close to winning a tournament of repute for the first time when they needed to defend five runs off the last ball. But then that unbearable emptiness, which was the case when they lost against Pakistan in the Asia Cup final and against India in the T20 World Cup, gripped them and the whole nation once more courtesy of a flat six from Dinesh Karthik that landed just over extra-cover.
The Nidahas Trophy T20I tri-series final at the R Premadasa Stadium yesterday had so many plots and sub-plots before it aligned in Bangladesh's favour after a fantastic 18th over from left-arm pace bowler Mustafizur Rahman. He bowled four dots, conceded one leg-by and took a wicket off the last ball, leaving India needing 34 runs from the last 12 deliveries to topple Bangladesh's fighting 166 for eight.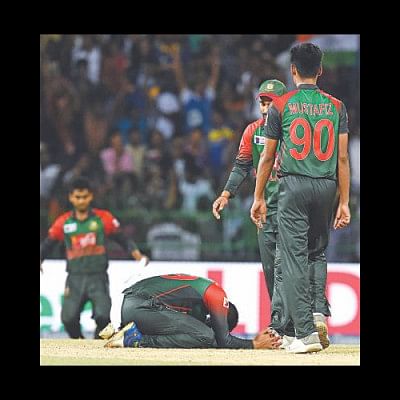 On strode Karthik and he swung the pendulum 180 degrees, much to the disbelief of the moribund Bangladesh fans. The talented right-hander had a tumble while collecting the player-of-the-final award during the presentation ceremony, which was what Bangladesh wanted when he was raining those three sixes and two fours in an eight-ball blitzkrieg for a mere 29. And it really hurt Bangladesh to an extent that the whole nation, which is preparing to celebrate independence of a neighbor ahead of its own Independence Day, suddenly found themselves attending a funeral of a dear one.
Bangladesh captain Shakib Al Hasan probably had two options to choose from for the penultimate over. He turned to Rubel Hossain, who had impressive figures of 3-0-13-2 going into his final over. The logic behind that was to put India in a situation of needing 20-odd runs from the last six balls. In that scenario, the pressure would be less on part-time medium pacer Soumya Sarkar, who bowled a tight line while filling in those three overs from off-spinner Mehedi Hasan Miraz.
But the moment Karthik hit the first ball from Rubel -- a low full toss on the off-stump for six over long-on -- runs cascaded and in the end 22 runs were slaughtered. It was not that Rubel bowled badly but had more to do with the brilliance of Karthik.
12 runs needed off the last over and Karthik was off strike. Soumya bowled three good deliveries after a wide. Bangladesh seemed to have the game in hand again after Vijay Shankar was caught in the deep for 17, trying to clear the boundary after hitting a four off the fourth.
Two Bangladesh fielders converged to take the catch. A mild contact, a wobble and finally Mehedi got hold of it. Bangladesh thought they were just hand-shaking distance away from laying their hands on that glittering Nidahas Trophy. But Karthik, who changed ends when the catch was completed, not only broke them with that final act but plunged them into despair that seemingly plumbs the depths of the nearby Indian Ocean -- inconsolable in the blues.
Even in those depths, however, there is some light. Bangladesh were down in the match on more than one occasion and fought back to come into a position where they were favourites to win. That is sign of sure, if slow, progress and it can be hoped that it will not always be a case of singing the blues.