Ready to build on Riyad's foundation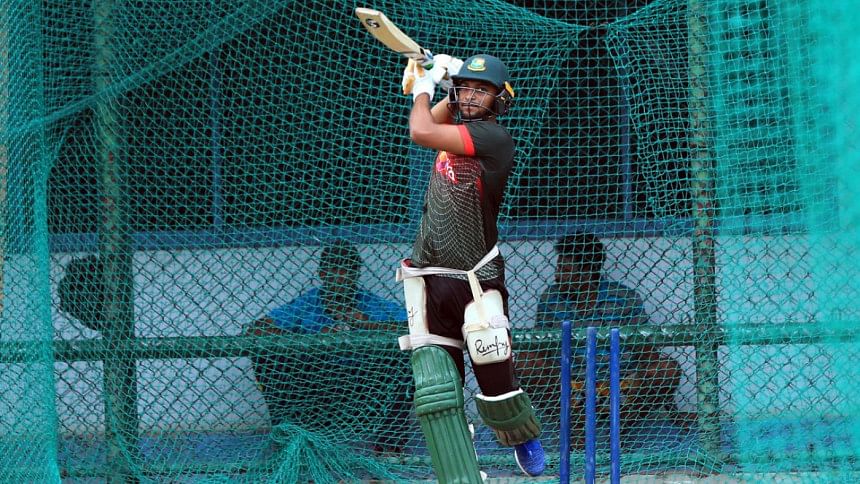 Bangladesh's T20I and Test captain Shakib Al Hasan said yesterday that after Mahmudullah Riyad fulfilled his promise of taking the Tigers to the Nidahas Trophy final, it was now about time for him to take it one notch higher.
"Riyad bhai fulfilled his target as the captain, but maybe I have a new target. I think goals are set realistically," the champion all-rounder told reporters ahead of Sunday's final against India.
Shakib missed the first three games of the tri-nation T20I tournament due to a finger injury, which he sustained during the tri-nation in Dhaka in January. However, the left-hander flew to Colombo before Friday's virtual semifinal against the Lankans, where Mahmudullah scored a magnificent 18-ball unbeaten 43. The right-hander hit a six off the penultimate delivery with six runs required, to pull off a thrilling two-wicket win which was marred by overflowing emotions with Shakib at the centre of that unwanted episode in the final over with Bangladesh needing 12 runs.
The incident involving Shakib took place after the second ball of the final over of the Bangladesh innings when he came to the edge of the boundary and asked his batsmen to come off the field. The Bangladesh team alleged that the square-leg umpire had signalled a no-ball following a second over-the-shoulder bouncer before changing his decision, prompting Shakib to call the batsmen back to the pavilion.
However Shakib, who was fined 25 per cent of his match fee and received one demerit point for his involvement in the incident, said that he and his team were looking ahead instead of delving into Friday's incident.
"What happened yesterday [Friday], let it remain like that. We don't want to discuss these things. The two cricket boards have had good relations for the last 10-15 years. The players have great relations too. We are all okay with it. We must move forward from this," said the Bangladesh skipper.
The skipper's attention was then again drawn to the final, particularly about whether the Tigers suffered from a bit of a mental block after getting to within touching distance of a trophy. They have previously made it to the final of four multi-nation tournaments, but have failed to win even one.
After spouting the usual line of it being 'just another match albeit an important one', Shakib added: "I would hope that none of our players have that mental block. It would help us to play well. If we think it is a big final against India, then it is pressure. Rather we should think about it as a bat versus ball contest."
He also believes that the experience from three lost finals will help the side but cautioned that they must not take on any undue pressure.
"Experience always comes to good use. We need to ensure good cricket. We are not thinking too far ahead. We have to be relaxed and open-minded. It is important to be mentally free to do well in T20s. I hope no one takes any pressure, and stays focused on the process."
The southpaw added that the toss would not have much of an impact on their game plan as long as the players remain focused.
"The wicket doesn't really change much. If we bat first, our focus will be to put up a good total on the board. If we bat second, then we have to stop them for a reasonable score," was his straightforward assessment.
The 30-year-old also hinted that Bangladesh would be tailoring their plans to the weaknesses and strengths of each Indian batsman, saying that technology was being used to decode each of the opposing players.