It would not be an injustice in any way if the Cricket Gods allow Mashrafe Bin Mortaza to lift the Asia Cup trophy with his firm hands at the Dubai International Cricket Stadium today to bring smiles on the faces of the millions of cricket-crazy people in our country.
However, the question is how realistic that dream is. India will go into the final today tagged as 'overwhelming favourites' after enjoying an unbeaten run in the tournament while the Tigers endured a bumpy ride.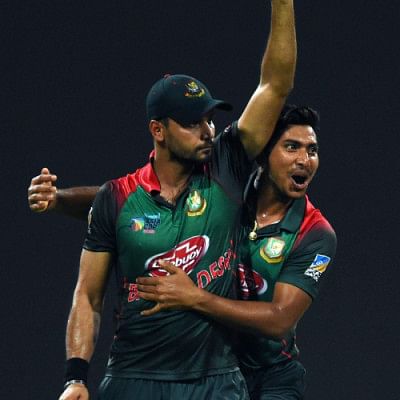 While it is true that Bangladesh have overcome many odds to reach the final, many will say: "It's India man! And don't forget there is no Shakib Al Hasan or Tamim Iqbal."
However, a Midas touch from one man can change all the equations and realistic views.
He has given proof of that many times in his fairytale career and he did it again in this tournament too with a traditionally charismatic approach.
When Bangladesh left the country, they had high hopes of achieving glory. Things took a turn and there was plenty of drama in the opener against Sri Lanka, all of which was eventually overshadowed by Tamim Iqbal's unbelievable courage. However, the man who motivated the left-hander was none other than his inspirational skipper.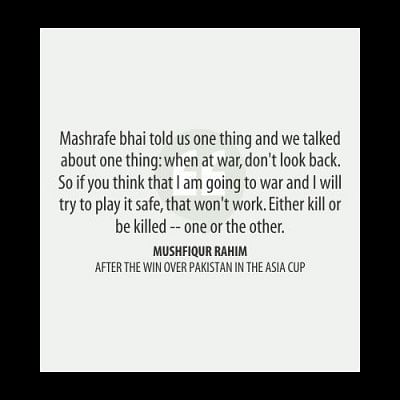 Tamim's loss had a huge impact as the two new openers failed to find their feet and two defeats to Afghanistan and India made things difficult for the captain, who was tasked with putting the pieces back together and reigniting their hopes. Then the controversial decision to include openers Imrul Kayes and Soumya Sarkar apparently unsettled the team but hope never faded as that colossal man was at the helm.
He stuck to two young openers despite their failures and the hard-fought victory against Afghanistan in the Super Four promised something good was coming to the team.
Alas! The Cricket Gods threw another monumental challenge at the man as Shakib Al Hasan was ruled out ahead of the do-or-die match against Pakistan.
The rest is history.
Mashrafe's stunning catch to dismiss dangerman Shoaib Malik might be publicised most but the way he charged up his men and marshalled the fielding, apart from a good bowling effort, only provided more proof why this man is special.
So, do not only consider logistics when this inspirational man is around. If anyone deserves this prestigious trophy, it is Mashrafe, even more so at the fag end of his career.