Advantage or desperation?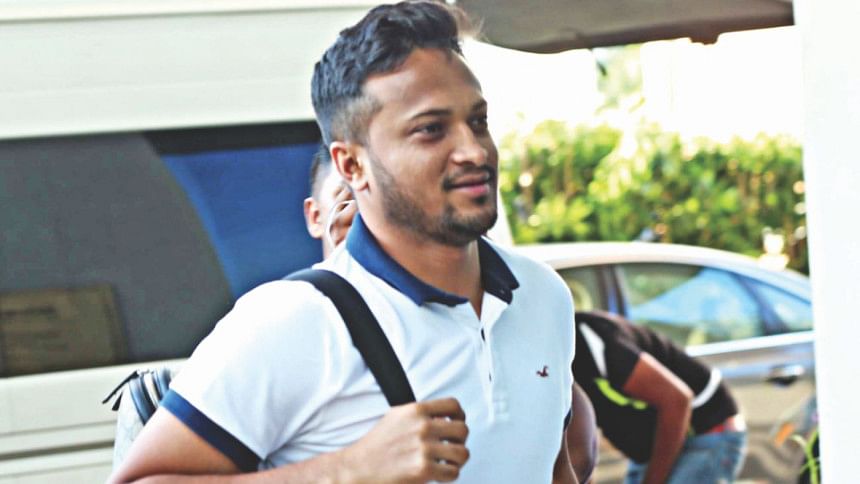 The morning of the do-or-die Nidahas Trophy game against Sri Lanka finds the Bangladesh team bolstered by the presence that they had so missed and craved over the best part of a cricket-filled last two months. Shakib Al Hasan checked into the team hotel in Colombo yesterday afternoon, and for the first time since injuring his left little finger in the home ODI tri-series final against Sri Lanka on January 27, there is a real possibility that he will take the field today in the virtual semifinal to help Bangladesh fight it out for a spot in Sunday's final against India.
Shakib had an appointment with an Australian surgeon on March 9 who, according to Bangladesh Cricket Board Physician Debashish Chowdhury gave the all-rounder an anti-inflammatory injection. While Chowdhury did say on March 12 that it would take Shakib seven to 10 days to be able to partake in sporting activities, he added that the decision of when to return would be left to him.
Given how influential the Bangladesh Test and T20I captain's presence is to the side's fortunes, the manner of his return will be crucial. Is Shakib back of his own will and conviction or has he been rushed in as a last-ditch gambit by the BCB and team management? It was a distinction made by someone who has intimate knowledge of Bangladesh's cricketing impulses -- Chandika Hathurusingha, who before his current gig as head coach of Sri Lanka was in charge of Bangladesh from mid-2014 to late 2017.
"As I said at the start there is nothing in store in both teams that can surprise," said Hathurusingha yesterday, on the eve of potentially the sides' last face-off in a series of nine encounters across formats this year alone. "The only thing that I can think of is, if Shakib is half fit, it's a desperate measure and if he is really fit they have an advantage and we all know that he is the number one all-rounder and a quality player."
It is an interesting comment from the coach and finds an echo in his words back in late January when, in the aftermath of Shakib's injury-forced absence from the two-Test series between the sides in Bangladesh, the selectors included as many as six spinners in the squad. The Sri Lankan had then said that Shakib's absence 'sent the cat among the pigeons' and Bangladesh's subsequent implosions proved him right.
"It's an advantage for them because they can have a different combination when Shakib comes in," Hathurusingha added before Sri Lanka's practice at the R Premadasa Stadium in Colombo yesterday. "They can have a batsman if he wants [to play as a batsman], they can have a bowler if he bowls. Our target is to tackle his four overs when he bowls and how we are going to restrict him when he is batting."
Shakib did have net sessions in Dhaka before leaving, and interim coach Courtney Walsh insisted yesterday that he was always part of the set-up and will be a shoo-in to the squad if passed fit. On the other hand, there is the precedent of Shakib being part of the squad selection process ahead of February's T20I home series against Sri Lanka and was therefore party to the decision to be included in that squad, so his eventual non-participation casts a bit of doubt about the process by which these decisions are made.
A fully committed Shakib is an asset and an advantage, but a Shakib forced into his role may not be as big a boon. If Shakib is passed unfit or even if he performs half his role, it will be telegraphing Bangladesh's desperation to a coach eager to receive that message. If things turn out more positively for Bangladesh, however, it may be the first time that they manage to wrong-foot Sri Lanka and Hathurusingha this year. We will know in a few hours.