'Hopefully we can do well at the World Cup': Mashrafe
The Tigers return home after Champions Trophy exit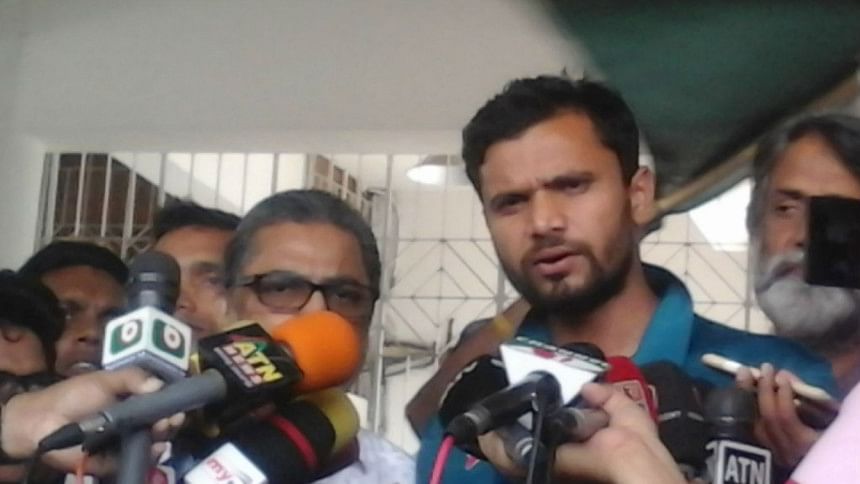 The Tigers have returned home after being away for almost seven weeks as they landed at the Hazrat Shahjalal International Airport on Saturday morning.
Shakib Al Hasan and Mahmudullah Riyad, the two heroes who took Bangladesh to the semifinal of the ICC Champions Trophy, took a different flight and will land in the afternoon.
Skipper Mashrafe Mortaza talked to reporters briefly after the team returned from the Champions Trophy journey.
The Bangladesh captain said: "The Team will be more responsible in the future; specially if we are thinking of the 2019 World Cup then the team is likely to be more matured in two years' time.
"It's been a good achievement to get to the semifinals of the Champions Trophy."
Talking about the India game Mashrafe said: "Bowlers will have to learn how to bowl in flat wickets. Even though we couldn't do it this time maybe we can use the experience in later matches.
"This is the time to improve the mental and physical side of our game and also to attain skills and abilities.
"We would like to learn from our mistakes and be able to defend  a total by bowling as a group. Hopefully we can do well at the World Cup," the skipper concluded.
Before Bangladesh team boarded the team bus at Birmingham on Friday, the Tigers' coach had a talk with the TV reporters.
Coach Hathuresingha was concerned about how some of the players performed in the tournament.
He was dissapointed with the performances from the youngsters of the team. However, he refused to give up on them and said that they will be given chances to improve their game.
Regarding Sabbir he said: "He needs to improve, it is as simple as that. Coming in to bat at number three is a difficult task but I have faith in him."
Sabbir Rahman, Soumya Sarkar, Mosaddek Hossain and Mustafizur Rahman have not been able to shine like some of the experienced members in the team.
The Coach was very happy with the performances from the experienced players in the side. For Coach Hathure, the individual performances were good but the side couldn't perform to it's potential.
The Tigers' coach isn't going to make any huge changes to the side. The best possible team played in the Champions Trophy according to him and he is planning the 2019 World Cup with the same setup.
According to chief selector Minhazul Abedin Nannu, Bangladesh could not handle the pressure against India but he heralded the Champions Trophy experience as a success for the Bangladesh team.