Bowled by a beamer and a bumpy coach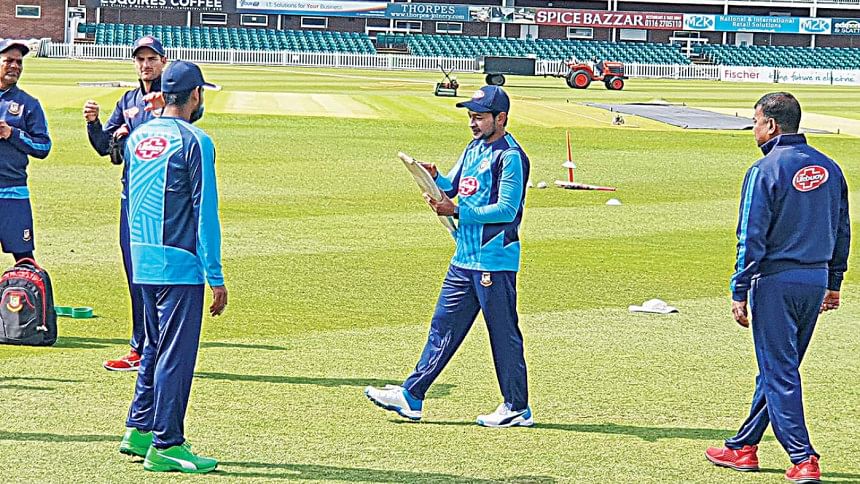 "C'mon guys, yesterday was a holiday… it's back to work today," was batting consultant Neil McKenzie's rallying cry to the Bangladesh players as he and Ryan Cook started fielding practice at the Leicestershire County Cricket Club ground yesterday morning.
Not just the Tigers, but the prevailing conditions seemed to have bought into the former South African batsman's words as well. Sunday was a gloomy day that saw just Shakib Al Hasan and Mushfiqur Rahim practise against some teenage Academy bowlers, but in fine, mostly sunny conditions yesterday most of the Bangladesh contingent in Leicester had a full practice session.
Moreover, away from the hubbub of formal World Cup preparations -- set to start in Cardiff from Friday -- laughter was the general refrain from the Bangladesh players. A lively warm-up game of kicking a football around in a circle led to fielding practice and everyone was keyed up during the session, with Cook regularly shouting encouragement like 'Mushy's on fire today!' or 'Well done Fizz!'
At one stage when a bump in the outfield caused Rubel Hossain -- the only one not having a great fielding day -- to stumble, Cook said: "The outfield's a bit like our head coach Steve Rhodes… bumpy." It was obviously an inside joke, and perhaps some things should remain secret.
The senior members -- vice-captain Shakib, Mushfiqur and Mahmudullah Riyad -- had lengthy batting sessions at the centre wicket while the rest practised in the outer nets. Rubel and Mustafizur Rahman were among the bowlers -- the others being net bowlers -- who were bowling to the seniors. Mustafizur looked in his element, working up a bit of pace and bouncing Mushfiqur on occasion.
In the outer nets the likes of Mohammad Mithun, Mehedi Hasan Miraz, Mosaddek Hossain and Mohammad Saifuddin were practising, aided by other net bowlers, spin consultant Sunil Joshi, Rhodes and Cook. Rubel, having finished his bowling at the centre wicket came for a bit of batting, and was soon followed by Mustafizur.
Rubel, not the most proficient with the willow, provided the comic moment of the day. A net bowler bowled a slower full toss and Rubel, thinking it a beamer, ducked only to be bowled, with the ball hitting halfway down the middle stump.
"Aah, shabash!" came the laughing cry from Mustafizur. No more proficient than Rubel, it was his turn to bat next.
"This is what will win us the World Cup," Rhodes said as Mustafizur took strike, and proceeded to miss a series of deliveries. From Bangladesh's perspective, one would hope that Rhodes was tapping into the spirit of the day and joking, instead of the Tigers' World Cup hopes actually being pinned on Fizz's bat.