Shakib delighted to meet Muralitharan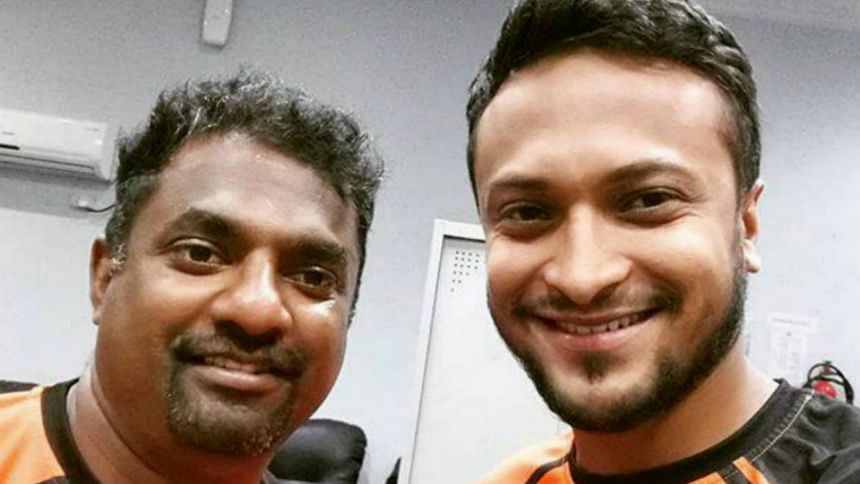 Sri Lanka's Muttiah Muratlitharan had dominated cricket with his impeccable genius for over a decade. His exploits garnered world-wide recognition and Bangladesh's ace all-rounder Shakib Al Hasan posted a photo with the Lankan legend as a mark of respect.
Shakib is set to start a new adventure with IPL outfit Hyderabad Sunrisers after playing for Kolkata Knight Riders for the past seven editions of the tournament. Shakib's Surisers are set to take on Rajasthan Royals today in their opening fixture of the money-spinning tournament.
Shakib is getting acquainted with his new teammates and took the opportunity to take a picture with Sunrisers bowling coach Muralitharan. Shakib simply captioned the image with hashtags 'Legend' and 'Respect'.
Murali has been coaching the Sunrisers for the past two years and led them to their maiden IPL title in 2016. The bowling coach was hopeful that Shakib all-round abilities will come good in this  tournament and said: "This year, definitely we'll play two spinners because Shakib is an allrounder. That's the most important aspect for us because we can get some batting as well and it helps the balance of the side.
"Shakib has also done well with every team he played. The best part is that Shakib can bowl well in both Powerplay and death overs.," Muralitharan said of Bangladesh's ace all-rounder.
Shakib was delighted to meet Murali, who still holds the world-record for most wickets in Tests and ODIs. His overall wicket record in both formats combined stands at a whopping 1334 wickets. No doubt that Shakib's hashtags are justified.