Shakib achieves greatness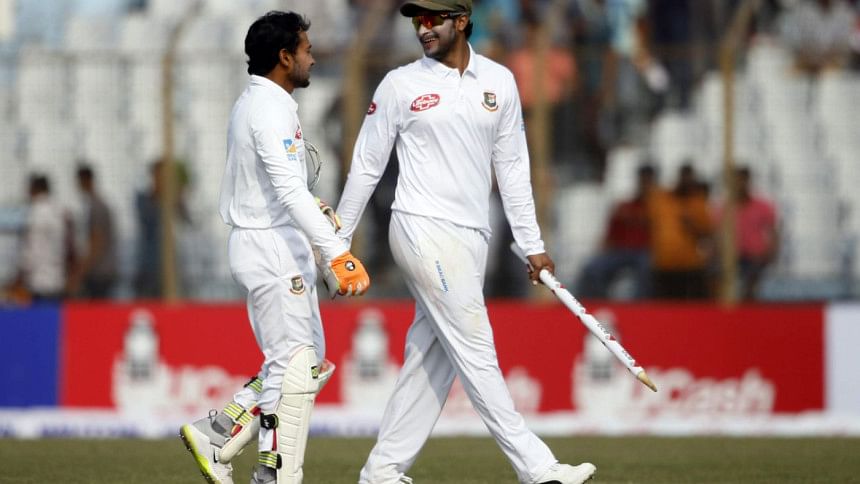 Still just in its 19th year of Test cricket, it is understandable that the media and fans hail records that are Bangladesh-specific and once in a blue moon, records like Nayeem Hasan becoming the youngest cricketer in all of Test cricket to take five wickets on debut are rightly celebrated with gusto.
Conversely, no one has dared talk about a Bangladesh player taking his place among Test cricket's hallowed pantheon of greats. Yesterday, by becoming the fastest all-rounder to achieve the double of 2,000 Test runs and 3,000 Test wickets, Shakib Al Hasan established himself as one of the undoubted greats.
Unlike young Nayeem's record or Shohag Gazi becoming the only player to take a hattrick and score a hundred in the same match -- both of which are records born of brilliance on a day or two, Shakib's record has been built over a career extending back over 12 years, a prerequisite for being called great in cricket's oldest form.
He just pipped England's greatest all-rounder Ian Botham -- whose replacement the country are still pining for 26 years after he played his last Test -- to the mark by one match. The other three great all-rounders of the 1980s -- Imran Khan, Kapil Dev and Richard Hadlee -- make up the top five but Kapil comes closest on 73 matches to Shakib's 54.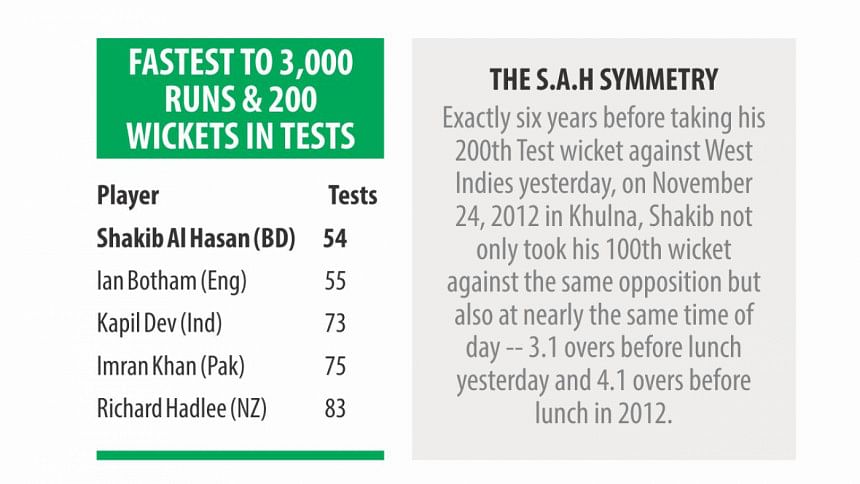 Other all-timers like Sir Garfield Sobers and Jacques Kallis come lower down the list. That is not to say that Shakib is a better player than the names mentioned -- Sobers and Kallis are two of the greatest batsmen to play the game; Imran and Hadlee two of its greatest bowlers. But Shakib's numbers, longevity and consistency make it hard to argue that there has been a better all-rounder -- the strictest definition of the term being that the player will have to justify a place as both a specialist batsman and a specialist bowler. Unlike many feted contemporary and past all-rounders, Shakib's split between batting and bowling ability is as close to 50-50 as it ever was in Test history.
Yesterday, the day Bangladesh won the first Test against West Indies in Chattogram, Shakib had Kieran Powell stumped to reach 200 wickets and achieve the historic double.
"Maybe it feels a bit [special]. When we win the match, I feel happier. If we lost, the questions would have been about the loss instead of the achievement. So the two are related," said Shakib, famously unimpressed by personal achievements, when asked after the match how it felt to be on the top of such an august list.
It may be considered coincidence, or by some as a divine construction of symmetry, that Shakib reached his 100th wicket against West Indies, exactly six years ago and at about the same time of day. It is no coincidence, however, that in another rarity for all-rounders, his run-scoring and wicket-taking has progressed at a parallel pace. When he took his 100th wicket Shakib had 1818 runs to his name. Six years on, he has 3727 runs at the time of his 200th wicket -- both numbers roughly doubled.
It is no coincidence; just the painstaking construction, brick by brick, wicket by run, of Bangladesh's first truly great Test career.