No point hiding from that: Shakib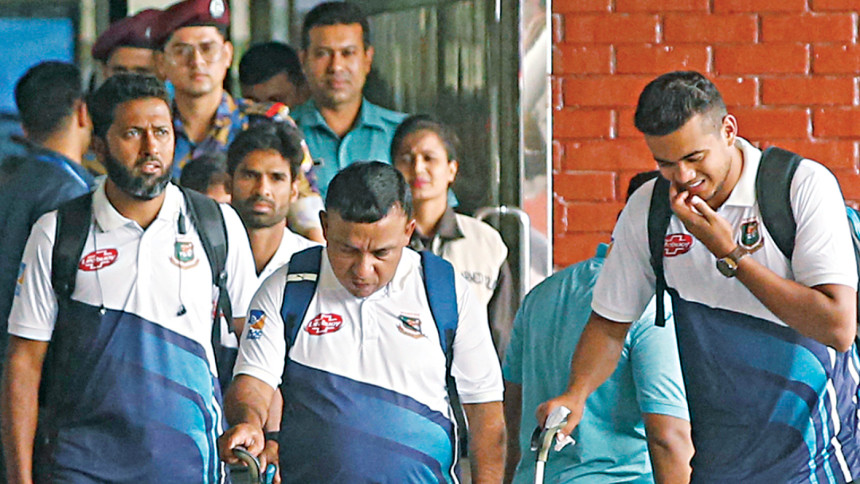 The Bangladesh cricket team arrived in Dhaka yesterday after their 3-0 whitewash by Sri Lanka in the ODI series. A few of the players looked understandably dejected or just lost in their own thoughts and neither interim manager Khaled Mahmud nor the players talked to the media upon arrival, keen to get away from the hustle and bustle at the airport.
While none of the players who toured Sri Lanka had much to say, one man who did not play the series but talks eloquently regarding most situations, had important things to say. Ace all-rounder Shakib Al Hasan attended a program at Banani Bidyaniketan School & College and while he usually talks about having a 'bad series' when Tigers do not perform up to expectations, this time the disappointment factor was clear. He did not say much but indicated there were reasons behind the team's failures and that it did not happen out of the blue.
"It is disappointing of course. There's no point hiding from that," the all-rounder said.
Shakib, who had been in extraordinary form during the World Cup, reiterated that at times a lot of things are taken for granted in Bangladesh cricket.
"In the World Cup, when the match against Sri Lanka was rained off, everyone assumed that there were two confirmed points there [that Bangladesh lost], but it was proved in this series that it was not confirmed. We could have won or lost," Shakib said, perhaps hinting that consistency was more important than just counting chickens before they are hatched and getting disappointed when things do not materialise as expected.
The Sri Lanka series proved that there was a lack of readiness and proper preparation after the conclusion of the World Cup in England -- where Bangladesh finished eighth in the ten-team table after harbouring hopes of making it to the semifinals -- and it was clear from Shakib's words that he feels now is the time to devote to finding out how to increase the level of the side.
If the recently-conlcuded World Cup and the Sri Lanka series are anything to go by, the team management have a lot to work out, show long-term vision and not fall back on short-term contingency plans that can stagnate Bangladesh cricket.
"It [the Sri Lanka series] was of course disappointing. Even having lost the series, if we could have won one match it would have been good for our confidence, but that did not happen. Maybe it is now time to think deeply and plan for the next three-four years," he said.
"I am sure that the responsible people in the BCB (Bangladesh Cricket Board) are thinking of this, and we have also chosen two coaches. Maybe when we have a full coaching staff, they can present a plan to the board. If that is done then I think our cricket can progress from the point that we had advanced to in the last four or five years," he added.
Rumours surfaced about problems in the Tigers' squad following the World Cup with several media outlets reporting a conflict of opinions among seniors. Captain Mashrafe Bin Mortaza and Mahmudullah Riyad's fitness had been another issue during the World Cup. While it is true that bad times cultivate rumours and while Shakib did not want to divulge much, he indicated how to begin consolidating and fix issues.
"The reasons [behind the disappointing Sri Lanka tour]; I always say that I don't think they are things everyone should know. I think it is best to discuss it with those related with the team -- the coaching staff and players -- and solve the problems. I don't feel comfortable discussing these things out in the open."
With the team needing to find answers fast, Shakib's words hints at underlying issues and as a veteran of the side, the board perhaps would do well to heed what their best performer in the World Cup is saying.