New role just a start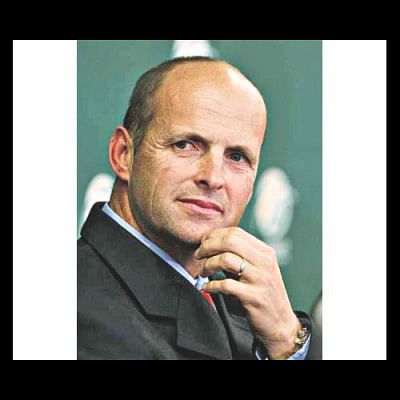 The Bangladesh Cricket Board (BCB) said on Monday night that former South African opener and India's 2011 World Cup-winning coach Gary Kirsten's appointment as a consultant is in the final stages.
While speaking at an event to honour Bangladesh's former coach Gordon Greenidge at a hotel in Dhaka on Monday, BCB president Nazmul Hassan informed that Kirsten is already working for the board.
"He is already working for us. Kirsten will help us work out which coaches will work in what specific roles, and that includes the head coach role of the national side," the president said of Kirsten, whose likely role will be director of coaching.
"We will hand over a list of new coaches to him. He will also hand us a list of his own. We will then sit down with him to discuss the coaching roles for Bangladesh cricket," he said.
That raised questions about the unprecedented nature of a foreigner helping shortlist Bangladesh's coaching staff, but it was learned yesterday that Kirsten's role will be deeper and similar to the one he performed initially for India, who he coached from 2008 to 2011.
The BCB had initially wanted to give Kirsten a position as director of cricket, similar to the one performed by Andrew Strauss for the England and Wales Cricket Board. However Kirsten, who is currently in India as the coach of IPL outfit Royal Challengers Bangalore, was unwilling to take on such an extensive role as he thought that his various coaching commitments and need for family time would not leave enough time for a director of cricket role.
He however sent a counterproposal stating that he come to Bangladesh and talk to the game's various stakeholders -- the board, players, different standing committees, other coaches, etc. -- to identify their demands and make recommendations to the board accordingly. He may come to Bangladesh on May 21 after the conclusion of his IPL duties to sit with the concerned parties.
That is the role the president was presumably talking about and Kirsten's recommendations will likely include names of coaches who he thinks may fit Bangladesh's cricketing needs. It was also learned that the BCB are eager to start a relationship with him and the current offer for Kirsten is likely to extend to the 2019 World Cup.
The position of Bangladesh's head coach has been vacant since Chandika Hathurusingha resigned last November following the disastrous tour of South Africa. The BCB president informed that the board shortlisted three names for the Tigers' head coach role. The three shortlisted coaches are from Australia, South Africa and England.
He also said that it was likely that Bangladesh would not have a head coach for the Afghanistan series next month, but there may well be a new coach appointed before the tour of West Indies in July-August.