India win by nine wickets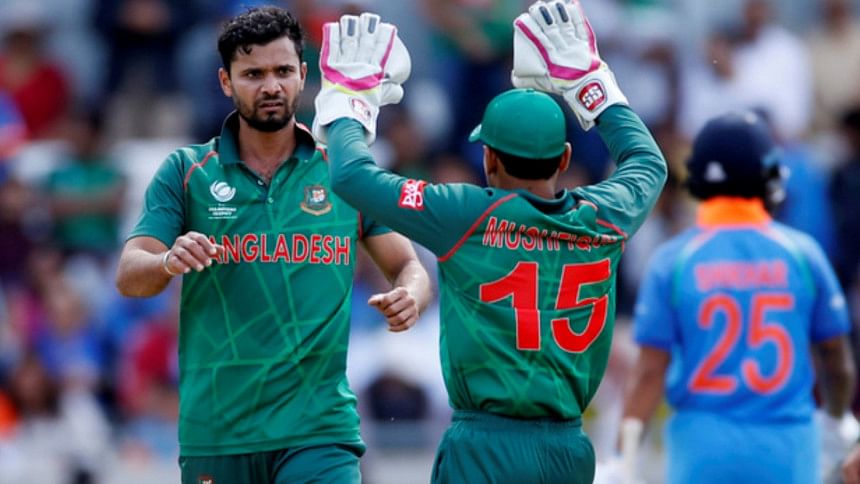 India win by nine wickets against Bangladesh in the semifinal of the Champions Trophy at Edgbaston, Birmingham. Rohit Sharma reached his 11th ODI hundred and is awarded the player of the match.
40.1 overs - Kohli drives one through the cover region to bring off the winning runs for India. India win the match by nine wickets and will play the final against Pakistan. Virat Kohli plays a magnificent innings of 96 from 78 balls. The India captain 13 boundaries in his innings.
End of 35 overs
India are 224 for one after 35 overs. Rohit Sharma and Virat Kohli have gone about their job professionally.
Bangladesh bowlers have struggled to create any trouble for the batsmen out in the middle. The spin bowlers and the pacers have all gone for runs. 
32.6 overs, Ind 212/1 - Rohit Sharma to edges a pull shot off Mustafiz and the ball flies away for six. Rohit Sharma raches his century with that boundary. He reaches the mark in 111 balls with 12 fours and a six.
End of over 30
Rohit Sharma pulls one magnificently off the bowling of Taskin Ahmed to reach his half century off just 41 balls.
India have batted relentlessly in this game. The Bangladesh bowlers haven't been able to feed doubts consistently enough to the India batsman.
At the end of 30 overs India have reached 188 for the loss of one wicket. India need just 76 runs to win.
27.4 overs, 176/1 - Rohit Sharma loops one into the air over cover. Looked like an easy catch but the ball falss between two fielders after staying in air for a long time. The shot was mistimed but luck seems to be on the batsman's side.
End of over 25
Taskin Ahmed comes into the attack in the 25th over. Bangladesh bowlers haven't been able to find any swing. Rohit Sarma tried to slash one but misses, one of those rare times he has failed to connect properly. India are 164 for one wicket after 25.
Rubel Hossain conceeded 17 runs on the 23rd over as Rohit Sharma has punished anything short of length and anything erring in line.
Mosaddek Hossain has been brought into the attack. He has been the partnership breaker in the game against New Zealand. India are running away with the game comfortably. 
End of over 20
Mashrafe has brought on Mustafizur Rahman for a second spell hoping it will bring a change in the game. Mustafiz was expensive in his first spell. The cutters haven't really been that effective in this spell as well. India are coasting with the score at 124 for one after 20 overs.
The required run rate is just 4.7.
Rohit Sharman edged one off Rubel Hossain but there was no slip present and the ball raced to the boundary.
16.2 overs, Ind 100/1 - India have reached hundred losing just one wicket. 
15.3 overs, Ind 96/1 - Rohit Sharma nudges one straight of the wicket to get his 50 from 57 balls. The Right hander looks comfortable out there.
End of over 15
Bangladesh have struggled to make breakthroughs but they will hope the loss of Shikhar Dhawan allows them to make some inroads into the India batting lineup. Still plenty of batting to come for India and Virat Kohli has come to the crease.
14.4 overs, Ind 87/1 - India have lost their first wicket as Shikhar Dhawan slashes at a Mashrafe Mortaza delivery but ball goes to Mosaddek at point and he takes an easy catch.
Last bat S Dhawan c Mosaddek Hossain b Mashrafe Mortaza 46 (34b 7x4 1x6) SR: 135.29
Fall of wicket 87/1 (14.4 ov); Partnership: 87 runs, 14.4 overs, RR: 5.93 (Dhawan 46, Sharma 41)
End of over 10
After the end of ten overs, India are 63 for no loss chasing a target of 265.
Bangladesh have brought on Rubel Hossain to make a break-through. India are running off with the game and Rohit Sharma and Shikhar Dhawan looks in fantastic touch.
The pitch hasn't helped the Bangladesh bowlers. Seam deliveries have been wayward and there is no zip in the wicket to cause any confusion among the India batsmen.
7.5 overs, Ind 50/0 - India reach 50 for no loss and it's been pretty comfortable. Shikhar Dhawan has played some great shots and latched on to anything loose from Taskin.
End of 5 overs
India batsmen were quick to pounce on the width on offer from Mustafizur Rahman and have captialized to the fullest. Sikkhar Dhawan and Rohit Sharma have both looked solid.
Bangladesh will need some wickets to put any kind of pressure on India after a solid start. India reach 31 for no loss after 5 overs.
1.3 overs, Ind 10/0 - Two back to back boundaries from Dhawan off the bowling of Mustafiz. Width on offer and batsman takes full advantage.
1over, Ind 2/0 - A good start from Mashrafe Mortaza. Bowling a good line and length as India start their innings. Shikhar Dhawan and Rohit Sharma are a formidable opening pair and would look to start India off well.
Bangladesh have reached 264 for the loss of seven wickets against India in the semifial game against India at Edgbaston, Birmingham. Having been asked to bat first Bangladesh were at one point looking to score over 300 runs.
Loss of key wickets have affected Bangladesh's flow. Mushfiqur Rahim left in the 36th over and Bangladesh struggled to pick off the Indian bowlers.
The lowest total Bangladesh have defended against India in 229 at the Bangabandhu National Stadium in 2004.
Bangladesh have twice defended their total successfully against India in ODIs. The last time was in 2015 when Bangladesh defended 307 runs at the Sher-e-Bangla stadium in 2015.
48.2 overs, BD 256/7 - Mashrafe srikes back to back boundaries off Bumrah. Bangladesh scoring some much needed runs at the death.
End of over 45
44.6 overs, BD 229/7 - Mahmudullah Riyad can't get under the yorker from Bumrah and his stumps are castled.
(Mahmudullah b Bumrah 21 (25b 2x4 0x6) SR: 84.00)
Fall of wicket 229/7 (44.6 ov); Partnership: 11 runs, 2.3 overs, RR: 4.40 (Mashrafe Mortaza 7, Mahmudullah 4)
42.3 overs, BD 218/6 - Mossaddek tries to whack a short length ball from Bumrah and ball loops into the air and takes an easy caught and bold. Bangladesh are struggling after doing so well at the start of the middle overs.
Last bat Mosaddek Hossain c & b Bumrah 15 (25b 3x4 0x6) SR: 60.00
Fall of wicket 218/6 (42.3 ov); Partnership: 39 runs, 7.1 overs, RR: 5.44 (Mahmudullah 16, Mosaddek Hossain 15)
End of 40 overs
The score is 207 for the loss of five wickets after 40 overs. Not smooth sailing for Bangladesh as they have lost cruicial wickets at a very incovenint juncture.
The last recognised pair are out in the middle for Bangladesh. Mossaddek is partnering Mahmudullah.
39.4 overs, BD 201/5 - Bangladesh have brought up 200 for the loss of five wickets.
38.3 overs, BD 195/5 - Mahmudullah tries an upper-cut and the ball loops to third man. Ravichandran Ashwin dives and almost keeps a hold of the ball but the catch is dropped and the ball rolls to the boundary for four.
35.1 overs, BD 179/5 - Mushfiq lifts one straight to mid-on and Kedar Jadav has taken his second wicket. Mushfiq departs after a feisty 61 as Bangladesh are left in a awkward situation with two new batsmen at the crease.
Last bat Mushfiqur Rahim c Kohli b Jadhav 61 (85b 4x4 0x6) SR: 71.76
Fall of wicket 179/5 (35.2 ov); Partnership: 2 runs, 1.0 overs, RR: 2.00 (Mahmudullah 1, Mushfiqur Rahim 1)
34.2 overs, BD- 177/4 - Shakib edges one to Dhoni off Jadeja and is caught behind wicket. The ball was not really theere to cut.
Last bat Shakib Al Hasan c Dhoni b Jadeja 15 (23b 1x4 0x6) SR: 65.21
Fall of wicket 177/4 (34.2 ov); Partnership: 23 runs, 6.2 overs, RR: 3.63 (Mushfiqur Rahim 8, Shakib Al Hasan 15)
End of 30 overs: Shakib Al Hasan have come to the crease for Bangladesh. Bangladesh would no wonder be troubled after Tamim's loss.
The loss of a set batsman is bound to put a damper on the flowing strokeplay we were beginning to see.
27.6 overs, BD 154/3 -Tamim tries to sweep one but misses the flight of the delivery. The bowling change to bring Kedar Jadav has worked. A field change put enough pressure for Tamim to try a rash shot. Tamim goes after scoring 70.
Tamim Iqbal b Jadhav 70 (82b 7x4 1x6) SR: 85.36
26.5 overs, BD-150/2- Bangladesh have reached 150. Mushfiq brought up sup his fifty off 61 balls. He paddled one to the leg side for a single. He struck four boundaries. The duo have stolen quite a few singles in the last few overs.
Good signs for Bangladesh.
End of over 25
Banladesh are 142/2 at the end of 25 overs. Tamim and Musfiq have went on about the recovery work in brilliant fashion.
Both of their shot selections involved some risks early on but the risks have paid off.
23.4 overs, BD 135/2 - Mushfiq paddle sweeps to bring up the hundred partnership between Tamim and him. A run a ball century partnership from the duo.
End of over 20
Bangladesh have recovered from the losses of early wickets. Tamim and Mushfiq have kept the wagon wheel ticking. Bangladesh are 104/2.
Tamim has reached in 50 and anchored the innings really well. Mushfiq has taken some risks which have paid off.
18.6 overs, BD- 104/2 - Tamim reverse sweep one to reach his half century. Great innings under pressure. It's his seventh 50 against India in ODIs.
16.3 overs, Bd-89/2 - Tamim goes down the pitch and smashes Hardhik Pandya for six through the leg side.
15.5 overs - Lovely late cut from Tamim Iqbal as the ball caresses to the boundary. Ashwin left one short and Tami took advantge.
The Bangladesh innings seems to have gained some stability after some rash shots early on.
12.5 overs, BD 61/2 - Tamim drags one back on to his stumps the previous ball. But alas, it was a no-ball from Hardik Pandya. Pandya bowls awide on the free-hit ball and then Tamim smashes him down the ground for four.
End of 12 overs: Bangladesh are 49 for the loss of two wickets at the end of 12 overs. Having lost Soumya in the first over and Sabbir in the seventh over the team was struggling. Mushfiqur and Tamim havie carried on from there.
Bangladesh still need to play some normal cricket if they want to stop losing
8.6 overs, BD 45/2 - a hatrrick of boundaries from Mushfiqur Rahim as he smashes the last three balls of the ninth over from Bhuvneshwar. The first one was a lucky break as he inside edged one to fine leg. The later two were brilliantly timed.
6.5 overs, 31/2 - Sabbir Rahman tricked by a Bhuvneshwar delivery as he chips it straight to Jadeja at point. Sabbir's left hand came off the bat as he played the shot - an indication that he wanted to hit it hard. The cutter from Bhuvneshwar has worked his magic.
Sabbir Rahman c Jadeja b Kumar 19 (21b 4x4 0x6) SR: 90.47
Fall of wicket 31/2 (6.5 ov); Partnership: 30 runs, 5.5 overs, RR: 5.14 (Tamim Iqbal 6, Sabbir Rahman 19)
END OF OVER 5
Bangladesh have recovered after the early loss of Soumya. Tamin Iqbal is watching every ball onto his bat while Sabbir is taking the attack to the Indian bowlers. The score is 31/1 after 5 overs.
Jasprit Bumrah and Bhuvneshwar Kumar have started brightly. They have managed to miss the edge of the bat on a few occasions.
The wicket has offered some help early on for the bowlers. The conditions are still overcast at Edgbaston.
3.4 ov, BD-26/1 - Sabbir does it again. He dances down the wicket and plays the ball over long on for four. Sabbir Rahman trying to take the attck to the Indian pacers.
2.6 overs, BD -21/1 - Sabbir Rahman smashes Bhuvneshwar Kumar Rahman through the covers. Ball flies over the inner circle and races away. Brilliant batting from Sabbir after the early loss of wicket. Two brilliantly timed boundaries in this over from the right hander.
1.3 overs - Sabbir Rahman drives through the offside square of the wicket to a Bumrah delivery. Ball races to the boundary.
0.5 over - It's the sixth delivery of the innings and Soumya Sarkar drags a Buvneshwar Kumar delivery onto his stumps. Disastrous start for Bangladesh.
Soumya Sarkar b Kumar 0 (2b 0x4 0x6) SR: 0.00
3.40 pm - Bangladesh batsmen Tamim Iqbal and Soumya Sarkar has come out to bat after India won toss and asked Bangladesh to bat first.
Bangladesh face India in the second semifinal of the Champions Trophy 2017 at Edgbaston, Birmingham. India have won the toss and decided to field first. 
The Tigers are already in a territory they have never been before in an ICC flagship event and a victory against Virat Kohli's India will not only be treated as the biggest sporting moment but one of the few glorious achievements for a thriving nation.
The whole country, which is still reeling from the shock of landslides in the hilly districts that claimed 138 lives, will turn its focus to Edgbaston when the Tigers set out for mission impossible at 3.30pm.
India are in their sixth semi-final in the last seven ICC tournaments. India are a team that thrives on big occasions and aren't expected to capitulate by themselves.
The fantastic five of Bangladesh cricket -- skipper Mashrafe Bin Mortaza, Shakib Al-Hasan, TamimIqbal, Mahmudullah Riyad and Mushfiqur Rahim -- have already come to the party. The young brigade of SoumyaSarkar, SabbirRahman and Mosaddek Hossain might not have expressed themselves yet. And if Soumya times the ball well, Sabbir gets his act together and Mosaddek shows the maturity beyond his age, the Tigers have every chance to take the game to the Indians.
Form guide
Bangladesh WLWWL
India WLWLW
India's Yuvraj Singh is playing in his 300th ODI. He is set to become the fifth Indian player after Sachin Tendulkar, Rahul Dravid, Mohammad Azharuddin and SouravGanguly toreach the milestone.
India have won three out of the four Champions Trophy semifinals they played. Their only loss came against West Indies in 1998.
Shakib Al Hasan needs 32 more runs to become the second Bangladesh player to reach the milestone of 5000 runs in ODIs.