'Deflated before the start'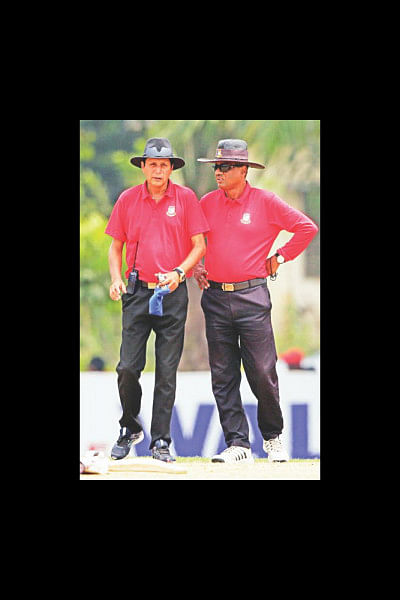 "A transparent policy regarding the allotment of umpires in different domestic leagues can be the first step if we honestly want to make domestic leagues competitive in a true sense," Mohammad Salahuddin, coach of Gazi Group Cricketers and mentor to many leading cricketers in the country, prescribed while talking about the just-concluded Dhaka Premier League.
"Yes, there have been a lot of murmurs about corrupt practices, which is actually silently killing the future of our cricket, but in my opinion the most important thing at this moment is to solve the problem regarding controversy around certain umpires and the distribution of umpires," said Salahuddin.
"It's not only about the Premier League; frustratingly what we are hearing about the lower leagues is really alarming. You know that players get demoralised even before a ball is bowled when they see certain umpires entering the ground. Why does the presence of some umpires have a negative psychological effect? Tell me why two umpires who did not officiate in any match [this season] were assigned for such an important match [relegation decider] between Agrani Bank and Brothers Union? We have to immediately focus on this issue, otherwise the consequences will be huge," he went on.
Salahuddin found a number of positives in this season's league but he believes all that will be in vain if there are any questions or doubts over the league's integrity.
"I definitely thank the board for providing good wickets and I think the authorities have shown that there was some good planning behind this league. The batsmen showed guts, and bowling-wise it might not be that encouraging except for Mashrafe's [Bin Mortaza's] intelligent efforts. But in the end, it will hardly make any sense if players get the impression that playing good cricket is not enough. We must consider what lesson our upcoming players will learn. As a coach I have to deal with many players and the impression I got from them is not a good one for us," he said, exuding frustration at the current state of affairs.
It was not a pleasant experience as a coach to see his team, who were defending champions, finish fifth but Salahuddin opined that the best team (Abahani) clinched the title. "If you consider the strength of Abahani, they deserve the trophy because they were well ahead of other sides. I actually expected that Abahani would confirm the title well before the last round. But we must ask one question: did one team get special favours as a policy was adopted that two players could be swapped after the players' draft?"
ONE CLUB, FOUR ICON PLAYERS
"First of all, you kill the competitiveness when you adopt a player-by-choice policy. I am completely against it because you have to give clubs the freedom to make a team and develop it well before the start of the league. Even if I form a team with a small budget, I will have some targets and arrangements but for this player-by-choice system I got some players who I didn't know and I have to feature them in at least five matches to understand their potential… why should that happen?" questioned Salahuddin.
"Then you adopt the funny clause of interchanging two players after the draft. Tell me why Anamul [Haque] was considered an icon player when he had not played any international match for two and a half years? These are the reasons why you cannot blame someone if he doubts that everything has happened to give a particular team advantage. See, Anamul, Shakib [Al Hasan] and Nasir [Hossain] were in Gazi the previous season, but their icon status meant that they would be separated. Then because of the player-by-choice lottery we got Imrul Kayes as the icon player, Khelaghar got Anamul, Abahani got Nasir and Mehedi [Hasan Miraz] and Shakib went to Mohammedan. After the draft, Abahani basically ended up with four icon players when they swapped in Anamul and Mashrafe [who was the icon player for Shinepukur Cricket Club]," he continued.
Because of the eleventh-hour player swap Khelaghar played without an icon player, while Agrani Bank and Prime Bank were deprived in the original distribution.
 "If you want to talk about competitiveness then you must ensure a level playing field on all aspects," Salahuddin added.