Thompson stars at international athletics meet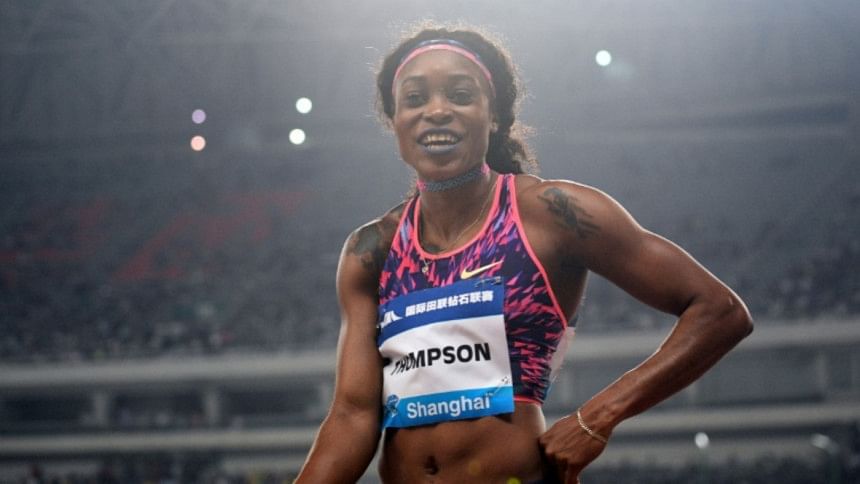 Hometown hero Elaine Thompson put on an impressive show against a strong field and Canada's Andre De Grasse won his first race on Jamaican soil at an international track meet in Kingston on Saturday.
Thompson clocked 22.09 seconds in the women's 200 metres to equal the 2017 world leading time, while Rio Games silver medallist De Grasse dominated the final 50 metres to take the men's 200m in 20.14 during the 14th Jamaica International Invitational at the National Stadium.
But on a night when veteran Yohan Blake also stormed to a 9.93 seconds in the men's 100m, Thompson shone the brightest.
After clocking a world-leading 10.78 seconds in Shanghai, China a week earlier, Thompson got off to a good start and was catching opponents by the time they got to the curve. She was in front by the time they got to the straight-away and just kept going away to win easily.
She equalled the time run by American Tori Bowie in California in mid-April. Jamaican compatriot Shericka Jackson, a 400m specialist, was second in the 22.61 seconds and American Shalonda Solomon third in 22.64 seconds.
Thompson admitted to being "a little tired" because of her busy schedule but said she executed her race.
"The coach told me to come off the curve as fast as I can and then control the race," she said. "It's been a hectic season. I am just getting back from Shanghai and have run another fast time but I have to stay focussed and put in the work."
De Grasse, 22, made his first race on Jamaican soil a winning one. The field managed to stay within reach until the Canuck turbo-charged his way past American LaShawn Merritt, who finished in second place in 20.28 seconds. Great Britain's Jamaican-based sprinter Zarnel Hughes was third in 20.29 seconds.
De Grasse said he needs to improve his overall fitness and said he would go back home and work harder.
"I went out there and executed the first 150 metres then held on. It was a tough run. I wanted to check my fitness," he said.
"Now I have to get back to training because this was tough."
Blake, the 2011 World Championships gold medallist who has battled injuries over the last few seasons, delivered a superb performance in the 100m, dipping under 10.00 seconds for the first time since 2012.
Two Americans got silver and bronze -- Ronnie Baker had a season's best 9.98 seconds and Mike Rodgers 10.02 seconds.
"I am feeling great," said the 27-year-old Blake, who was a late entry. "This is my first 100m of the season and to run 9.93 is great."
American Morolake Akinosun was a surprise winner of the women's 100m in 11.06 seconds, getting to the line ahead of Trinidad's Michelle-Lee Ahye who was also given the same time of 11.06 seconds. American veteran Allison Felix who was third in 11.07 seconds.
It was Felix's first 100m in two years.
"I am just working on my fitness as there is a long ways to go still," she said.
Kyron McMaster was an upset winner in the 400m hurdles as he clocked a personal best 47.80 seconds.
World and Olympic champion Caterine Ibarguen, of Colombia, retained her triple jump title with a jump of 14.43m.