'Subsidy benefits don't reach us'
Marginal farmers demand govt lower prices of agricultural inputs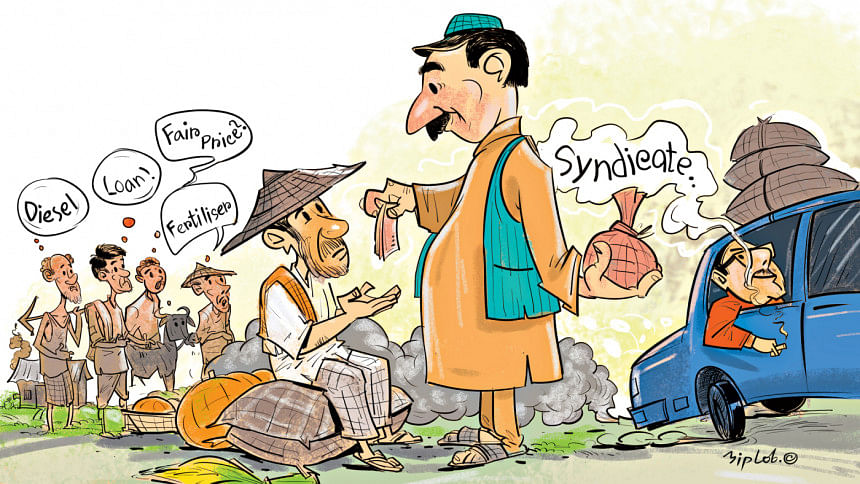 The government has spent more than Tk 28,000 crore as farm subsidies in the last two fiscal years. However, marginal farmers claim that they get very little benefits out of that.
In the 2022-23 fiscal, the government allocated Tk 16,000 crore as farm subsidies, while the amount was Tk 12,000 crore in the 2021-22 fiscal.
For the upcoming fiscal, the government has raised the subsidy and proposed an allocation of Tk 18,299 crore for agricultural subsidy.
Against the backdrop of the Russia-Ukraine war, fertiliser prices increased in the global market. So, the government has been compelled to increase subsidies.
"We are providing fertiliser, seed, other inputs and irrigation facilities at an affordable price to increase crop production. This was the objective of the increased amount of subsidy," said Finance Minister AHM Mustafa Kamal.
"Moreover, a 20 percent rebate on electricity bills has been provided for the electricity use in irrigation pumps," he told the parliament.
Even agriculture inputs and credit facilities are being provided to farmers through the "Krishi Upokoron Sohayota" card and the number of cardholding farmers has now increased to around 2 crore, he added.
However, this newspaper talked to many small and marginal farmers and found out that despite all the government initiatives and subsidies, they cannot make enough profit as the production cost of rice is very high.
Abdur Rouf, a farmer of Rajosh village under Gaibandha's Gobindaganj upazila, cultivated Boro paddy in a four-bigha land. He had to invest Tk 18,000 for cultivating one bigha, including the cost of land that he got on a lease and expected a yield of 24 maunds of paddy per bigha.
According to the present market price, Rouf was hoping to sell per mound paddy (BRRI-29) for Tk 960. According to that estimation, he is expected to make a profit of Tk 5,000 only, yielding him a total profit of Tk 20,000 for his cultivation of the four-bigha land.
Rouf has to run his family of six for the next six months with this amount.
"We expected the government to decrease the prices of agricultural inputs. However, they did the opposite. The price of electricity and gas have increased every month, which has adverse effects on our lives and livelihood," said Rouf.
Another farmer Rezaul Hasan from Naogaon said, "I heard about these subsidies that the government is providing. However, farmers do not benefit from them. For example, the government provided farmers with imported machinery, which we could not use as our lands went under water."
"The government's subsidies for Aus paddy are not reaching the farmers who need them. The benefits mostly go to those with political influence and their subordinates," he alleged.
Ali Hossain, a farmer of Chalan Beel in Natore's Shingra area, said many farmers, who use diesel for irrigation in remote beel areas, stopped cultivating Boro after the rise of diesel prices early this year.
"They shifted to producing maize as it requires less irrigation," he said.
MA Sattar Mandal, an emeritus professor at Bangladesh Agricultural University, said paddy prices should be Tk 1,500 per maund. Otherwise the small and marginal farmers would lose interest in the cultivation.
"If increasing paddy prices is not an option, the government must ensure the availability of seeds, fertilisers, fuel, and electricity at lower prices to minimise the production costs," he added.
He also said the government should import grains with proper calculations to ensure fair prices for the farmers.
"It should also monitor the market of agricultural products closely," he added.
According to the farmers, although the price of rice was appropriate in the last few years, jute prices have not improved. It went below Tk 3,000 per maund in 2021.
Prof Saidur Rahman of Bangladesh Agricultural University, said the government should take agricultural products to foreign niche markets. Currently, Bangladeshis and Indians are the main consumers of Bangladeshi agro-products, he said.
"If our agricultural products find access to the export market, the farmers would be more interested in producing them. The rise in domestic production will ensure food security," he added.
During his speech at the parliament yesterday, the finance minister mentioned that Bangladesh globally ranks third in rice production, second in jute, fourth in tea, second in fish, third in vegetable and onion production, and seventh in potato and mango production.
However, for this fiscal, he only proposed 4.64 percent of the total budget for the agriculture sector. He proposed a total allocation of Tk 35,374 crore for the sector that covers agriculture, food, fisheries and livestock for the 2023-24 fiscal.
In the previous fiscal (2022-23), the budget allocation for the agriculture sector was Tk 33,698 crore -- 4.97 percent of that year's total budget.