Top 5 Stories today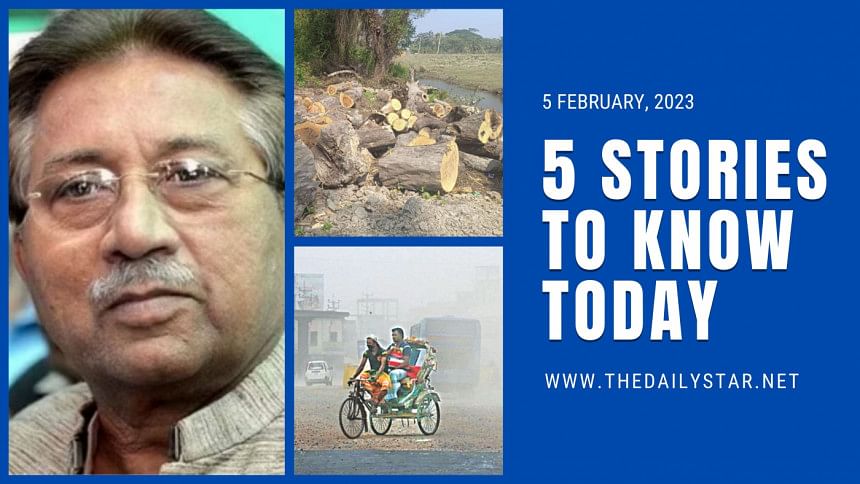 Dhaka was the most polluted city in the world this morning. Here's everything you need to know to get up-to speed with the latest news. 
Lenders may extend the commercial operations date (COD) for Adani Power's Godda thermal plant in Jharkhand, which was set up to supply power to Bangladesh, by six months, as the laying of the transmission lines is yet to be completed, according to the India media. This comes after Bangladesh Power Development Board requested a revision of the agreement with Adani, citing abnormally high coal prices, of $400 per tonne. 
Prime Minister Sheikh Hasina today asked the National Board of Revenue to launch campaigns at the grassroots level to motivate people to pay tax as the country's socio-economic condition has improved radically in the last 14 years. The PM said the government wants to expand the tax net, instead of increasing the tax rate in this existing inflation. As such she said, "We have to increase the number of taxpayers." 
The PM also suggested consumers should pay the actual purchasing cost of gas and electricity to avail the utilities' supply. "How much subsidy can be given? And why should we continue to give subsidies?" she said, adding that the government is providing subsidies to agriculture and food production for the greater interest of the nation.
Hero Alom who lost the Bogura-4 elections by 834 votes, has applied for recounting votes of 45 polling stations of Bogura-4, our Bogura correspondent reports quoting Assistant Returning Officer Mahmud Hasan. After the election, Hero Alom held a press conference and alleged that though no vote rigging took place in the Bogura-4 constituency, the results were changed during vote counting. 
The High Court has cleared the way for GM Quader to perform his duties of JP chairman. Earlier, last month, the Supreme Court held that GM Quader cannot perform duties, which happened a day after the PM met the leader and his fellow leader Raushan Ershad and urged them to "stay united." GM Quader's lawyer Sheikh Muhammed Serajul Islam told The Daily Star that there is no legal bar for his client to discharge duties as JP chairman following the HC order.
Former military ruler of Pakistan died at a hospital in Dubai following a battle with amyloidosis – a rare disease that causes organ damage. Musharraf, a former special forces commando, became president in 1999 after deposing then-Prime Minister Nawaz Sharif in a military coup. He stayed in his role through tensions with India, the US-led so-called "war on terror." He stepped down in 2008 while facing possible impeachment, and Yousuf Gilani, Pakistan's prime minister, had termed Musharraf's resignation as marking an end to Pakistan's "dictatorship."