Kashmir: Indian SC bench to examine move on Article 370
The Indian Supreme Court is hearing around 10 petitions with most of them challenging the Centre's decision revoking Article 370 while others are connected with the imposition of curfew since August 5.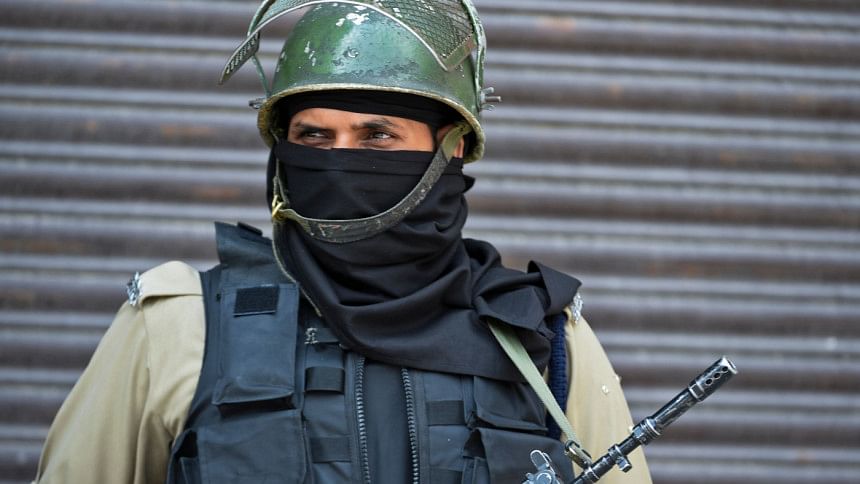 Indian Supreme Court will examine the constitutional validity of scrapping special status for Jammu and Kashmir as it issued a notice to the Centre on petitions related to abrogation of Article 370 on Wednesday.
The apex court said that a five-judge Constitution Bench will hear all the petitions related to the abrogation of Article 370, in the first week of October.
The court also refused a request from the Centre to appoint an interlocutor for Jammu and Kashmir.
Solicitor General Tushar Mehta had opposed the issuance of a formal notice to the Centre saying that it will be misused. "Notice is to call the Centre, we are already here," he argued.
The court further issued another notice to the Centre on the plea by Kashmir Times Executive Editor, Anuradha Bhasin, seeking a direction for relaxing restrictions on the internet, landline and other communication channels. The Supreme Court has sought a detailed response from the Centre within seven days.
The Supreme Court is hearing around 10 petitions with most of them challenging the Centre's decision revoking Article 370 while others are connected with the imposition of curfew and its consequences in the region.
Meanwhile, the Supreme Court in its hearing, allowed CPI(M) leader Sitaram Yechury to meet his party member in Jammu and Kashmir
The Centre's representative had earlier argued that the situation is normal in and Yechury's visit would endanger the situation in the Valley.
The Supreme Court said that the visit of Sitaram Yechury should only be to meet party leader Yousuf Tarigami as a friend, and not for any political purpose.
"We will permit you to go, you are the general secretary of a party. Don't go for anything else," CJI Ranjan Gogoi said.
The bench was hearing Communist Party of India (Marxist) leader Sitaram Yechury's habeas corpus petition, in which, he has challenged the detention of Kashmir politician and party general secretary Mohammed Yousuf Tarigami.
Yechury was earlier this month detained at Srinagar airport after he went to Jammu and Kashmir to meet CPI(M) MLA MY Tarigami who is unwell.
The apex court also ruled that Mohammad Aleem Syed, a law student and one of the petitioners in the case, be allowed to travel to Anantnag to meet his parents. The court has directed the Jammu and Kashmir government to provide police protection to him.
Syed, a law graduate in Delhi, had sought information on the whereabouts of his family in Kashmir.
Another plea is of Tehseen Poonawalla, a social activist, who has raised the issue of lockdown in the region as amounting to suspension of Article 19 (freedom of speech) and 21 (personal liberty) of the Constitution.
The plea said, "The actions taken by Union of India pertains to gross abuse of its powers under law, whereby the people of J&K are suffering on account of unwarranted imposition of undeclared curfew and further emergency-like restrictions are being imposed under the garb of Section 144 of the Code of Criminal Procedure, 1973."
Another petition filed by National Conference leader Mohammad Akbar Lone, who has cited 'Swaraj' or self-governance, said the right to autonomous self-government within a federal framework is an essential fundamental right. These valuable rights have been taken away without the "procedure established by law" in a manner that violates every canon of Constitutional morality.
Shah Faesal, an independent politician and former bureaucrat from Jammu and Kashmir in a joint petition with activist Shehla Rashid has challenged the Centre's move to scrap Article 370.
The bench is also hearing Kashmiri artist Inder Salim alias Inder Ji Tickoo and a veteran journalist Satish Jacob's joint plea challenging recent Presidential orders on Article 370 and bifurcation of Jammu and Kashmir into two Union Territories.
Another petition is of six retired military officers and bureaucrats who had challenged the decision to revoke Article 370.
Other petitioners include advocate ML Sharma, Shakir Shabir and Soyaib Qureshi.
Around 400 political leaders, including former Chief Ministers Mehbooba Mufti and Omar Abdullah, are still under house arrest since August 5, when the Centre scrapped Article 370, that granted special status to Jammu and Kashmir.
On August 6, the Parliament okayed a resolution to scrap Article 370 and passed a bill to split the state into two Union Territories – Jammu and Kashmir, and Ladakh.