Kashmiri students in dark about situation back home
A curfew-like situation exists in the state as landline and mobile services have been blocked along with the internet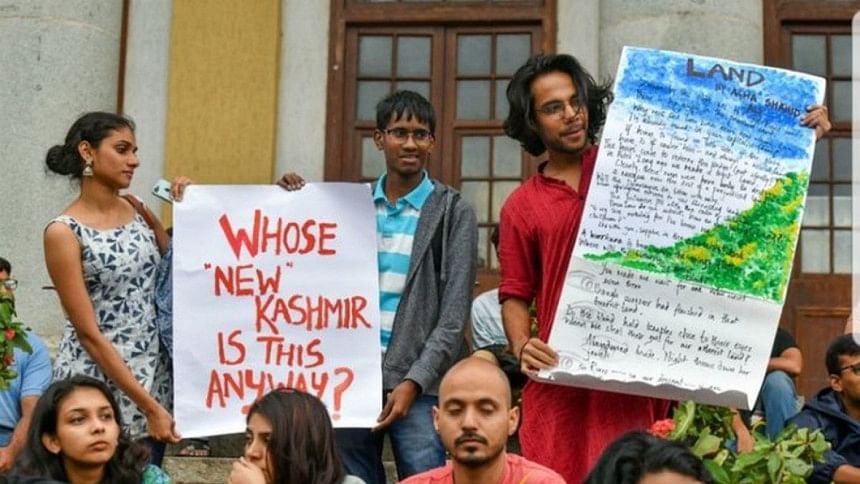 Six days after India revoked the special status granted to Jammu and Kashmir under Article 370 and bifurcated the state into two Union Territories, Kashmiri students in the national capital are still not able to communicate with their relatives and parents back home.
The Union government's decisions were accompanied by a virtual lockdown of Jammu and Kashmir. A curfew-like situation exists in the state as landline and mobile services have been blocked as has the Internet.
Terming the situation as "terrifying", Kashmiri students in the Capital expressed their concern. A student of Jamia Millia Islamia, requesting anonymity, said, "The last time I spoke to my parents was on 4 August midnight and since then I have no idea what is happening at home. The Centre has done what they wanted to do. Why are they not restoring the network. The helpline number for Kashmiri students is always either busy or out of network coverage. How do we connect to our families?"
She added, "I came to Delhi a year back, education in Kashmir is not very satisfactory because of constant curfews and disruption. But honestly, it will not improve even now because no Kashmiri will let any outsider come and establish business or education there. Our protest is not over yet."
Another graduate of Jamia Millia Islamia, Mohammad Aleem Syed, has moved the Supreme Court on the issue of network blackout in Kashmir. The student, a permanent resident of Anantnag, has filed a writ to access communication to his parents.
Syed said, "I have no idea about my parents' situation back at home. I have not contacted them since 4th August. I feel that they have been detained in the valley. I am just left with rumours of violence in Kashmir. I have been continuously trying the helpline numbers and the DC office numbers, but either the number comes busy or is unreachable. I still do not have any means of communicating with my parents."
Copyright: The Statesman/Asia News Network (ANN)