Versatility Incarnate - Mosharraf Karim
In the world of local TV dramas, Mosharraf Karim is a man who stands among the best. His face is literally everywhere in TV and that is more so the case during Eid, the season of Bangla natok. This year, he has appeared in an impressive number of serials in a variety of roles, cementing his versatility as an actor. While there are too many choose from, this week's TV Talkies will be focusing on three dramas which were shown during the Eid days, all of which were on the channel Boishaki TV. Needless to say, Mosharraf Karim was the centerpiece in all of them.
Ovinandan
Channel: Boishaki TV

Script: Masum Shahriar

Director: Mursalin Shuvo

Cast: Mosharraf Karim, Jannatul Peya
The story revolves around a humble village man who travels to Dhaka to congratulate the cast and crew of a recent 'National Film Award' winner. He seemingly has the entire movie memorized scene by scene, and confronts each member of the cast and crew regarding their own interpretation of the film. It is eventually found out that the story of the movie was stolen from him, with absolutely zero credit given to him in return.
This serial shone entirely due to Mosharraf Karim. Even though the concept is made obvious from the get-go, Mosharraf Karim does a great job acting as an individual with hidden motives who shows good will from his actions. His role as the unaccredited story maker breaks the mold from his usual comedy roles, making the entire serial quite stern and thought-provoking; unusual traits of Eid serials.
---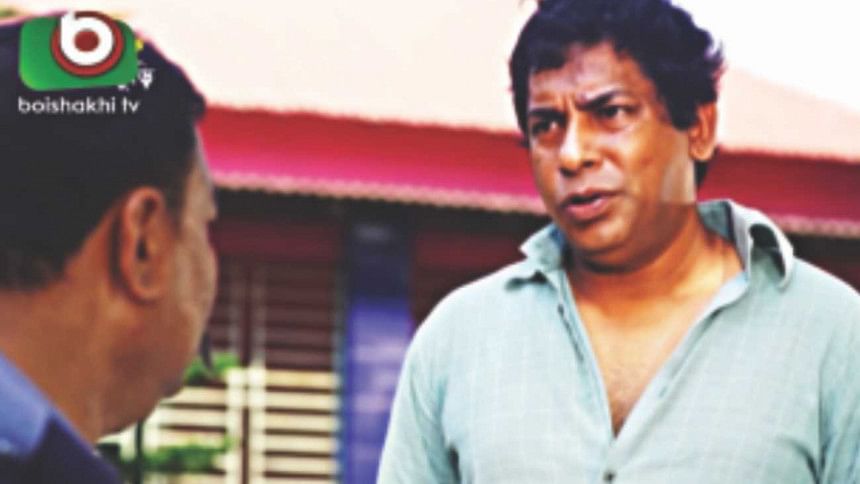 Chor o Churi
Channel: Boishaki TV

Script: Ziaur Rahman Zia

Director: Ziaur Rahman Zia

Cast: Mosharraf Karim, Robena Reza Jui, Mahmudul Islam Mithu
In this serial, Mosharraf Karim plays the role of a thief who, despite constant requests from his wife, just can't let go of his thieving habit. After he is challenged by a renowned policeman, he struggles to stop stealing for good but realizes that addiction has gotten the best of him. His constant attempt to justify his thievery puts him in further trouble, forcing him to find a new meaning to his dishonorable profession. 
It's wrong to deem this as a 'comedy natok' when the entire runtime had a very dark vibe to it. Strangely, the serial attempts to show stealing in a positive manner, which is certainly something unusual. The message is delivered more successfully thanks to Mosharraf Karim's portrayal of a thief at the end of his ropes, and someone who has passed the point of change. A grueling image is painted behind the veil of misdeeds.
---
Bulir Belkuni
Channel: Boishaki TV

Director: Shams Karim

Cast: Mosharraf Karim, Sharlin Farzana, Jhuna Chowdhury
Compared to the other two, this serial lacked any concealed plot or hidden messages. This serial was straightforward, with Mosharraf Karim playing a vastly different role as a local gangster who is in love with the neighborhood girl. Strangely enough, the girl loves him back, despite her love interest terrorizing her family. This was a strange watch with a very disappointing conclusion, ending with a bad taste for anyone who believes in inspiring morals.
The only good thing about this serial was, you guessed it, Mosharraf Karim. These three serials provide a good example of how excellent actors are capable of turning mediocre stories into satisfactory pieces of entertainment. TV drama makers have found a valuable asset in Mosharraf Karim, because if there's anyone who can make Bangla natok watchable by a larger scale of audience, it's him.  
Recommend the writer something to review at [email protected]