Jonmodin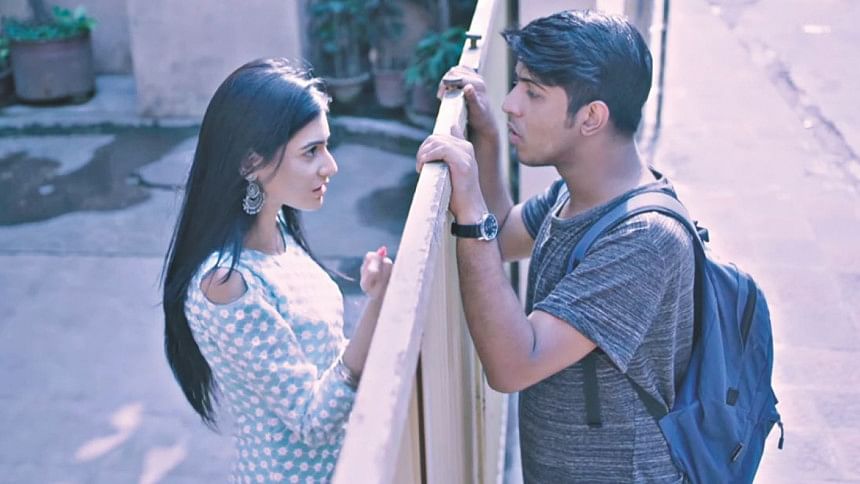 Channel:
Channel i
Directed by: Iftekhar Ahmed Oshin
Cast:
Tawsif Mahbub, Jessia Islam,
Saberi Alam, Siam Nasir
Opu (played by Tawsif) is an impulsive teenager constantly making the wrong choices in life, which includes skipping out on classes, ignoring his friends' and mother's advice and constantly running after a woman known to use men for her own benefit. This young woman (played by Jessia) is a foul-mouthed individual who loves to prey on gullible men like Opu, and only feigns fake interest to make them do her bidding. As the story would go, Opu withdraws all sorts of responsibilities and future plans after falling head over heels for this girl, causing his own demise in the process. Not only does Opu fail in his university admission exam, he exhausts little of what is left of his family savings and has no option left for a bright future. However, with the help of his ever-lovable friends and mother, Opu finds it in himself to never give up, eventually receiving a student visa for a foreign university and having his dream come true.
The title "Jonmodin" doesn't come into play until the very end. In a ploy to ensure that Opu and his toxic girlfriend break up, Opu's friends hook him up with a fake airplane ticket which enrages Jessia's character to the point of leaving Opu behind. It is when Opu comes back home with disappointment that he is met with a surprise birthday party, where it is revealed how his beloved people worked together to remove the one final problem from Opu's life; his obsession towards a woman who was never any good for him. The story does show a tale of redemption, exhibiting how even a rebellious teenager filled with bad ideas can still turn his life around. It also shows that no matter how grim situations can be, help from those who truly care will be the best support anyone can get. Likewise, learning to leave behind toxic people in life is a vital key to finding success in the future.
Let's get to the acting. As always, Tawsif Mahbub delivered with his usual portrayal of a struggling young man burdened with problems that come at young age. In this drama in particular, he seemed like the best choice to play the role of a teenager unable to take the right decision. Jessia Islam, unfortunately, showed her greenness all throughout the drama. Her lack of expressions and issues in properly enunciating dialogues were quite notable, but she did show promise in portraying a character that is meant to be taken antagonistically. Hopefully, landing more roles in short dramas such as this will be beneficial for her in the long run. Credits also need to be given to Saberi Alam and Siam Nasir for playing the roles of support characters very genuinely; their affection towards Tawsif's character was simply heart-touching. Considering impressive plot development and a moral we can take note of, Jonmodin did a good job in being an entertaining watch.
Recommend the writer something to review at [email protected]