THROUGH THE EYES OF FAHMIDA NABI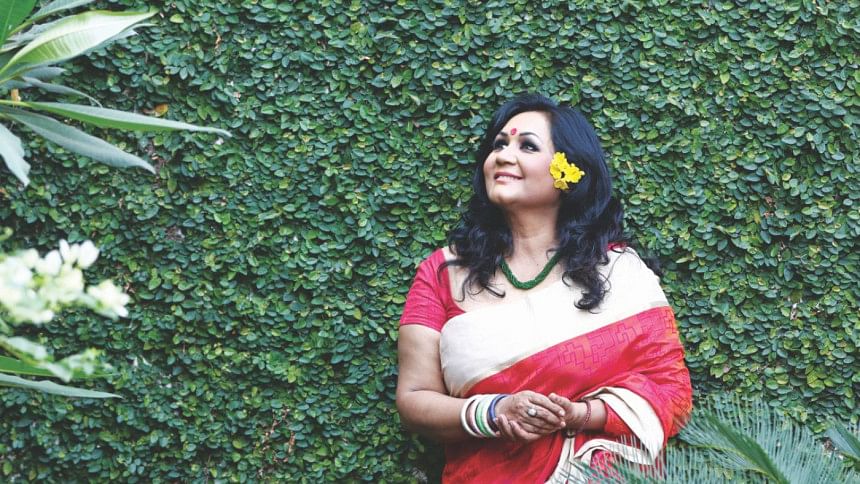 Being a leading exponent of modern music and a television personality, Fahmida Nabi is a melody in herself. She is the worthy daughter of the prominent singer Mahmudun Nabi and the elder sister of the eminent singer Samina Chowdhury and the popular musician Pancham. She was one of the honorable judges of the reality show CloseUp1 on NTV (Bangladesh). She runs a voice modulation institution named 'Karigori' since 2007 and contributes as the voice grooming facilitator. She released a huge number of albums on Rabindra, Nazrul and Modern songs including 'Dupurer Ekla Pakhi', 'Tumi Ki Shei Tumi', 'Mone Ki Porena', 'Ek MuthoGaan (1 & 2)', 'Tumi Obhimane', 'Ami Chuye Dilei' and many more. She achieved many prestigious awards including the precious National Film Award as the Best Female Playback Singer (2007) for the song 'Lukochuri Lukochuri Golpo' in the film 'AHA', Channel i Performance Award as the Best Singer (2008), Meril Prothom Alo Award as the Best Singer (2009), Channel i-Citycell Award as the Best Singer (2013), Channel i Music Award (2016 & 20017) and many more.
INSPIRATION
My inspiration probably transmitted through gene. I grew up with a tremendously inspirational and cultural-minded family. The overall atmosphere I was gifted by my parents was full of warmth and enthusiasm. My parents never forced me to do anything; rather, the knowledge I helped from them and my surroundings co-operated me to think broader. Therefore, my parents and my siblings are my inspirations. Moreover, my maternal grandmother has always motivated me in flourishing my potential in singing. And the one whose motivation is prodigiously inspirational to my work is none but my lovely daughter Anmol. One of my teachers is also my inspiration. Furthermore, Socrates has always been my inspiration. Besides, the Nobel Laureate Rabindranath Tagore and our rebel poet Kazi Nazrul Islam are my inspirations. Additionally, the profound love and respect from my audiences are my lifetime inspirations.
PHILOSOPHY
I think simplicity has the heavenly strength which can embellish a person's life to its most beautiful form. In my view, one's happiness can't depend only on the property he owns, it's not mandatory to live in luxury. Rather, one can be happier with a small hut if he has the vision for dazzling dreams. I always greet others with a smile on my face which I have adopted from my beloved father. We all know that life is too short to know. In my view, we have to think positively and embrace the struggles of our lives so that we can easily cope up with the unfavorable situations. I also believe in honesty. In my opinion, to become successful in life, a person must work with honesty, passion and dedication.
VIEWS ON HER PROFESSION
Music itself is a universe. It introduces us to a new era of life. I would love to compare music to a "shona-mukhi" needle through which we have to pass very carefully just like the thinnest thread. Since childhood, I could feel my thirst for music. My father bestrewed the seeds of music in me when I was just a kid and I think that's the first reason behind growing my interest in music. I must say that I am blessed to have some extremely good instructors in my life. To become a successful and sustainable artiste, one must follow the footsteps of his honorable instructors and seniors. I think the vision of an artiste toward his own image through a mirror will define his future. I would love to convey my message to the young generation to study a lot, do research as much as they can and to be sincere, passionate and dedicated to their work. We should also take proper initiatives to encourage our young generation and uplift their taste and knowledge in music.
BOOKS
I love reading story books. Above all, the books of Shirshendu Mukhopadhyay are my favorites. Also, I love to read Sherlock Holmes.
FILMS
I enjoy watching movies a lot and prefer to watch those in movie theatres. Currently, I am watching a movie named Anarkali. I love the movies on Sherlock Holmes. The legendary Bengali film Jibon Theke Neya is my all-time favorite. Swaralipi is also another favorite Bengali film of mine. Additionally, Roman Holiday, Come September, Doctor Zhivago and Zindegi Na Milegi Dobara are some of my favorite movies.
MUSIC
Music has an amazing charm which never fails to amaze me. I love listening to various kinds of songs including Rabindra Sangeet and Nazrul Sangeet. I love sad romantic songs the most. Additionally, patriotic songs are on the top of my favorite lists.
GARDENING
Flowers are the most beautiful gifts of nature. I love gardening. And whenever I am in a gloomy mood, I go to the nursery to spend some quality time. It gives me an inner peace and helps me smell the colossal grace of nature.
FUTURE PLANS
I have no specific plan because we live in moments. Whatever I am doing today will be the base of tomorrow. I believe that my present would describe how my past was as well as my future would be. I have an aspiration to establish an academy where no one has to do anything forcefully; rather, everything will be framed in a cultural atmosphere. And the students would get the full freedom to make their lives peaceful and meaningful. Some students may sing, some may dance, play guitar, draw, read stories, write or recite poems, or whatever they want to do.
IDOLS
Unquestionably, my parents are my idols. I strongly admire the ideologies of Rabindranath Tagore and Kazi Nazrul Islam. Additionally, the eminent singer Shirley Bassey and the great singer of Bangladesh Shahnaz Rahmatullah are my idols.