Music for therapy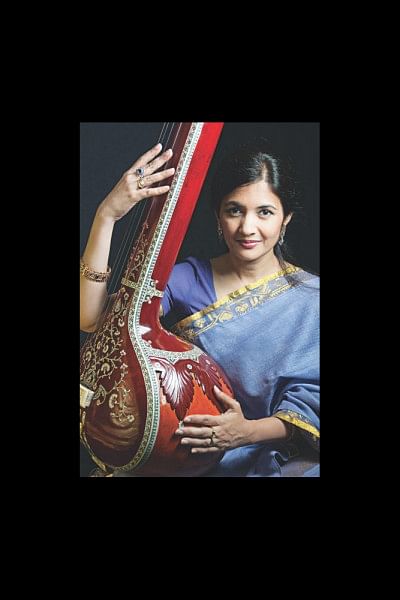 Samia Mahbub Ahmad, a beautiful lady sang with us on the same stage in the Nazrul Mela held in Washington DC in September 2018. I had listened to her twice before, once in the Omni auditorium and another time in the Indira Gandhi Cultural Centre (IGCC), on both counts in Dhaka.
Samia is primarily based in Bethesda, Maryland (USA) and divides her times between India and Bethesda, living four months in each place. She maintains her strict regime, practising three hours daily, performing in the US, India and Bangladesh, and also teaching three to four lessons per week. She obtained her MA (1994) and PhD degrees in Sociology from the University of Maryland, in 2005.
However, for the last twenty years; Samia, a disciple of Sri Tapan Baidya and Padmasri Vidushi Sumitra Guha, has been a professional performing and teaching artist of Hindustani classical music, in the Kirana Gharana. She has traveled the world, won numerous awards and performed for high profile individuals, including Archbishop Desmond Tutu, former President and First Lady Jimmy and Rosalynn Carter.
How is it, having studied Sociology, she is following a career in music? Samia answers back, "I see important parallels between my dual passions for music and sociology. For me, both are about connecting to people across boundaries."
She continues to say, "The universal language of music upholds a spirit of unity, in spite of differences in languages, ethnicity, race, culture or religion. Music celebrates commonalities in the midst of differences."
As for her future plans, Samia hopes to widen her practice of music to forge a partnership with health practitioners, who incorporate music to provide therapy to people faced with mental, physical and emotional challenges, to help them cope and relax.
It takes me back to a discussion with my Guruji Pandit Jasraj in 2016. He said, "The ragas have been designed that way, to bring peace. For example, rag Darbari is sung at night, it is supposed to bring sleep". Pandit Jasraj has done some research into this area. I hope Samia is able to do so too. The things that we learn can benefit others.
My message to Samia, "Don't worry about saving these songs! And if one of our instruments breaks, it doesn't matter…
We have fallen into the place
Where everything is music (Jalauddin Rumi)"
I think Samia's philosophy says that too, when one knows the difference between Rag Hambir and Kedar, what is there more to yearn for but sing Ajo kade kanone koyelia (Poet Kazi Nazrul Islam's song sung by Samia at the Omni hall, Dhaka).
Nashid Kamal is an Academic, Nazrul exponent and translator.