THROUGH THE EYES OF SHIBLI MOHAMMAD
A legendary dancer of the classical arena, performer and choreographer of Bangladesh, Shibli Mohammad has a stunning portfolio that is yet to be replicated. He graduated from Jahangir Nagar University with his Bachelor's degree in Physics. He was awarded the Indian Government Scholarship to train at the "Bhatkhanbe Music Institute" in Lucknow, India; then studied under the fabled Kathak exponent Pandit Birju Maharaj in "National Institute of Kathak Dance" in New Delhi. He also received a training in ballet and contemporary dance as well as tap and jazz at the "London Ballet Theatre School". He is the co-director of "Nrityanchal Dance Company". He received a huge number of prestigious awards, including the UNESCO award for Best Bangladeshi Dancer, the George Harrison Award for Dance, the Jaijaidin award, the Bachshash award, the Prothom Alo award, and the Lux Channel I award.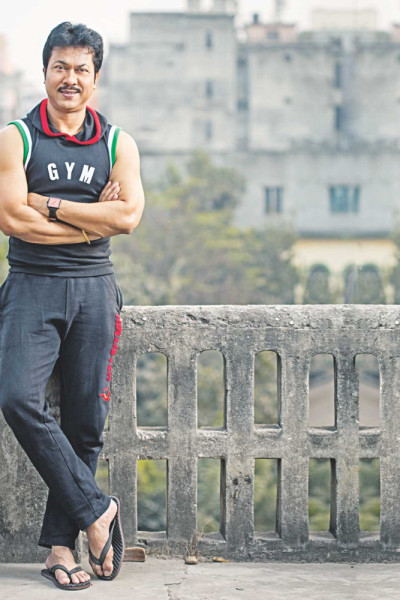 Inspiration:

Unquestionably, my mother is my inspiration. The family I am blessed with is extremely supportive and cultural-minded; especially my late brother, Shameem Mohammad, boosted me up at the time of my turning into a dancer from a singer. Also, the great guru Pandit Birju Maharaj, who re-framed my passion for dance, is also my inspiration.  



Philosophy:

Life is evanescent; in this uncertain journey, my motto is not to hurt anyone. Whoever the person is, I will not hurt him even if I get hurt by that person. It gives me sanity and steers me toward the moral path. For instance, when someone wants to take a photograph with me, I cordially stand beside him keeping my hand on his shoulder with warmth. I believe, not hurting others would greatly enhance the probabilities of turning someone into a generous human being.



Views on his profession:

Dance is the mother of art, a beauty that is divine. It is an international language which can express the immense depth of joy, anger, sorrow and so on. The spontaneous motions help a person to be confident, and feel the thrill of this momentary life as well. The current condition of our country is pretty favorable for learning and practicing dance. Moreover, some of our fellow dancers are giving outstanding performances; Snata Shahrin, Orunima, Boishakhi, Mili, Rekha, and Jhunjhun are some of those extraordinary talents.



Music:

I usually like sad and touchy songs, especially songs with high philosophy enchant me the most. That's why Rabindra Sangeet is my all-time favorite "Tumi Robe Nirobe" by my beloved brother Sadi Mohammad and Hemanta Mukhopadhyay, and "Ami Chanchalo Hey Ami Shudurer Piyashi" are some of my top most favorite songs. I also like English songs; Whitney Houston and Lionel Richie are my favorite artists in that category.
Films:

Movies are mostly for entertainment, though some of those may convey deep notions about life. I love to watch Bengali movies of Ritwik Ghatak and Satyajit Ray; simultaneously I also watch Hindi, English, Turkish and Iranian movies. I can relate my life story with a Bengali film named "Meghe Dhaka Tara" by Ritwik Ghatak in which I can see the reflection of my family's struggling phase, the terrible sacrifice of my mother, my brother's death and many more.



Books:

I usually don't consider any barrier in case of reading books. Among all books I have read, "Eka Ebong Koekjon" by Sunil Gangopadhyay, "Shatkahon" by Samaresh Majumdar, "Durbin" by Shirshendu Mukhopadhyay and "Sobinoy Nibedon" by Buddhadev Guhaare are some of my favorites.



Future Plan:

My passion for dance has always been ceaseless. I keep myself busy with my dance school all year round. Last year, "Kathak Shandhyda" was arranged by "Nrityanchal". Our latest production "Alibaba" produced by "Srishti Cultural Centre" will be staged at Shilpokola on 3rd February, 2017.  



Idols:

Of course, my mother is my idol; her modesty wonders me the most. I believe in the ideologies of Bangabandhu Sheikh Mujibur Rahman, Rabindranath Tagore and my guru Pandit Birju Maharaj. Their remarkable contributions have left a deep impression on me.
by Shawreen Rahman