Through the veins
Like Father, Like Son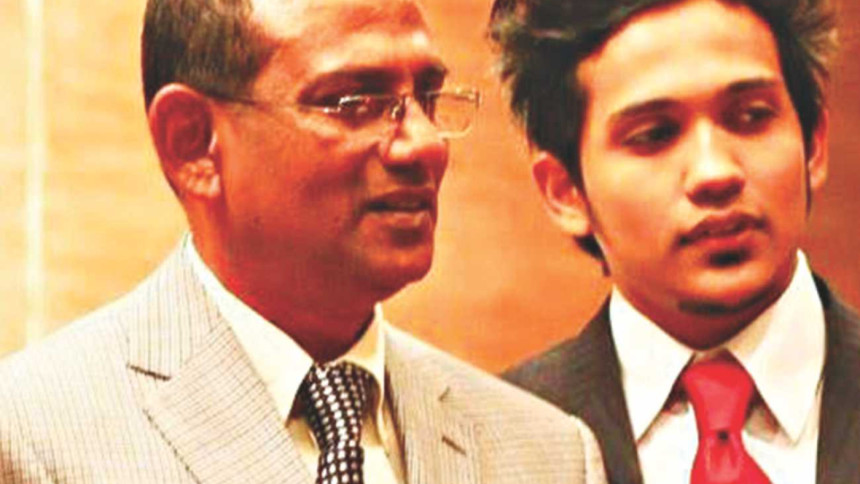 Star Showbiz presents to you a chat with the secretary of Rabindra Sangeet Shongshod and one of the most influential Rabindra Sangeet singers of the country, Fahim Hossain Chowdhury and his son, Amid Hossain Chowdhury. Amid is an upcoming singer and an RJ in one of the most popular radio stations in the country.
Favourite colour

Father: Brown

Son : Blue
Favourite Food

Father: Bhat-Daal (steamed rice)

Son: Sweet and sour prawn
Favourite Dress

Father: Panjabi

Son: Jeans and shirt/t-shirt
Favourite Season

Father: Summer

Son: Summer; "Given it is all sunny

and fresh makes me more productive"
Favourite Song

Father: Rabindra Sangeet, tough to

specify one

Son: Hard to tell, a lot actually
Favourite Singer

Father: Sagor Sen

Son: Michael Jackson
Favourite Movie

Father: Abirbhab

Son: Batman Begins
Favourite Actor

Father: Uttam Kumar

Son: Hard choice between Amir Khan and Salman Khan
Tell us one thing you like and one thing you dislike about your father.
Amid: My father is a very helpful and selfless man. This is something that I both love and hate about my father. In this world, especially in this time and context, it is very hard to find someone with so much humanity and that is something I love. But then, the people will forget and not recognize his help and won't do the same when my father needs them. The fact that my father does not expect anything in return is what I dislike because hate is not the exact word I would use to define this.
Could you tell us one thing you like and one thing you dislike about your son?
Fahim: There are actually quite a few things that I hate about him, one would be that he doesn't practice music as much as we used to do. He will come back from his work and do his things his way, play guitar or do some music but never a proper 'rewaj'.
What I love about him is that he has his goals set and whatever he does, he does with full attention and love. And of course, I absolutely love his success.
What is it like to balance both business and music on a daily basis?
Fahim: Business was something I had to do to for my family and secure their future, but music is something that comes within. Music soothes my love and something I am very passionate about, and I always prefer being called a singer rather than a businessman.
Amid, you are an RJ by profession which has nothing to do with your studies and a singer by birth. I must ask, which do you prefer? And the fact that RJs have to talk a lot, does it affect your vocals?
Amid: Of course RJs talk a lot, that is what we get paid for after all. I was actually working at the Marketing Department of Radio Foorti when my boss thought I would do well and as an RJ and here I am. Talking too much sometimes affect the vocals but we have a lot of musicians in our office and we are having casual jamming all the time. So I cannot really choose between being an RJ or a singer. I love what I do as much as I love making music.
by Rownak Nowrin Haque