ROAD TO FAME
Having been acting since her childhood, Puja Cherry has carved a name for herself in the showbiz industry. Since her debut as a lead actor in 'Poramon 2', she has gone on to play several lead roles in prominent movies. In this interview with Rafi Hossain, she talks about her journey in acting, and about her thoughts on the future of the industry.
Rafi Hossain: Welcome to Uncensored with Rafi Hossain. Today we are joined by Puja Cherry. Thank you for giving us your time, Puja. Have you started shooting yet?
Puja Cherry: I have not started shooting yet, but I am having talks to start around the middle of October. I am eager to get back to work. I miss working in front of the camera, so we are going to start shooting while making sure to maintain safety precautions. This will be for a new project I am taking. Other than this, I also have three movies awaiting release: Jinn, Shaan and Psycho. The shooting for Jinn is finished, but the VFX is currently being done in post-production abroad. This is a horror movie, so it has some scenes which require VFX. Unfortunately, there is still some shooting left for Shaan and Psycho, which we had planned to finish before this whole pandemic started.
Rafi: You started acting at a very young age. Did you start by doing movies?
Puja: I first appeared on the silver screen with JAAZ Multimedia's debut film Bhalobashar Rong. I also did a few films with JAAZ after that. Alongside those, I also did some advertisements. I was first announced to be the lead actor in Poramon 2, and I also played the lead female role in Noorjahan.
Rafi: How was your journey into the showbiz industry?
Puja: I first started acting when I was in either first or second grade. I did a movie which was supposed to be my first film, but for some reason, I was not seen once throughout the entire film. I went to the cinema hall with a lot of people I knew, and we were all excited about it. I was very embarrassed when they cut all my scenes. I am still not sure why they did so, and I felt very sad because of it. So, my first experience in the industry was a bit difficult for me. I learned from it and later, I got asked to do the lead role in Poramon 2. I was visiting my village then, and I got a call from Abdul Aziz sir to come to the JAAZ Multimedia office. When I went there I saw that the whole production crew of the movie was present, and that made me feel a little intimidated. I did not think that I was going to be offered the lead role. I was then told the plot of the movie, and I found it to be quite interesting. While listening to the script, I was thinking about how I wish I could have been the lead actor for this project. When I got the role, I was in complete shock. I could not believe that I had been offered the lead actor for such a great movie. To be able to achieve that was a dream come true for me.
Rafi: Are you enjoying all the stardom you have now?
Puja: When I first started acting, I used to see all these actors having fans come up to them to ask for autographs, and I would always wonder when I could have that experience of fans coming up to me. So, now that I have so many great fans come up and ask me for pictures or come to talk to me, I enjoy it. Some people might say that they feel annoyed when they are hoarded by fans wherever they go, but I enjoy that experience. I do not think I can ever be annoyed by fans as this is what I always dreamt of.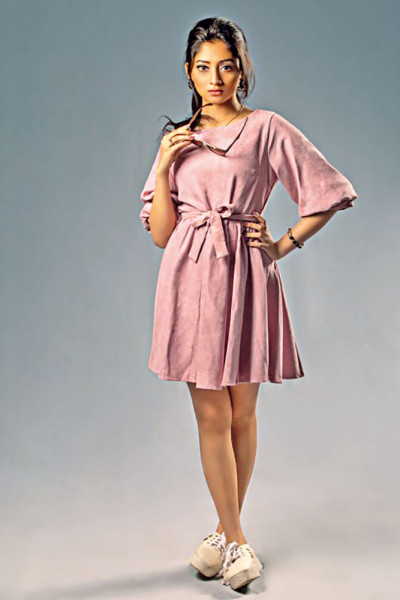 Rafi: Our industry is now in a state of crisis. Where do you think it is headed?
Puja: In 2019, I was very excited about the future of the industry as I thought a lot of great movies were going to be released this year. Unfortunately, due to the pandemic, everything got jeopardised. Even though it happened, I am still hopeful as I know that there are many people interested in making good films. I do believe the industry has a bright future ahead, but it will take time to reach there.
Rafi: How do you choose your scripts?
Puja: When I choose my scripts, I try to make sure that the characters I do are not too similar. I got many offers where the characters were similar to the roles I did before. Unless I enjoy the script, I do not do them. I like doing different types of roles.
Rafi: When you played the lead role for the first time in a movie, did you get any grooming on how to act better?
Puja: I did. Before shooting, I went to Kanchon Mullick in Kolkata to receive grooming. I knew that without receiving proper training it would be hard to portray a lead character. That is why I decided to learn acting better and then come and do the role. Thankfully, I had learnt singing and dancing at a very young age, so I did not have to receive additional training on those when acting.
Rafi: Who are your favourite directors?
Puja: I love the work of Kaushik Ganguly from Kolkata. I think that his style is amazing. I got the opportunity to work with Raj da, and his direction is unbelievable. From Bangladesh, I got to work with a lot of amazing directors as I have been working since my childhood.
Rafi: In movies, we get to see many pairs that the audience grows to love. Who is the co-star that you thought could be that partner for you?
Puja: I did not have anyone in particular as I have great chemistry with anyone I work with, but the audience loved to see me and Siam together. Roshan is another person the audience loved seeing me with. Even when I get offered roles, I always get paired with Siam or Roshan.  
Rafi: Are you in a relationship right now?
Puja: No, I am not. I am busy with my work, and for me, that is the most important thing now. But, I do have many people who ask me out regularly. On social media, I have even had people asking me to marry them.
Rafi: How do you handle that?
Puja: Well, I know that many people might not reply to their fans or even see the messages, but I try to do that as much as I can. It may not be possible to reply to everything, but I try to interact with my fans as much as I can. I could not have come this far without my fans, so I am grateful to all of them.
Rafi: Do you have any parting message for the readers?
Puja: I would ask everyone to stay safe and to beo brave in whatever you do. I also want to ask everyone to keep on supporting me in whatever I do as that drives me to be better. Please watch more Bangla movies and to support the Bangladeshi film industry.