Nayak Raj - A Tribute to Razzak
Abdur Razzak was very surprised when Celebrating Life declared that it wants to present him a lifetime achievement award a few years back. He cited two reasons for his amazement. First, given the on-going trend, he naturally assumed that such recognition was given after the demise of a person. Secondly, it somehow took him by surprise that an English newspaper would award him! Anyway, Celebrating Life made a documentary film about him. A gala event, too, was prepared. Unfortunately, Razzak fell ill and had to be taken abroad for treatment. On behalf of him, Faridur Reza Sagor received the award. We were delighted and a little disheartened at the same time: we were honoured to give him recognition, but we were indeed disappointed that Razzak could not receive the award himself. 23 January of this year marked the 75th birthday of this legendary actor. Channel i has celebrated the occasion with a lot of gusto, saluting the living legend. Star Showbiz, too, has grabbed this opportunity to pay due acknowledgement to the movie maestro. And hence, without further ado, we present to you, our tribute to Nayak Raj.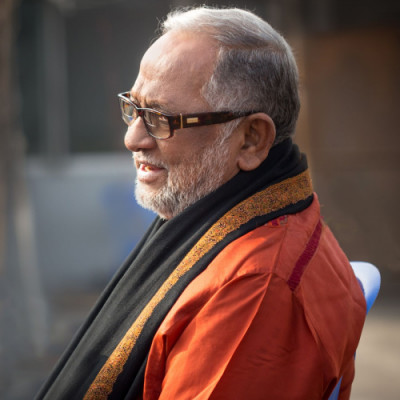 As a struggling artist, he had his fair share of rejections in the movie industry. Razzak had done minor roles in some movies, which gave him screen time of barely a minute or so. But, he was very patient and had faith in himself. The young Razzak had sometimes worked for 20 hours a day, and even slept on the premises of the FDC. 
Then, his life took a turn for the better when director Zahir Raihan casted him as the lead actor in his movie, Behula. And that film took Razzak to the height of stardom whilst also making him a household name. 
Read more: NAYAK RAJ forever
Razzak had been given the now famous title of 'Nayak Raj' by journalist Ahmed Zaman Chowdhury. For Razzak, it was a humbling experience, and, instead of letting pride and arrogance enter his heart, he took the honour in the right spirit: he used it as a motivation to work harder. 
It must be said that Razzak had earned the title rightfully. The once struggling actor had, after all, succeeded in becoming a superstar. To demonstrate the influence he had, the story about the remuneration of his first movie is a good place to start. It was settled that Razzak would draw a fee of Tk500 for Behula. But, given the blockbuster hit the movie became, he was handed out Tk5000! 
Forgive the materialistic perspective if you can, but indeed, everyone, generally speaking, desires fame and fortune. Razzak had been endowed with both. But he belongs to that rare breed of men who did not let these things come in the way of his art. 
The last movie that he did earned him Tk10 lakh; and he says that he had been paid even higher in the Indian movies.
Talking so freely about his remuneration makes one feel that Razzak is in fact an open book - a man who is rather straightforward and frank, with nothing to hide.   
He had enough chance to brag about himself, if he ever wanted to go down that road. He was, after all, the darling of the film industry. He starred opposite heroines such as Bobita, Kobori, Shabana, Shujata, and Shuchonda, establishing fantastic screen chemistry with each of them. 
Now, at the age of 75, what does the veteran actor think about? On one hand, there is the nostalgia of the glorious period of Bengali cinema. He remembers how, back in the days, everyone in the movie industry was very passionate about making Bengali films. There was a lot of passion among directors, actors, et al.
And, on the other hand, Razzak feels a little anguished at the condition of our movie industry today. He expects and urges the young generation to come forward and solve the current problems that looms over this sector today. And as he's now rather elderly, he says that he cannot directly get involved in the much-needed revolution, but he promises to provide his guidance and advice to help bring back the glory days of the industry. He believes that with dedication and hard work from the artists, a change can indeed be possible. 
On the event of Channel i's tribute to him, he thanked the Prime Minister of Bangladesh for sending a representative and congratulating him with flowers. He said that the government requires coming forward and supporting the film industry in order to improve the quality of cinema. 
Nayak Raj has devoted his life to Bangladeshi cinema. He remains, above everything, an optimistic soul - and a hard working one indeed. And, he wants to work till the last breath of his life. May God grant him his wish! 
Interviewed by Rafi Hossain 

Narrated by Himadri

Special Thanks to 

Channel i and Ananda Alo