We often tend to ignore our bodies in the perplexity of life. This is even more so during the holy month of Ramadhan, when we change our routines for a month in order to please the Almighty. Star Showbiz talks to two of the very top models in the country, Azim Uddula and Jannatul Ferdous Peya on how they maintain their health and fitness; they give valuable tips for our readers on how to love perhaps the most important part of ourselves: our bodies!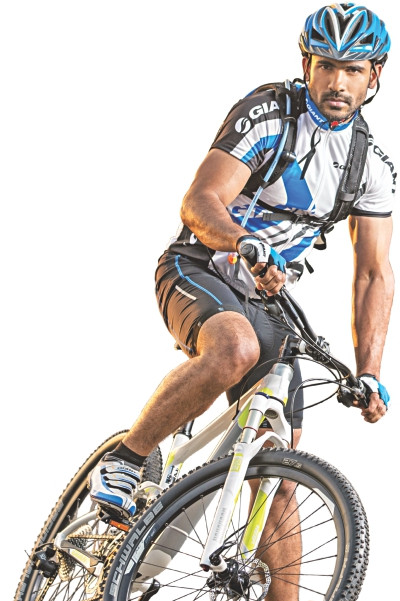 AZIM UDDULA
Workout Routine
I usually go to the gym four days a week, and I really enjoy working out. I work out for an hour or a bit more. On alternate days, I jog during the evening to stay fit and spunky. I do not like running on the treadmill as I find it tedious to run in an enclosed space. Jogging is insanely good for health, and is required to tone and balance out the muscles gained in the gym.
Diet:
I try to avoid carbohydrates as much as possible. I eat a lot of vegetables, and I have come to enjoy them as part of a full, healthy meal. In the morning, I have a glass of milk and two eggs. I love fish and consume a lot of it. White eggs are amazing for health, and are a regular feature of my diet.
Motivation tips:
Honestly, one has to love his or her own body in order to be truly motivated to take care of it. Even before joining the gym, I played various sports such as cricket, football and more. I think we should remember that working out will not only make us look better, but feel more energetic and productive as a whole.
Ramadan Plans:
It is obviously a bit challenging to maintain the same level of fitness during Ramadan, but it is definitely possible. When I fast,  I try to avoid junk food as much as possible. These are bad for health as it is, and even more so when you haven't had anything else to eat for a whole day. Fruit juice and other healthy options are always in the menu for me. After iftar, I will do some light exercise if possible.
Fitness Mantra:
There is no 'mantra' for me. Fitness is something that everyone requires in order to fully enjoy life, and thus more emphasis should be given on that by everyone.
Career Goals:
I have done modeling for 7 years now, and I have even had the chance to work with legends like Bibi Russell which was obviously a big honor. I have been involved in the majority of the big fashion shows here. I have recently collaborated with the UK- based Adora Model agency and am being contacted by some agencies in Milan who really liked my portfolio. I hope to continue working both in Bangladesh and internationally in the future.
JANNATUL FERDOUS PEYA
Workout Routine
To stay fit, I follow a basic diet chart very strictly. I also go to the gym 3 to 4 days a week and when I don't go to the gym, I do some simple exercises at home and some yoga as well.
Diet:
I am very fond of rice. So I try to keep that and vegetables as a large part of my diet. Basically, I always try my best to have a very heavy breakfast as it is the most important meal of the day. I also try to have a very balanced lunch and a very light dinner. However, I always avoid fast and junk food. And given the current weather, I make sure to drink a lot water and 'daber pani'.
Motivation tips:
Well, like most people I hate to workout but I never really stop doing it. The trick is that I love myself and I really like being healthy and fit. And that keeps me motivated to regularly work out and eat healthy.
Ramadan Plans:
I haven't really thought about it yet because every time I do, I get really scared (laughs). Once Ramadan starts, I will decide what would be best. But one thing I will do for sure is drink a lot of water after Iftar and till Sehri. Also, try to have a well-balanced Sehri and Iftar. And since I already don't eat any junk food, I will not have the typical fried Iftar.
Fitness Mantra:
Some people think that going to a gym is a basic 'requirement' for models, but that is not why I go there. I stay fit because I like being fit. For me being fit and healthy is an important part of being happy. I don't do this just for my profession.
Biggest Achievements:
I am a lawyer by profession as well. And that is definitely the biggest achievement of my life till now as completing my Law Degree while being a full time model was definitely not an easy task for me. However, from the modeling perspective, I believe, it was being featured on the cover of Vogue India.
Advice to women with Body Issues:
Everyone needs to know that we as actresses/models put in a lot of work into looking the way we do. And of course, Photoshop is there too. But this isn't only what is beautiful. I believe happy and healthy girls are beautiful. Everyone should love themselves the way they are. However, of course, it is a good thing to be fit. But trying out crash diets or extreme workout regimes aren't healthy, as these have long-term negative impact on our bodies. Everyone should try to be healthy in a properly regulated way but only because it is what they want and it makes them happy.