Words Unleashed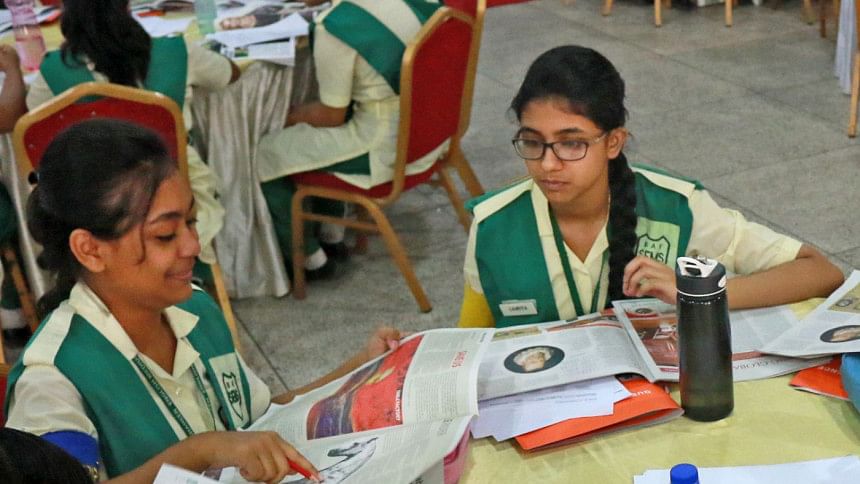 Creative thinking is what sets humans apart from machines. Creativity can be expressed in various mediums, and writing is one of its better known outlets. As a joint venture, The Daily Star (TDS) and United International University (UIU) have launched the "Imagine: Write Creatively" programme to encourage the writing skills of school students. As a part of this campaign, a workshop was organised on April 16, at Shaheen Hall, Dhaka for the students of BAF Shaheen English Medium School (SEMS). 
Over a hundred students from grades 8 and 9 of the school joined the workshop. It was conducted by a team of training instructors consisting of Shiwa Forkan, an English teacher working with TDS, and Sharmin Sultana, senior lecturer from UIU. The workshop engaged the students in a variety of interactive sessions that mainly focused on the construction of a story by creating characters, a setting and a plot. The trainers used images of people and places and asked the students to speak up about their perceptions of them. They were given worksheets where they dissected a story to better understand its elements. In the end, they were asked to write the beginning of their own story and illustrate it on a piece of paper. Later, they shared these pictures and stories with everyone, displaying the skills they had just learned. The instructors in turn told them how they could develop their stories and add more to them.
Halfway through the workshop, the Principal of BAF SEMS, Squadron Leader Mustary Dilshad, joined the students and the teachers to observe the proceedings. "It is said and believed that without imagination the course of civilisation would stop. To live and survive we need to imagine and dream. Today we learn how to hover in the imaginative world and how to think creatively," she said. She later went on to thank TDS and UIU on their commendable venture. 
The students showed great enthusiasm in learning what they were being taught and there was a buzz in the room indicating that. The instructors spoke to the students instead of lecturing them and the students responded, creating an environment more comfortable for learning than what most students are used to. 
Raisha Jasmin, a 9th grader from BAF SEMS pointed out: "The way the instructors reached out to us and engaged with us was a different method of learning from what we usually see, and it was fun."
Ragib Farhat Hasan echoed his classmate's thoughts when he said, "There's an added focus on learning here, instead of a focus on grades and such. The dullness of a classroom was replaced by a liveliness which invariably helps in learning new things."
Mashiat Muhtasim explained that this workshop was different because of its emphasis on teaching not for the sake of an exam, but for the sake of learning something new. He said, "Creative writing is important for us in getting better at our school work, and it'll also come in handy for us later on for other purposes."
Nusaibah Yunus was rather impressed by this workshop and she felt that this had helped the students a great deal; mostly the ones who want to write and need a place to start. She had high hopes of how this could help the students: "This workshop will attract people towards writing and that could create a better path to literary enlightenment for our country, where I feel quality literature still needs to come through more."
Anjuman Ara, a teacher of BAF SEMS, was glad that her students had this experience. She said, "Their (the trainers') way of teaching and involving the students was effective. In classrooms we have to follow specific lessons and chapters which is one barrier that they didn't have in this workshop."
The workshop is part of a year-long campaign by TDS and UIU across a number of English medium schools in Dhaka, where students will be trained on the subject of creative writing.