You and romantic stalkers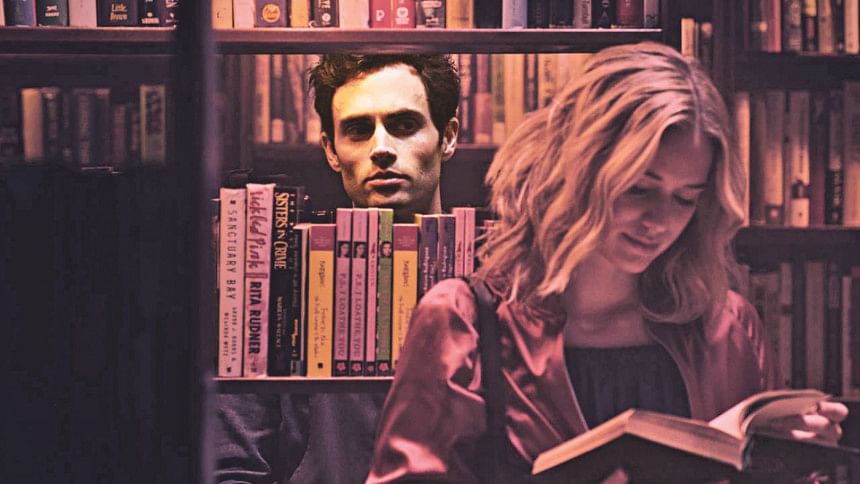 Romantic dramas and YA novels are known for many things, including romanticising abusive relationships. We've all seen or read about that male protagonist; the mysterious, brooding guy with a dark past who's manhandling and belittling the female protagonist at every turn. He treats her like his possession and completely disregards her sense of privacy and still manages to get the girl.
Netflix's new show, YOU, shows the terrifying outcome that occurs when an average man follows these to the letter. The series tells the story of Joe Goldberg, a bookstore manager, who meets a girl named Guinevere Beck, and quickly becomes obsessed with her. There is no line he won't cross to have here, including murder.
However, YOU is not just an ordinary story about a girl and her stalker. What really sets the show apart is its clever use of classic romance tropes and putting a dark spin on them. One can observe that Joe's actions, although obsessive and unhealthy, are mostly following what romantic movies have always told us about how to 'woo' a girl. Taking pictures of her without her consent, following her to places and tracking her movements are some of the many things that are simply glossed over, or in some cases, encouraged. In these movies and books, the girl always seems to return the man's affections. In everyday life, this is considered harassment.
Yet, there is something creepily endearing about Joe. He is the narrator and protagonist of the story and it's very easy to connect with him. One of the most fascinating parts about his character is that even though he's doing all these terrible things, he never once considers himself to be in the wrong. He's always convinced that he's following the rules to one great romance and thinks of himself more as a knight in shining armour than some kind of villain. His obliviousness could've easily been frustrating, but instead it leaves you feeling intrigued and eager to discover more about him.
The supporting cast are all very competent but the showstopper has to be Penn Badgley, the actor who plays Joe. His portrayal of the character is so raw that even as he's doing the evilest things one can think of, you never want him out of your screen. The show doesn't glorify Joe's actions – it is well aware that everything he's doing is wrong and makes you aware of that from the beginning. Once it ends, you're left feeling conflicted. Unable to decide how you feel about him and the consequences that followed. Dare I say, this may just be one of the best psychological thrillers in recent times.