Bargaining skills you learn from your mom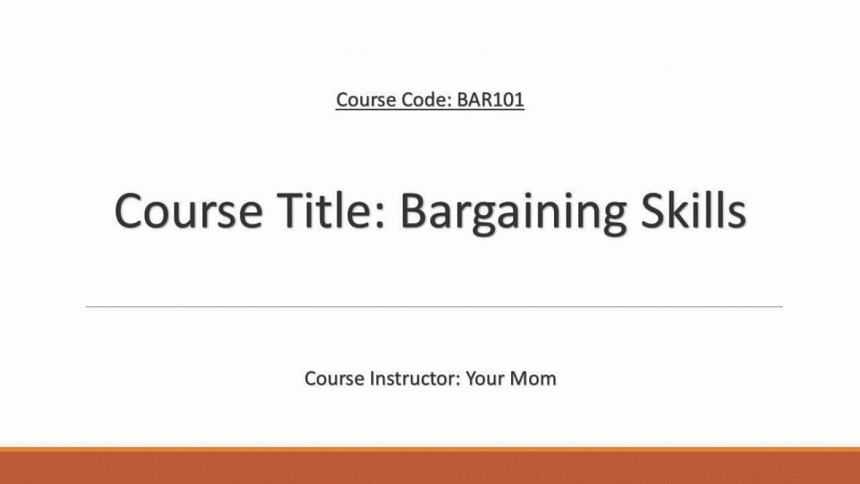 When I was little, I always felt embarrassed about the thought of going out for shopping with my mother. She was fond of bargaining with the shopkeepers whenever the opportunity presented itself. I, on the other hand, couldn't fully grasp the idea of arguing with the salesperson for a good ten minutes just so I could buy something at a price marginally lesser than the original. 
But now, as I venture out into reality all by myself and am aware about my own finances, I have realised the need for bargaining and am grateful to my mother for bestowing her bargaining skills on me. I believe you can say the same for yourself. In case you can't, I have you covered.
Get low: They might ask you to pay a thousand taka for that imported pair of socks but that doesn't mean that you can't have it for a hundred. If you want to buy the product for half the asking price, you need to start bargaining from a very low point. Start the bidding with less than ninety percent of the total price and slowly, keep climbing upwards till the salesmen are annoyed to the point of submission. The trick here is to set your bid lower to a level which is good enough for the salesperson to be interested in your bidding but not so low that they end up ignoring you completely.   
Do not place your offer first: If you plan on bargaining for a product, ask the salesperson for a discounted price first and then follow up on that. Do not place your offer first. Hear what they have to say or how much they are willing to reduce. It will give you a rough idea about the middle ground where both you and the seller can mutually agree on.     
Fixed price is a myth: Just because it says 'fixed price' doesn't necessarily mean it has to be so. At least not in some cases. You're never gonna know whether it is a myth or not unless you give it a try. Apart from some of the branded stores out there, you can literally bargain your way into a good deal with most of the shops that have the 'fixed price' tag displayed on their entrances.  
Compare and contrast: You know how your mom sometimes compares you with your more academically successful cousin just to make you work a little harder the next time? Turns out children aren't the only things she compares. Your mom will also compare the prices of commodities whenever she needs to bargain with a dealer. She will tell them how she saw the exact same product at another store with a lesser price tag and will question why theirs is priced higher.
Do not show interest: "If you find something you like, just point at it, leave the store, get on a plane and then leave the country. I will take care of the rest" – this is the piece of advice my mom used to give me whenever we went out for shopping. The reason was simple. If the salesmen noticed my interest in their product, they would not be willing to lower the price that easily. My interest would ruin my mom's plan of landing the perfect bargain. The salesmen usually take advantage of such interest, especially when the customer is a small child. The trick here is to never let them know that you're really interested in buying the product. Just be like 'meh, it's a nice shirt, but yeah, I can do without it.'  
Walk away: When the salesman refuses to give in even after you have announced your final offer for the product, you simply need to walk away. Just turn around and head towards the exit. This is where the salesman will call out to you, try and raise the price a little more than what you had offered, and then finally, hand over the product at the price you wanted.
The frequent/old customer plot: Many of us have this one particular shop that we frequent every now and then. This opens up a new opportunity for us to get a good deal. You just have to chant the 'I am your regular customer, I come here every time' mantra in the shopkeeper's ears every time you pay the store a visit. Repeat this till he or she knows you by name and after that, you don't even need to ask for a discount or bargain your way into one. The shopkeeper will have it done for you.  
As the days go by and we grow older, we will surely feel the need to try and save money whenever possible. From choosing cheaper alternatives to bargaining, we will probably be trying everything in our arsenal. This habit of haggling is nothing inherent. It is merely a matter of learning and practicing, which we have been doing unconsciously every time we went shopping with our mothers.  
Faisal wants to be the very best, like no one ever was. To survive university is his real test, to graduate is his cause. Send him memes and motivation at [email protected]