Should you get a refurbished device?
Buy products without selling your soul to the devil
One thing you've got to understand is that refurbished devices are not secondhand. The main difference lies in the products' usage time. A refurbished phone or anything ELSE in this matter has the "refurbished" tag with its name probably because its packaging got damaged somehow or a customer gave it back for a refund. So, it's almost nothing short of a brand new product. On the other hand, products deemed as secondhand usually have been used for some time without any significant damages or internal problems. Even if there are, scratches on the screen or a diminished battery life or some other considerable issues, the seller will usually fix those before putting it up for sale. Unless they're the type whose moral values line up with Hitler's. You're literally Hitler if you sell damaged goods and don't tell the buyer.
A common misconception among buyers is that refurbished products have diminished quality which is actually them thinking about secondhand stuff. Refurbished items are a very good deal because simply with the extra tag, the price goes down; often by a great amount. What you need to take away from all this is that refurbished products are rejected products (which definitely does not mean "defective") but nonetheless exactly same as a new one.
But there are some cases where the products have been damaged during transportation- minor dents or scratches during shipment. And sometimes because of faulty production. During testing, a device may be found to have some problems. The manufacturers will then repair that and sell it as a refurbished item. A salesman of a renowned company also told me that sometimes the demo units used for displaying new arrivals are later on sold at a price lower than the original one.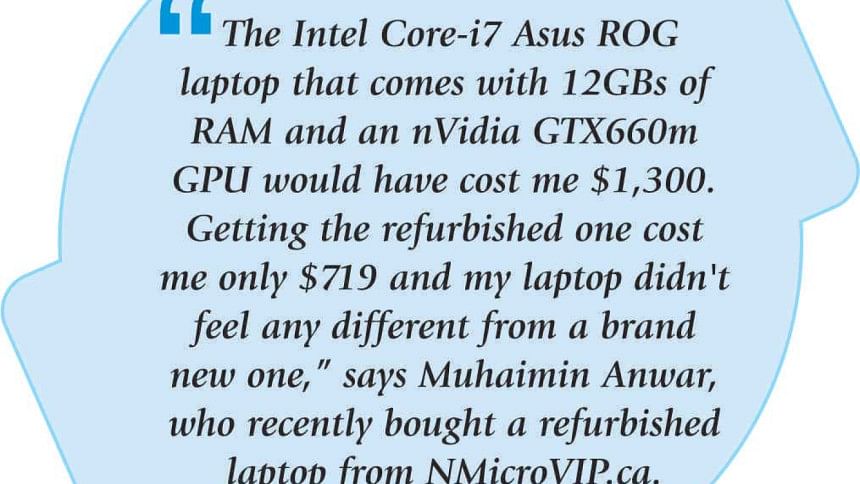 Another great thing about refurbished products is that when they are "Factory Certified," they have been re-tested to eliminate any problems, they come with the manufacturer's warranty and all the services you would get with an original piece.
A good question at this point would be, "Are refurbished products refundable?"
Yes, the reliable vendors usually have refund policies. With Apple its 14 days, Amazon and Sony- 30 days. So, if you decide that the refurb iPad you bought has some problems in it (which won't happen if you've purchased it directly from Apple), you can return it right away.
Apple devices provide great deals with refurbs. They are factory certified from Apple. You get the same 1-year warranty as would get with an original one. Apple devices being costly, many customers consider refurbished items instead of the original ones and now that you think about it, that's actually a very effective decision because you're getting the same quality products at a reduced price.
In Bangladesh, a stable market is yet to be formed for refurbished tech. Though you can find some sellers with refurb stuff among the hustle and bustle of BCS Computer City, Bashundhara City and Eastern Plaza, the price drops are not always that significant and sometimes not worth the risk. But online market places like www.clickbd.com and www.bikroy.com make up for that. Though, be careful that you don't end up with a resell deal.
You can find devices that have been used for a day or two or a couple of weeks at most- they'll sell those devices at a comparatively lower price, warranty and packaging included. So, as long as you're okay with the fact that some guy used this phone (or not) only for a few days and that it's perfectly ok without even a single scratch on it, you're good to go.
 
Special Thanks to Raguib Raihan and Abdullah Al Nahian.