When trees open up about humans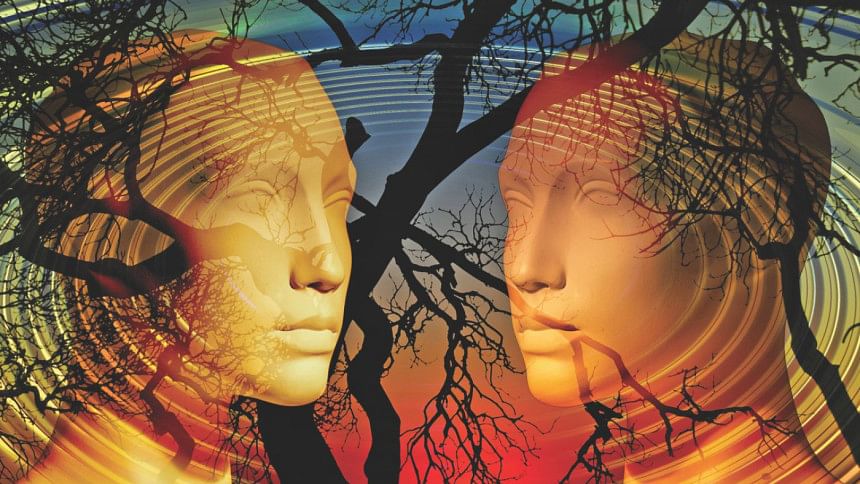 Host: Nature is more important than ever before, and trees are arguably the most valuable components of the environment. That is why, on this special occasion, we have invited three prominent trees who have come from different walks of life.
???: It's quite offensive to put it that way.
Host: I-I didn't mean it like that, walk is used metaphorically here. We know trees can't walk… not that anything's wrong with that! O-okay, I'll say it in a different way. Ahem, trees who have come from different backgrounds.
???: Because we're always in the background, aren't we? In paintings, movies and photos we're always behind the real attractions.
Host: No, no, I'm so sorry. Um, I'll just quickly introduce you guys. We have with us Mr Morich and Lebu who both live indoors with their respective human counterparts, and then we have Ms Aam, who is an independent tree living outdoors. Let's start with Mr Morich. So, can you tell us a bit about your human carer?
Morich: Well, what can I say? He's like the perfect fertiliser for me. I knew he would be the one the moment he paid a hefty price to take me to his beautiful abode. He even bought me a luxurious pot, but it's not that I like him for his purchases, rather for his personality. I still remember our first day together. He held me by the stems and tenderly took me out of my temporary plastic pot. My roots were tingling by his gentle touch, and my stomata were all open trying to take it all in. He cupped the soil underneath me with his other hand while having a big smile to reassure me that everything's okay. After patting my roots down into the new warm soil, he showered me with the nourishment I so desired — the liquid of life. Since that day he has been by my side whenever I needed him and vice versa. We frequently shared our joys and grievances every time he entered the balcony, and eventually I bore for him some fresh chillies to spice up our relationship even further.
Host: I see, okay. That was quite a lovely story — lovely as in nice, not like — anyways, we can all see that you guys get along really well. We wish you the best for the future. Next up we have with us Mr Lebu. Why don't you share a bit of your journey so far?
Lebu: I don't really like talking about her. I was given to her as a gift and she reluctantly accepted. It's a constant emotional struggle where I can't decide whether I should extend a leaf to try to connect with her or just let her be and go through my stationary life. But I have gone through considerable abuse. She's just negligent on a good day and actively harmful to my well-being on a bad one. My emotional needs are never taken into account, it's all about her. She frequently calls me naughty and tears my delicate leaves without a care, never does she ask whether I like it or not. But when she's not there I get incredibly thirsty and look for anyone to quench my desires. Recently, I grew some limes for her and hoped to bring a bit of zest into both of our lives, but they had no juice inside them, they were as dry as a desert. You see, to grow big juicy limes you need love and affection, something I am devoid of.
Host: Well, that story ended on a sour note… I'm so sorry. It must be so hard for you. You know, you can always go separate ways, since she does not seem to value you. There are plenty others who want limes. But that's a discussion for some other time. Finally, let's hear from our third guest, Ms Aam. So, how is it like to live without a designated human to care for you?
Aam: It's liberating and draining at the same time. I've encountered people who are a boon for the environment and people who should be buried so that the environment can put their bodily nutrients to actual use. I'm always standing on a particular Dhanmondi road, and humans there always lean on me without my consent, some even hang on to my branches, the audacity. It's as if they think that me just being there gives them the green signal to use me any way they want to. Of course, with this lopsided power dynamics, who even cares what we think? When they're in their educated circles, they talk about how valuable trees are and how the world's going to fall apart if anything were to happen to us, but then they cut us down when we grow a bit too much. I'm a strong independent tree who doesn't need humans for sustenance, nature is enough to drench me with its life juice.
Host: You truly are an inspiration for every tree. To be this strong and assertive in this environment is truly commendable.
Well, friends, on this note, we would like to end our discussion for the time being. We hope this session broadened our understanding of each other and showed humans that a little respect and empathy goes a long way.
Shoaib Ahmed Sayam tortures himself by watching fake sports and Vietnamese cartoons. Send help at: fb.com/ooribabamama