People You Meet in the Morning after the Breakup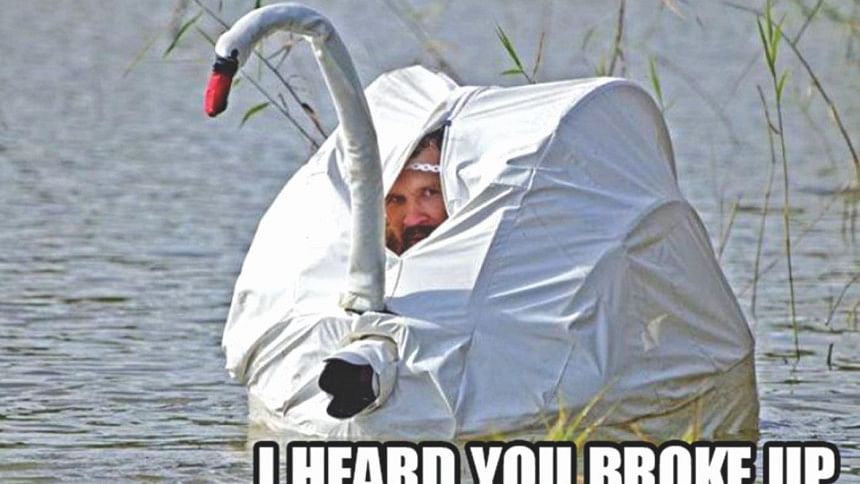 Breakups aren't easy but in Bangladesh, the struggle is on a different level. It's not the end of the world but it'll definitely feel like it is because of everyone around you. If you're a girl, it'll be everyone worrying about whether you'll score an eligible bachelor now that you're not a sweet innocent damsel anymore. If you're a guy, you will get attacked as if you're a carcass for vultures on their feeding day. After all, you're an eligible bachelor again.
Pasher Bashar Ghotok Auntie
Colloquially known as "ghotok pakhi", these are the women, who, on most occasions will be your source of entertainment. She's armed with a list of boys and girls of the most superior kind and she wants you to end up with one. On the morning in discussion, she'll be the first to have magically sniff out your relationship status. She's the dealer of happily-ever-afters and she'll leave no stone unturned to let you and your family know that she's got your back. 
Kobi Bhaia/Cushion Apu
Aside from the ghotok auntie there are two more types of people who know you're single and seek to know if you're ready to mingle. Skipping the ghotkali, they'll go into self-service. Kobi Bhaia will shower you with beautifully written verses letting you know exactly how much he has observed everything about you. The angle at which your nose curves, how your orna flails in a sandstorm – he nails it all. If you're a guy who's trying to come to terms with the complexities of your last woman, Cushion Apu will be the first to offer you all the inside digs on women and in return she'll only want to spend every waking hour with you. 
The Chastising Nutritionist
You'll probably want to drown all those emotions in ice cream or demerit goods, but lo and behold, you have a health nut around you. There's always that friend or cousin or sibling who means well but doesn't execute it quite as nicely. They'll remind you that the post-breakup lifestyle is about getting a "revenge body" instead of just being a sad couch potato that eventually gets better. 
Sappy Movies and Chill
In contrast to the previous bunch, these are the people who'll feed you enough sugar to give you diabetes, then top it off with some popcorn and let you burn some calories while you sob over a sappy movie. If you're a guy, you might cry internally after thinking of sappy things while playing Dota or leveling up your RPG character to insane numbers. The outcome is usually a maniacal call to the ex though. 
Tumblrinas
This is when you start noticing the sad Tumblr quotes slathered over your homepage. Sure you might be feeling some of those posts about love that never worked out but seriously, no one needs that kind of sadness in their lives. But all of a sudden, these tumblrinas begin to hit a raw nerve and the Unfollow button becomes your actual best friend. 
Nooha Sabanta Maula is an Anthropology major whose anthropologising has made her confused about life. Send her your thoughts to [email protected]