How to breakup 101: A man's guide to breaking up in a healthy way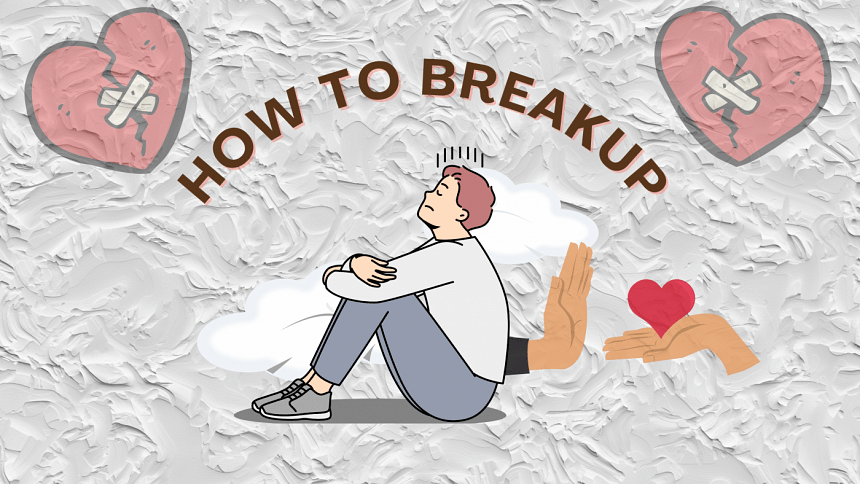 We've all been there. That moment when you realise the ship of love you once thought was unsinkable is taking on water faster than you can bail it out. Breaking up might be hard to do, but it doesn't have to be a melodramatic soap opera. It's time to grab life by the heartstrings and master the art of splitting up like a true gentleman. This is our guide on how to break up the healthy way, the guy's edition!
The Candid Chat: Honesty is Your Wingman
When the road to romance takes an unexpected turn, it's time to put on your communication hat on and have the talk. Keeping it real is key. While it might be tempting to dodge the truth, opting for a straight-up, no-nonsense approach is the way to go. Share your reasons thoughtfully and honestly, giving both of you a clear understanding of why it's time to say goodbye.
The Heartfelt Heart-to-Heart: Less Drama, More Dialogue
Imagine that it's a friendly coffee chat rather than a dramatic monologue. Create a space where both of you can express your feelings and thoughts openly. Remember, it's a two-way street, so listen attentively and offer your understanding. Avoid overloading the conversation with heavy emotions — keep it balanced and respectful. The goal? To walk away feeling like mature adults who've just tackled a tough situation with grace.
A New Chapter of Connection: The Friendship Transition
Think of it as a pivot from romantic partners to supportive pals. Express your desire to maintain a friendship, but be prepared for a transition period. Give each other the time and space needed to adjust to this new dynamic. Much like a chameleon adapts to its surroundings, your relationship could evolve into a genuine friendship over time.
The Symbolic Exchange: A Farewell to Hoodies
Remember that hoodie she lovingly borrowed (and maybe never returned)? It's time to reunite it with your closet. In the world of breakups, the hoodie exchange has become a symbolic rite, signalling the end of an era while making room for fresh beginnings. So, gather your borrowed items and graciously return them, indicating a mutual understanding that it is time to move on.
Believe in the Power of Exercise: Work It Out
Do your feelings appear to be on a rollercoaster? Go to the gym instead! Exercise is an effective stress reliever and endorphin booster. Physical activity, whether lifting weights, strolling around the block or trying out a new sport, will not only make you feel better but will also help you clear your thoughts. It's a practical approach to managing the stormy rivers of emotions.
Me, Myself, and Fresh Starts
Embrace your solitary status by investing in yourself. Reconnect with old passions, explore new ones, and reflect on your personal growth. This is an excellent opportunity to showcase your individuality. Remember that becoming the best version of yourself is the finest revenge.
Face the Unwritten Future
As the dust settles, remember that life is an exciting adventure that is only getting started. Allow oneself to be receptive to new experiences, people, and opportunities. You are embarking on an adventure with endless possibilities, much like a traveller exploring uncharted land. So, grab your belongings and look to the horizon.
Breaking up is merely one chapter in a much longer story. You can handle the difficulties of separation with maturity, understanding, and a sense of humour, emerging stronger, wiser, and ready to face whatever the future holds. Keep your heads up, gentlemen—the best is yet to come!