Poetry and Fiction Writers in Pursuit of Passion 2015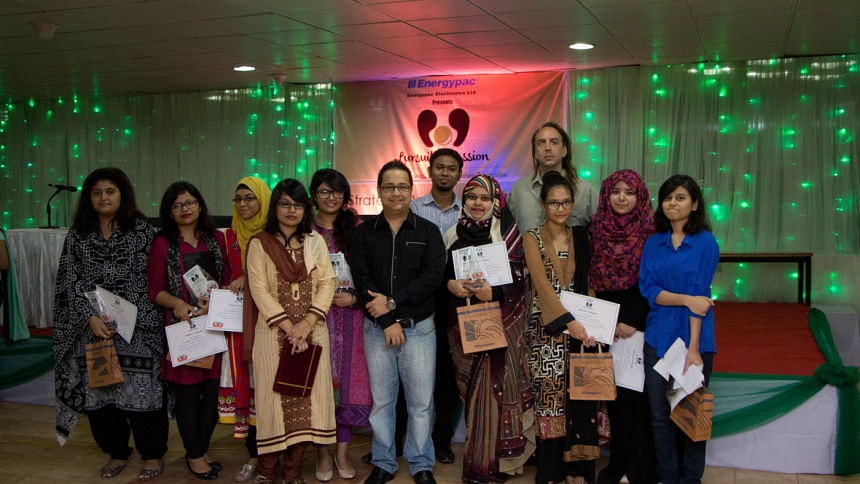 North South University Communication Club (NSUCC) hosted a six-day inter-university English literature competition titled 'Energypac Pursuit of Passion 2015' starting from October 12, 2015. This event is a descendant of last year's Pursuit of Poetry, and now it also accommodates budding storytellers to take part in the contest. Around 160 students from North South University and 15 other public and private universities took part in this competition. From the first rounds at NSU's Exhibition Centre, 30 poets and 33 fiction writers were shortlisted for the final round.

On October 15,the 63 writers battled amongst themselves in the Top 60 round to be the winners. This round was hosted in the AUDI 801 auditorium of the university. Just like the first round, these 63 contestants once again had to write down a poem or a short story in the respective categories. A theme was announced on spot and the contestants were provided two hours to give their best.
 
On October 17, NSU's Recreation Centre was the host to the award giving ceremony for PoP 2015. There were three prizes for the winners of each respective categoryThe first prize was BDT 10, 000, while the second and third prizes were BDT 5,000 and BDT 3,000 respectively for both poetry and fiction writing.
Farah Masud from North South University won first prize for poetry, while Sadika Islam of NSU bagged the second prize. The third prize was awarded to Asif Hassan from BRAC University. Nusaiba Mirza received an honourable mention and prize money for her excellent poem in the first round.
For fiction, Shagufta Tasnim Nur from IBA won first prize, Farzana Pervin of NSU bagged the second prize and the third prize was jointly awarded to Dyuty Auronee from IBA and Sadia Ferdous from NSU. Tasmia Tabassum from IBA received an honourable mention in the fiction category. Along with the prize money, the winners received crests and certificates. The best write-ups from the event will be published in the upcoming English Matters, the yearly publication of NSUCC. Faculty Advisor of NSUCC, Farzana Mohsin and Dr James Bryan Hileman were esteemed guests at the event.

The editorial teams from Shout of The Daily Star and New Age Youth, led by Karim Waheed and Saad Hammadi, jointly judged the finalists of the competition. Shout and New Age youth were the media partners of the event while notable inspirational speaker, G Sumdany Don, graced the event as the Special Guest. Shout was also the strategic partner for the event.