Why students protesting over women's clothing is frightening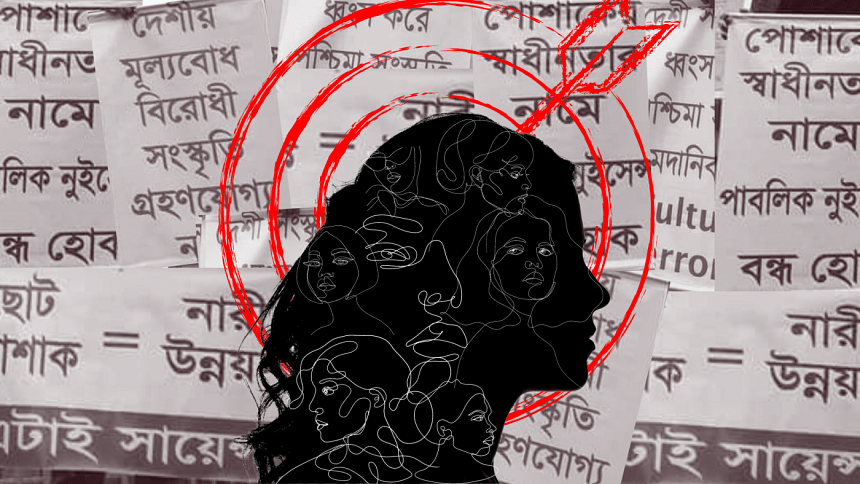 Since last Thursday, there have been protests regarding women's clothing in four major educational institutions, namely Dhaka University, Jagannath University, Islamic University, and North South University. One slogan goes so far as to read, "Women who destroy national culture by adapting a western lifestyle are cultural terrorists."
The causative agent behind these protests are certain comments made by the High Court in relation to a recent case where a 22-year-old girl was assaulted in Narsingdi Railway Station as a result of her wearing Western clothing. During the bail hearing of one of the perpetrators, the Court responded to a comment that defended the girl's right to dress as she wishes by saying, "Do people not have the right to preserve their heritage, culture and tradition? Is clothing not a part of culture?" The students behind the protests are expressing gratitude to the High Court for recognizing this sentiment.
In a country where fundamentalism is on the rise and most people already believe that a woman's sense of dressing has a direct correlation to her moral character, it is extremely worrying that an entity such as the High Court is defending a perpetrator on the grounds of culture. To add to that, the fact that those comments are enabling others to create more upheaval is downright frightening.
In addition to the slogans calling to defend "Bengali culture," there are some that say things along the lines of, "Your body, your choice. But you have no right to annoy us." Others read, "Stop trying to seduce people of the opposite sex by wearing skimpy clothing."
The general assumption of these protestors seems to be that women dress to solely appease the male gaze. They are disregarding the possibility that women dress in what they feel comfortable and/or beautiful in. This narcissism can be seen as a symptom of the misogyny that runs rife in our society.
These incidents also speak volumes about the protestors, who are seemingly boiling down self-control to be at the mercy of women's clothing.
The Minister of Education, Dr. Dipu Moni has said of the incident, "When the world is advancing, society is advancing; we will now talk about robotics, we will talk about Artificial Intelligence. Now is not the time to talk about the length of women's dresses."
She is not wrong to say we need science to advance. However, her dismissal of the need to talk about women's clothing cannot go uncriticised. Our education does not just exist to teach us about science, it also has to teach students morals and ethics and principles. We cannot simply progress technologically and lag behind in the department of learning what is acceptable and what is not.
More often than not, we like to blame the lack of education and accessibility to information for the absence of progressive thinking in individuals. However, the people who are protesting are educated students from respected institutions. It makes one wonder why education failed to make them understand that they do not have the right to question another person's attire.
Men in our society are privileged and to them, equality in expression through clothing is a threat to that privilege. In spite of that, what is concerning is that female students have also been participating in these protests. They are on the receiving end of endless discrimination and yet they are supporting a cause that attempts to strip away their autonomy.
It is a person's basic human and constitutional right to have the liberty to make personal choices, which includes their preferences of what they do or do not wear. Dictating what someone else wears is not something that people should even be talking about. Moreover, the cultural climate is constantly changing and trying to hold on to dying culture is futile.
Some might argue that the number of students protesting is very small and the incident is not large enough to incite the response that it is inciting. However, as a female who is living in this country, the incident does appear large to me. Little incidents like this point towards a bigger problem rooted deep in our society.