What It's Like to Be a Student Tenant in Dhaka
Some might call adulting a challenge, some might dismiss it as just another phase in life. For university students who reside in rented spaces in Dhaka, it's a rather complicated affair. From living on instant noodles to dealing with problematic property owners, student tenants have to navigate many hardships to live in the city. We talked to a number of students to get the nitty gritty on what life is like as a student tenant.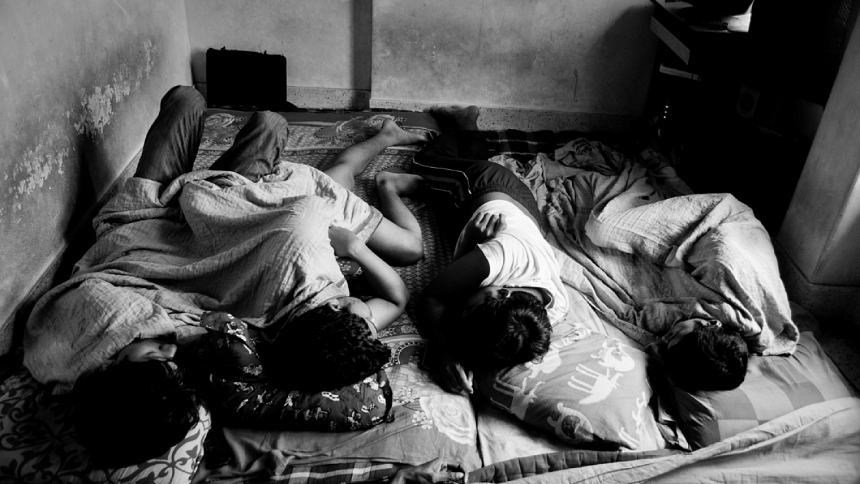 Among the students we reached out to, very few described the transition from living with family to living solo as being completely unpleasant. There is always the dreaded element of uncertainty, be it in managing your personal expenses yourself for the first time or getting accustomed to living with people you don't really know well enough.
Swagata Das*, a Brac University alumnus, spoke about how living in a rented space was quite unnerving for her at first, "I was unsure whether my roommates would take to my presence and initially had a fear of being judged in a communal environment."
For those who weren't particularly fazed by the transition, they confessed to being quite shaken up by the drastic changes in living conditions. Gone were the days of relying on parents to deal with finances and household chores.
Based on our research, the primary concern amongst these students seemed to be associated with food. From the students we reached out to, one half appeared to totally depend on local food hotels near the apartments and on university cafeterias, while the other half took the extra hassle of doing the groceries and cooking their meals either by themselves or by employing someone. Those who opt for a balanced meal at home, often buy a fridge through equal contribution from roommates.
"My eight roommates and I had to cram our groceries into one tiny refrigerator. Every now and then my groceries would go missing as someone else would confuse my purchases for theirs. It was quite difficult to keep track," recalled Fardia Ahmed*, an Environmental Sciences major from North South University.
"Since we prefer to eat meals at home, we assign monthly managers amongst ourselves who are responsible for buying as well as tracking expenses related to groceries and food for a month. Thirty days' worth of groceries and food products are bought at the beginning of each month in which every roommate contributes a fixed amount: 2500 taka. If our supplies run out before the month ends, each of us contribute an equal amount again to buy necessary products," stated Iftakhar Uddin, third-year Computer Science and Engineering student from the University of Dhaka (DU) who lives in a rented apartment in Motijheel.
The students who choose to eat outside either don't want to deal with the extra expense of a cook and grocery shopping every month, or find better alternatives like eating at local hotels or university cafeterias. Jafrul Alam, studying Accounting and Information Systems at Bangladesh University of Professionals (BUP) and staying at a rented apartment in Mirpur DOHS, informed us that they are accustomed to eating breakfast at the university cafeteria, and lunch and dinner at home prepared by a cook.
Rent, of course, is a key factor to be considered when looking for apartments. Being the capital, increased rural to urban migration has accelerated the already growing demand for rented apartments and as a consequence, high rents are charged within both city corporations of Dhaka, compared to other districts of Bangladesh. To mitigate the issue, students commonly rent apartments together with others who share similar residence problems.
"My friends and I rented a two-room apartment in the New Graveyard area in Azimpur for 14,000 taka per month back in 2018. Considering the inadequacy of space, the five of us later rented a three-room apartment in Joynag Road, Bakshi Bazar for 16,000 taka. This is a much better deal as the apartment space is sufficient for five and is located within walking distance of our university," said Noor Ahmed, currently a third-year Nuclear Engineering major from DU.
Variations in apartment rents are mostly based on location, though negotiation plays a key role during the determination of final rent. During the pandemic, student residents have been caught up in an even larger dilemma regarding the rent they're being charged. Due to all the confusion surrounding the reopening of university campuses, students have been unsure about whether to stay at home with parents or in Dhaka. As a result, many are currently paying full or close to full rent out of fear of eviction, even though they're occupying the space in question for a few days at most.
"I've been paying a reduced rent of 3000 taka instead of 4000 taka even though I returned to my home district last year because of the country-wide lockdown due to Covid-19 pandemic," comments BUP's Mustakim Ibna Qaushar, who is renting an apartment in Mirpur DOHS.
Notably, Section 18 of the Premises Rent Control Act 1991, prohibits the landowner from threatening their tenant with eviction unless the latter has been found guilty of violating any of the terms of agreement. However, there are currently no tenant laws in place to ensure reduction of rent under the circumstances of a financial crisis.
As we looked into the living facilities at rented spaces, a majority of the interviewed students said that they have to pay predetermined bills and service charges.
Tanvir Mohammad Farhan, a fourth-year Geography and Environment major from DU, said, "For a two-room apartment in Wireless, Moghbazar, we pay a service charge of 950 taka per month, which includes gate fee, water bill and waste collection fee."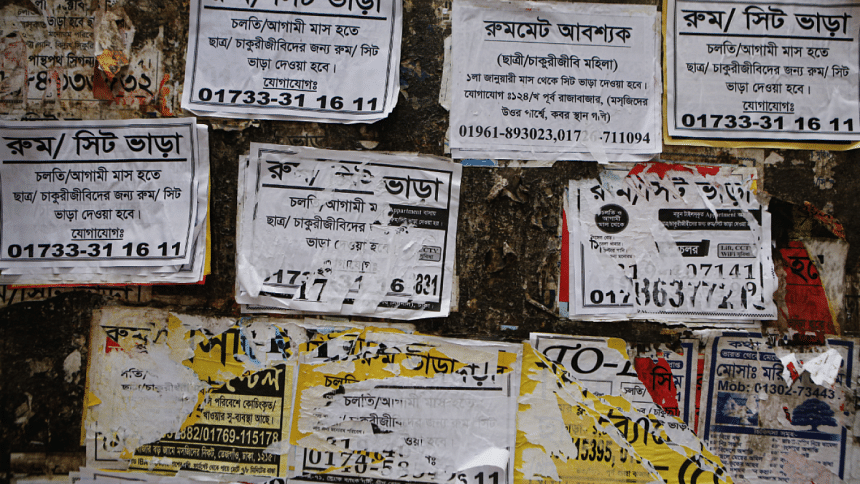 Most of the students we interviewed also reported paying electricity and gas bills separately. Though the gas bill was fixed, we were told that their electricity bills fluctuate depending on holidays and seasons. Uninterrupted availability of gas is expected by the students as they are paying fixed bills every month, but students from several areas complained about either low pressure of gas or unavailability of gas during the afternoon.
Moreover, almost all the students we spoke to confessed that they never really feel safe with their possessions at rented apartments, since strict security measures aren't always guaranteed. Some students cited cases of harassment, bullying, and theft which largely remain unresolved as the property owners themselves often refused or hesitated to get involved in the renter's "personal affairs".
Kate Rosario* from Independent University, Bangladesh discussed one such incident where her roommate forced her into a "sublet situation" by occupying a significant amount of space with her husband at the flat she shared with Rosario. "The property owner refused to step in and was of no help in the matter," Rosario mentioned.
Even though in some cases security within the apartment space was somewhat ensured, the same couldn't be said for the garage and other locations.
"Theft is very common in Kalshi, Mirpur. Thirty thousand taka was stolen after thieves broke into one of the apartments. A friend of mine who came to us for a visit got his bicycle stolen. Even the bicycle of the property owner himself got stolen," reported Shifat Sharif, a student from Military Institute of Science and Technology.
"Bottom floor apartments are most susceptible to theft and stealing of bicycles is a common occurrence," according to Masum Billah, a fourth-year undergraduate student from DU living in a rented apartment in Chankharpul.
Student tenants already have more than enough on their plates as they try to build a secure future for themselves in a competitive academic environment. The trying circumstances that they often have to face at rented spaces only further test their resolve. This struggle is largely unnecessary, and a huge barrier to success for many. Proper regulations, enforcement of such regulations, and a healthy rapport between community leaders, students, and university authorities can only lead to a better and healthier experience for student tenants in our city.
*Names have been changed upon request
Reference 
The Daily Star (May 5, 2020).Protecting tenants' rights during Covid-19.