What it takes to get into DU C Unit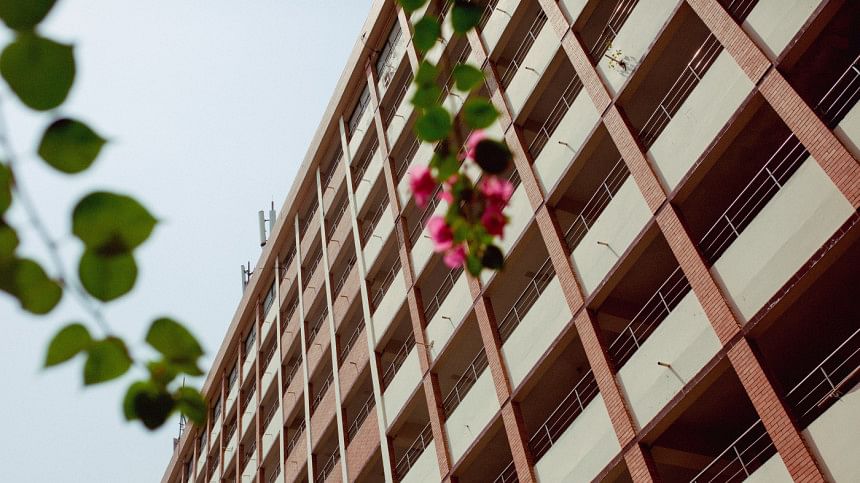 Everyone discusses what it takes to get into a certain university but no one talks about what this admission season takes away from our lives. Looking back, it surprises me how carefree I was in my admission days. I was never a textbook "good student" because of my laziness like Nobita's but my results somehow resembled Dekisugi's.
Admission season was different. It wasn't anything like our usual academic exams, and it was definitely frustrating as well. When I made up my mind to prepare for Institute of Business Administration (IBA) Dhaka University (DU), I could feel how unfit I was for that fast-paced analytical exam. Just 12 days before my C unit admission test, I decided not to go for IBA and to devote my time solely to my HSC books.
But just like Nobita, I still wasted the first six days crying about my poor choices. I spent the next six days studying the same things I've learnt in the past four years as a business student in high school and college. This must have worked because some weeks later, I noticed I had ranked 8th in Dhaka University's C unit admission test. I know this story sounds too good to be true, but in reality, it's merely the result of years spent attempting to comprehend how things function rather than memorising facts.
The 30-mark written part of the C unit admission test question was a blessing in disguise for me. Since the written portion of the DU's admission tests was still relatively new, there were no specific guidelines for the materials that admission coaching centres could offer. Since I didn't have the time to follow any suggestions, I applied my creative writing skills there.
Examinees in 2023 will find this section to be more difficult because it carries 40 marks out of the exam's total of 120. This 45-minute segment will include translations and error corrections in both Bangla and English. There will be questions on Accounting, Business Organisation and Management, Finance, Banking and Insurance, and Marketing.
I've always done well in school since I loved my Business Studies subjects. Despite being the topper in both school and college test exams, I failed to achieve a golden A+ in my SSC or HSC exams. It might not seem significant right now but at the time, it was aggravating to see myself struggling in the board exams. 
To add to the troubles, 20 marks of the 120-mark admission test were based on SSC/O level & HSC/A level scores. Getting into DU seemed far-fetched back then.
However, anyone who enjoyed studying the Business Studies topics in their HSC should pass this exam with ease, because I didn't notice any questions on my test that were noticeably out of the syllabus.
It says on the admission notice that "the purpose of the examination will be to verify the knowledge acquired at the higher secondary level. Question papers will be prepared based on the syllabus at higher secondary level."
All examinees should take these words on the admission notice seriously. I've observed numerous instructors at various coaching centres disregard this instruction and convince examinees that passing this exam requires rocket science. My results prove these thoughts to be a myth.
Not everyone can do well in this exam the same way I did, however, so here's some general advice for everyone. You should have a profound knowledge of your business-related subjects and a proper grasp of Bangla and English grammar and vocabulary. You should solve previous years' questions, and practice translations or error corrections daily.
Although the written portion is now slightly different, analysing previous questions is always an effective way of understanding the question pattern and important topics. Practice will pay off, whether you work alone or with the help of an admission coaching centre. Your HSC books, any C unit guides with questions and any wordbooks should be enough to practise by yourself. Model tests can also be helpful.
Conceptual questions from compulsory subjects like Bangla, English, Accounting, and Business Organisation and Management are included in the 60-mark, 45-minute Multiple Choice Questions (MCQ) section. You can choose between Finance, Banking and Insurance or Marketing. It doesn't matter if you answer questions from the Marketing section without having it as an HSC subject. It also doesn't matter if you want to study in the Department of Finance but you answer marketing-related questions, and vice versa.
Your written answer script won't be examined unless you receive 5 out of 12 in English and 24 out of 60 in the MCQ section. Remember to be mindful of the negative marking, which is 0.25 for each incorrect response. Learn to skip confusing questions.
The question pattern and mark distribution for English medium students are a bit different but the preparation plans and exam strategies for the C unit exam should be identical. 
Most of you already know that there are nine departments in the Faculty of Business Studies, DU. Out of them, 30-32 courses are common to all departments and 8-10 courses are offered for respective majors. After the results, if you want to specialise in a certain subject, choose it. But if you're confused, I'd suggest taking a look at the BBA brochures of each department available online and then deciding.
To answer the original question of what it takes to get into DU C unit, the answer is that it takes passion, motivation, practice, knowledge, calmness, luck and most importantly a certain sense of achieving a goal. Stay true to yourself, always be aware of what you want and where you want to see yourself, and make a plan and work for it accordingly. It may seem unachievable, but it really isn't.
Last but not least, please believe that failure is not the end of life. If not DU C unit, life will provide you with something even better.
The writer is a student in the Department of Finance, FBS, DU.