What it takes to get into DU B unit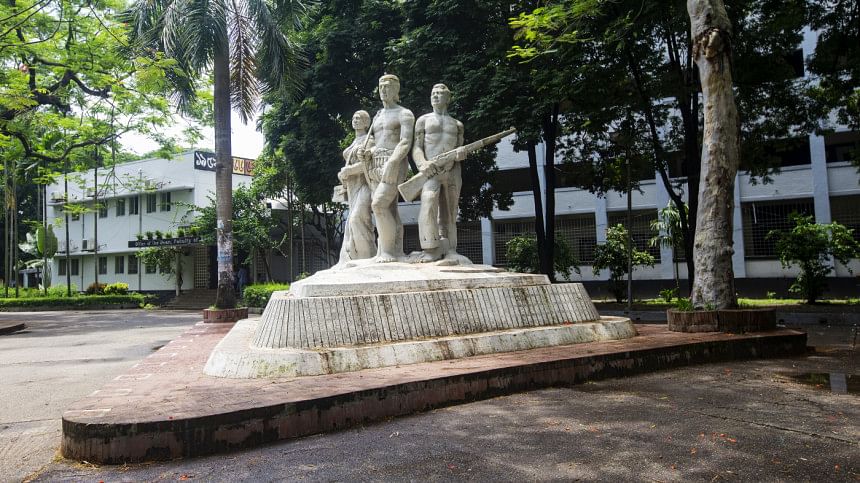 My Dhaka University (DU) journey started on my first day at college when I learned about the qualifications of many of my teachers at Govt. Michael Madhusudan College, Jashore. Most of them had graduated from DU, and they told us all about the excellence of the country's premier university, which inspired me a lot to start taking preparation for the admission test for B unit. 
During my preparation period for the admission test, I got the opportunity to communicate with seniors who got admitted to DU in previous years. This helped me design my study plan for the admission tests. 
Students from the Arts background are eligible for participating in DU's B unit admission test. Success in this admission test grants them the opportunity to admit themselves into subjects like Law, English, International Relations, Economics and so on. The B unit admission test comprises three topics – Bangla, English, and General knowledge. The Bangla and English section are derived from the National Curriculum and Textbook Board (NCTB) English and Bangla books. The General Knowledge section is derived from recent event, as well as other subjects that are part of the HSC syllabus for the Arts section, and some questions may appear from ICT as well. The questions focus on testing the students on their basic knowledge of Bangla and English. General Knowledge, on the other hand, is all about finding out whether students keep up with current affairs and testing their powers of memorisation. Therefore, to obtain good marks in the General Knowledge section, students must dedicate their time to continue going over the same topics over and over again, as this section plays a salient role in ensuring qualification to study certain subjects if a student does pass the exam. 
Time management
Students get 60 minutes to answer around 60 multiple-choice questions (MCQs) followed by 30 minutes of descriptive writing. This leaves them with one minute for each question. 
It is important to know the order in which a student wants to approach each section of the question paper. If a student wants to get into the Department of English, they have to achieve a certain amount of marks in the English section of the question, so they should focus on that portion more. 
Like with any exam, one should start with the subject they feel most comfortable with and then get into the more difficult ones, and stay calm if they face any difficulties. During my exam, I allocated three separate time slots for the three sections. It's important to make sure that a student passes all the sections separately because only then will their descriptive writing section be examined.  
Be aware of negative marking
For every wrong answer, 0.25 marks are deducted from the total. Thus, it's a wise decision to avoid answering a question unless one is sure about it. But if anyone is a good guesser, or has good instincts, they can try making some educated guesses because sometimes we suffer from the regret of not answering a question that we thought would be correct if we went with our gut feeling. As I am personally not good at it, I tried to avoid this. 
Practice helps with this by increasing speed and accuracy. I used to solve questions from previous years over and over again and evaluate myself every day. It also helped me recognise my mistakes and allowed me to learn how to minimise errors. Besides, it gave me self-confidence and a sense of time management. I practised the written part with special care because a large section of students drop out of the race because they don't get the required number in the written part despite getting good marks in the MCQ section. 
The mental aspect
Many students get disoriented at a point during their preparation when they experience the vastness of the admission test syllabus. This is a problem only if a student finds it difficult to be regular. I tried to finish the day's work on the day which gave me the confidence to gain ground over time and cover the whole syllabus. 
If at any time it feels like the mental pressure is getting too much, that information should be shared with parents, teachers, or someone trustworthy with the ability to help. Mental strength may just be the supreme tool to conquer the exam field of admission. 
Staying true
Other than these obvious tricks of the trade, one important thing to remember would be to ignore the negativity that is prevalent among admission seekers during this time. Staying positive and executing the plans one sets down on the path to success is vital. Instead of working too hard and getting nowhere, it's important to devise smart plans that work for the individual.
Once that is done, all that is left is to give our best during the exam and hope that luck favours us.
The writer is a student at the Department of English at Dhaka University.