What do students want from their school?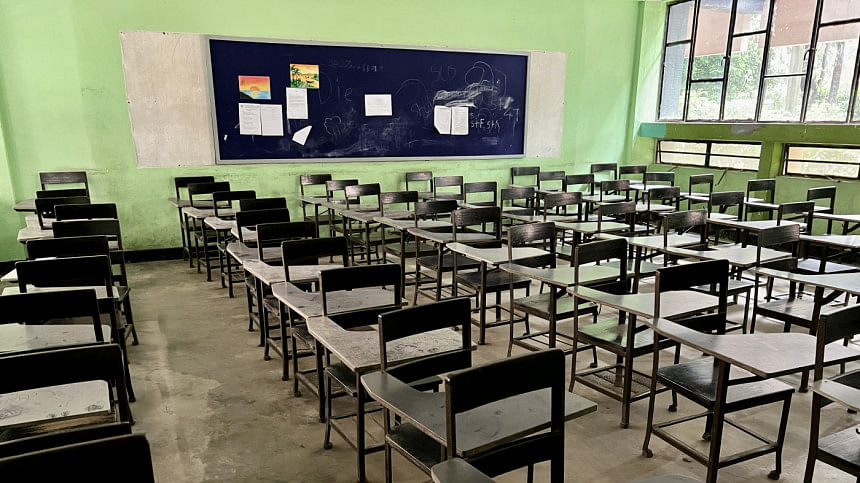 The education sector in Bangladesh is one of the most underfunded in the world. Consequently, there is an absence of rudimentary foundations in most schools across the country. Without these, a school cannot serve its purpose.
The people who prepare the material and explain subject matters, who instils knowledge and thoughts in us as we develop our minds are our teachers. If we valued teaching at every level as we did engineering or the medical professions, part of the nation's top graduates would go on to receive a masters in education and after rigorous training, would proudly stand in front of students and do what they love to do.
Do we have great teachers? Yes! Do we have enough of them? Not nearly. Is there potential to achieve that? We have that in spades.
What I would personally like to see in every school, especially in primary schools, is a library overflowing with books. It is a resource that does get the attention it deserves. Books can be borrowed and cycled through students and interesting activities can be planned around these. In addition, libraries can house past students' works and projects for the present students to sift through and take inspiration. A library is indispensable because it builds a unique community around it.
Other youth share their thoughts of what they want in schools with me.
Abrar Jawad, 17, from Dhaka emphasises how he wishes for "a more structured elementary mathematics curriculum". He stresses that by the time he began high school, he had to find out the hard way that his mathematical foundation was quite weak. This is a resonating factor for many. A subject as basic as mathematics should be taught at a greater depth from the beginning as it forms the bedrock of our logic.
On a similar note, Pallob Kanti Paul, 19, from Chittagong explains, "There needs to be more flexibility in choosing one's subjects in the higher grades". On a different note, he adds that memorising formulas in the name of learning maths and physics is detrimental, rather it is more important to know the proof, formalisation and usage of these formulas. A strong curriculum design is essential in narrowing the gaps in our knowledge.
Rubayat Jalal Hridi, 19, from Rajshahi talks about the absence of introduction to laboratories at an early age. "Most schools in Bangladesh don't have labs; the ones that do, fall short of proper instruments; the ones that do have proper instruments, lock them away in cabinets." Gaining practical experience is equally helpful for everyone. Practical classes should not simply be about teaching the methodical steps in an experiment, but expand to include topics related to field work.
When we envision a school, we conjure the image of a school amidst a big field - one where all the students, from the youngest ones to those about to graduate, get to stand in the same place for physical and ceremonial activities. It brings a feeling that you are part of something bigger. "Most schools in Dhaka don't have proper fields," says Areebah Anwar, 16, "we play in the garage space or the roof."
Tying everything together, Farhat Fatiha Chowdhury, 17, states, "The utility of the time spent in school is gradually becoming futile as high school students consider going to school rather an obligation than a learning opportunity." Students are bound to look for alternative places to learn things they love since the lack of support and resources for extracurricular activities in schools leaves them seeking more opportunities beyond. As a result, students find themselves busy hopping from one commitment to the next and not getting the breathing space to sit down with themselves and absorb what they are learning.
Finally, I would like to mention that mental health education, sex education, free menstrual products and a good cafeteria are important elements waiting to be addressed or implemented in most schools. Maybe if the authorities thought from the perspective of educators, parents wouldn't have to worry about which school is the best for their children as all would be able to maintain some level of standard.
Bianca is trying to watch more documentaries. Send her recommendations at [email protected]