Types of people you see in a university cafeteria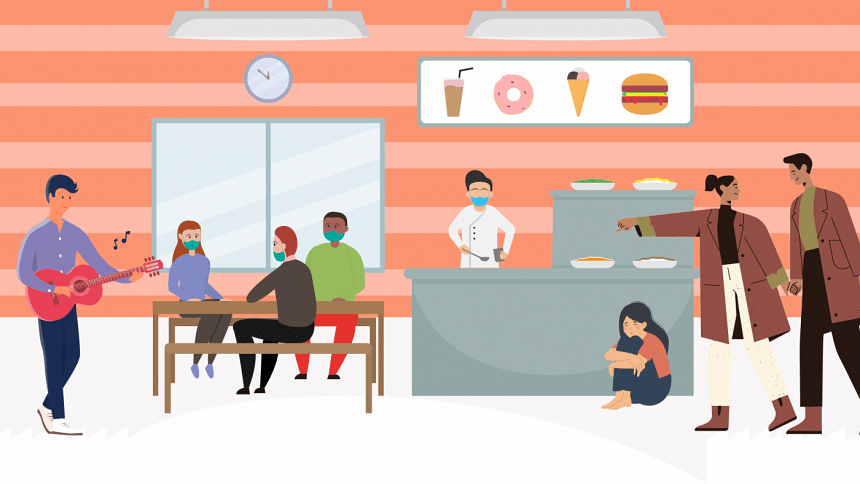 A BBC wildlife documentary. 
We are now entering the cafeteria of Bidirectional University. The stench of food and unclean air ducts provide a sharp contrast to the seven pristine Range Rovers we saw parked at the entrance. 
Upon arrival, you'll find the average heavily depressed, slightly deluded, and severely narcissistic university students in their natural habitat. Going further inside, we come across the several types of people that lurk in this cafeteria.
The messy eater
Remember the ravenous kid who completely demolished that chocolate fudge cake in Matilda? That's exactly how Iftekhar eats stale cafeteria food during his lunch break leaving no prisoners. The food gets on his teeth, shirt, cafeteria walls, friends, and germaphobes sitting next to him. It's best to keep extra tissues and hand sanitiser around Iftekhar, as you never know when his antics may ruin your presentation wear.
Couples that should get a room
We get it Mayesha, you and your boyfriend are in love. But please stop sloppily feeding each other fuchka in the middle of a university cafeteria. Your love is gonna fade, but the trauma you gave to the guy sitting in front of you is gonna last a while. 
What's worse is when these couples get into a screaming fight on the cramped benches and a whole Bangla Chayachobi plays out two feet in front of you and the food you are trying to eat. 
The one guy with a guitar
There's always one guy who, around the age of 15, gets a guitar as a gift and decides to make his whole personality revolve around it. He takes guitar lessons, practices for years, and spends a good deal of money on equipment. But is he good at playing the guitar? No, but does that stop him? Also no. 
Rakin thinks he plays like Jimi Hendrix. The people around him disagree.
Club "families"
University clubs aren't just about the ECAs anymore. They're like family to their members. 
Clueless first-year students are indoctrinated by Bidirectional University's premier clubs (read cults) en masse to form a twisted Star Plus or Kardashian-esque family. These families will treat the cafeteria as an extension of their mouldy and suffocated club rooms, bickering, roughhousing and doing general nonsense with no regard for people just trying to mind their business. Let's not forget the personal branding squad who feels the need to wear their club handouts wherever they go.
Outdated high school clique
Bushra, Anika and Iftekhar all went to the same private English medium school that costs you an arm, leg and your sanity. Inspired by teen dramas they binge-watched to perfect their fake American accents, they decide to reinvigorate their high school clique. And despite the attention and validation they seek, they vehemently refuse to socialise with anyone outside their circle. 
You'll find them in the corner of the cafeteria, silently and piercingly scrutinising everything from your outfit to the food you're eating. The best way to interact with this stereotype is to not acknowledge them at all and leave them to fume in self-inflicted agony.
Taaseen Mohammed Islam can write semi-decently at the expense of being able to do basic math. Send him pointers at [email protected]