Too many problems, not enough budget for our public schools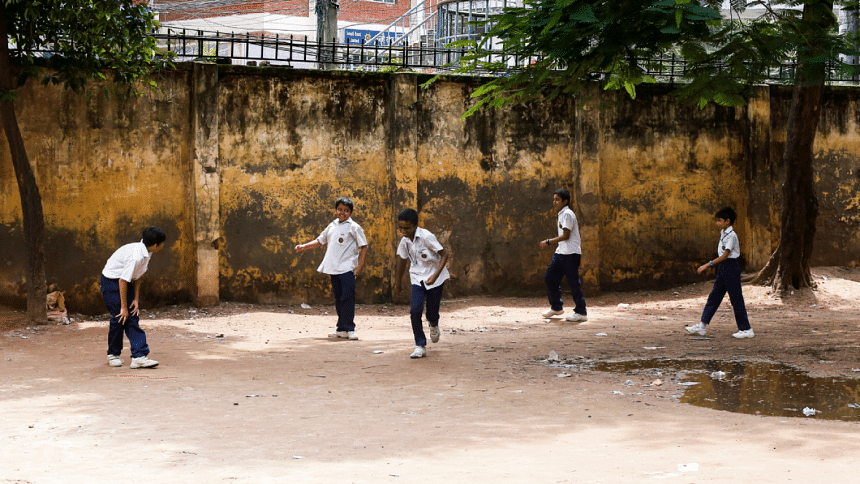 Students lucky enough to attend a private school will never understand Jhuma Akhter, a student of class 7 at Kurni Jalal Uddin High School, Mirzapur, Tangail. Jhuma, who loves everything about her school and wants to become a doctor, cannot bring herself to believe that her school does not have a Biology lab.
As the budget for our education sector shrinks with each passing year, the maladies of our government-funded schools pile up, and students like Jhuma question the development this sector has gone through in the last decade.
In the fiscal year 2021-2022, the total budget allocated to the education sector was Tk 71,951 crore – 11.9 percent of the national budget. In that, Tk 36,486 crore, Tk 26,311 crore, and Tk 9,154 crore were allocated for secondary and higher education, primary and mass education, and technical and madrasa education, respectively.
The entirety of the budget allocated for education makes up a mere 2.08 percent of the GDP, reduced from the previous year, despite the education sector being adversely affected by the pandemic.
Not only are we far from the standard public expenditure on education set by UNESCO, we are also lagging behind compared to other South Asian countries. In 2015, UNESCO set the average public expenditure for education to 4 to 6 percent of GDP, or 15 to 20 percent of total budget. A 2020 report by UNICEF denotes Bangladesh to be the lowest spending country in the region where others such as Bhutan, Nepal, and Afghanistan spent 6.6 percent, 5.2 percent, and 4.1 percent respectively.
Lack of resources is often cited as the key reason behind our below-average budget for education. This is not entirely true.
Dr Manzoor Ahmed, Professor Emeritus of Brac University and vice chairperson and advisor to Campaign for Popular Education (CAMPE) states, "As a low-income country, there is no denying that we lack resources. But even with the available resources, we can afford to allocate a bigger percentage of the budget to the education sector. How can we justify our budget when countries with far less can afford to allocate a bigger budget for education? Then, it comes down to priority."
A below-average budget is not the only reason our public schools are facing so many challenges. Dr Ahmed reasons, "The Ministry of Education is supposed to give a plan depicting how they want to spend their budget. Based on this plan and proposal, the Ministry of Finance will allocate the budget. In reality, we fail at the planning stage."
The lack of planning and proper execution is evident in the rate of expenditure throughout the year. A 2019 World Bank report shows that although around 90 percent of the allocated budget is utilised each year, it's not done systematically throughout the year. The same report states that half the total expenditure is carried out in the last quarter, with extremely high expenses in June.
Moving on to the consequences of such a budget, Rasheda K Choudhury, executive director of CAMPE mentioned in a 2018 interview with The Daily Star, "There are three main weaknesses that are common to many of our educational institutions. First is the quality of teachers. Thousands of teachers are recruited every year and sent straight to classrooms without any training."
Besides efficient training, under-compensation also contributes to the lack of quality in our classrooms.
Md. Abdul Karim, headmaster of Bindubasini Govt. Boys' High School, Tangail comments, "Government school teachers get paid according to a pay scale. But it is not enough. So, they often engage in other economic activities or maintain a side job. As promotions take a long time, the salary doesn't increase annually. Even when one gets a promotion, the salary does not increase much, so it doesn't make much difference."
Md. Atowar Rahman, senior teacher at Anjuman Adarsha Govt. High School in Netrokona, adds, "Although we get our salaries regularly, we are often denied additional allowances like travel allowances due to insufficient funds."
The inefficient training, inadequate compensation and non-existent accountability produces ill-qualified and unmotivated teachers.
A student of Rajshahi Collegiate School, Zobaer Bin Zoha, expresses, "Although some of my teachers are good, most of the teachers hardly explain things in class. As a result, we have no choice but to get private tutors or be admitted into coaching centres."
The challenges of our public schools do not end here. The schools are often ill-equipped. As Jhuma from Kurni Jalal Uddin High School mentions, "We do not have any labs or computer facilities in our schools. We are also not given tiffin from the school like other government schools."
Furthermore, the National Education Policy of 2010 stating the teacher-student ratio to be 1:30 is yet to be implemented in most government schools across the country. According to UNESCO Institute for Statistics, as of 2018, the ratio remains 1:35 for secondary schools while primary schools show signs of improvement at 1:30. The picture on the ground, however, speaks a more complex truth as students like Zobaer and Jhuma states having 50-60 students per class.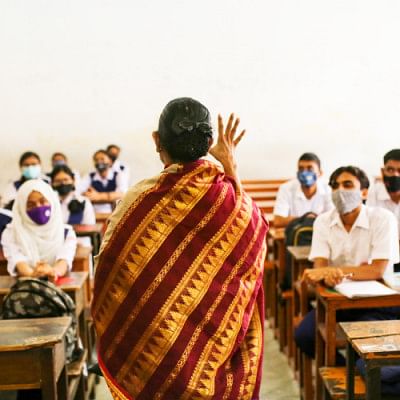 Public expenditure in the education sector also fails to accommodate the entirety of our student body. According to the Directorate of Primary Education's 2017 report, 77.7 percent of primary level students go to government-run schools. However, almost a third of the student body seeks pre-primary education from privately-owned institutions, such as private or NGO-run kindergartens.
The situation is worse in secondary education sector. According to a 2018 report by the Bangladesh Bureau of Educational Information and Statistics (BANBEIS), a staggering 98 percent of the secondary institutions are privately owned or managed; 82 percent of these institutions receive Monthly Pay Orders (MPOs) as teacher salaries. Although the number illustrates a significant percentage, only a handful teachers from subsidised schools receive this salary.
Considering the myriad problems inflicting our government-funded schools, it is not surprising that those who can afford it are opting for private or hybrid schools instead. This shift from public to private schools is causing the loss of equity and inclusion in our education sector.
Things changed for the worse when the Covid-19 pandemic hit. Not only did students drop out, those who continued to study experienced difficulties grappling with advanced class materials. While the academic year moved on, many students could not learn online.
Zobaer shares his experience, "I am suddenly in class 8 when I hardly learned anything in class 7 during online classes. Now I do not understand what the teachers are trying to teach."
The teachers also face difficulty teaching ill-prepared students. Lubna Jahan, senior teacher at Viqarunnisa Noon School and College says, "My students of class 3 were admitted into school mid-pandemic. They had passed classes 1 and 2 online. Now, in class 3, I can see that most of them have not been able to grasp the materials of previous two academic years."
Given the education sector is recovering from the damage caused by the pandemic, Dr Ahmed suggests, "While planning the budget, we first need an assessment and remedial plan. The remedial plan needs to address the knowledge gap that students are facing. Secondly, we need a few months of intense schooling so they can catch up, which can be easily done by shifting the academic year from June to September."
Admittedly, the education budget is not the only reason behind the shortcomings of our public school sector. However, if we are to ensure equity, inclusion, and quality education – change needs to start from here, and soon.
References
1. UNESCO. (November 10, 2021). UNESCO Member States unite to increase investment in education
2. UNICEF. (2020). Social spending in South Asia—an overview of government expenditure on health, education and social assistance
3. World Bank. (January 2019). Bangladesh Education Sector Public Expenditure Review.
4. The Daily Star. (January 28, 2018). Where our education system has failed
Tazreen is your typical procrastinator suffering from last-minute-motivation syndrome. Send help at [email protected]