ANIME REVIEW
Time to Slay Demons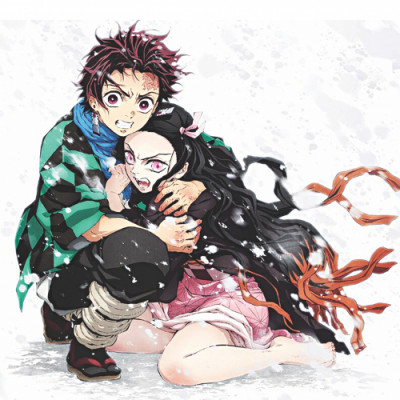 Demon Slayer: Kimetsu no Yaiba is one of the newest members of the notorious shonen category. Developed by Studio Ufotable, the show was released in Spring 2019. The macabre dark fantasy anime dramatically depicts the tragic fate of a happy family, whose heartfelt bond of love will one day be torn apart.
The simple yet hard life of ancient Japan, where people still lived in small communities and helped everyone however they could, is brought to the fore in this anime. Characters dressed in ancient costumes, the historic architecture and razor-sharp katana draw the picture of an almost magical world.
The main protagonist Tanjirou's rock-solid determination to save his sister's life and release her from the devil's curse is the beginning of a painful journey into the unknown. The story within these 26 episodes begins by building up the world and the characters. During Tanjirou's adventures, the viewer learns about the relationship between humans and demons, which can be summarised by the existence to the Demon Slayer Corps, an organisation made up of skilled swordsmen.
Although I prefer a main protagonist with "a chip on his shoulder" type attitude, Tanjirou is an interesting character to watch and easy to root for. It's refreshing to have a protagonist in a shonen anime that isn't simpleminded or overly confident. Tanjirou's diverse and absurd company makes the interactions entertaining as well. Nezuko, his sister, is cute and a lighthearted character for a demon. From her confused expressions to her size changing in an instant, she has a lot of personality for a character that doesn't speak. Zenitsu, another demon slayer, is cowardly, frantic and lacks confidence, just until the situation is dire, when he proves himself in spectacular fashion. Inosuke, the boar mask wearing boy is troublesome, wild and brash. The beginning of the show is a bit slow, but it picks up when Zenitsu and Inosuke are introduced.
For connoisseurs of Studio Ufotable, it is certainly no surprise that the legendary animation artists have once again outdone themselves. A unique drawing style, dynamic animations, the epic staging, impressive camera shots, picturesque panoramas and last but not least, the hot action scenes make Demon Slayer an atmospheric firework of Japanese animation art.
Demon Slayer: Kimetsu no Yaiba is a well-crafted anime. It blends together its story and animation very well. The anime is very intense and emotional during many of the battle scenes. It is amazing to see how vile some of the demons can be only to feel sympathy for them at the very end. The show even makes room for comedy and funny moments during the downtime. The group dynamic between Tanjirou, Zenitsu and Inosuke is very charming one. There are a few slow moments and bumps, but overall the show is thrilling and amusing. The show has wonderful writing to complement its stunning visuals. It is too early to say that it is better than other popular shonen anime, but so far it looks very promising.
Tamim Bin Zakir aka Shwag_Lord (PSN ID) is an enraged individual who seldom thinks of being generous to others. Feel free to devour his tranquility at niloy.tbz@gmail.com