The story of Bangladesh winning gold at the International Blockchain Olympiad 2022
The team from IUT students was also the only Bangladeshi team to make it to the top 3 as the bronze winner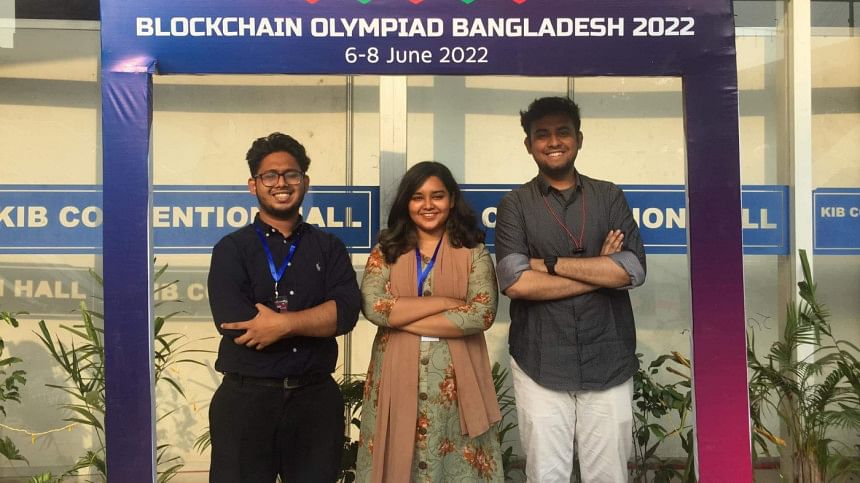 The International Blockchain Olympiad (IBCOL) is a yearly blockchain solution design competition for undergraduate and graduate students. Formed in 2017 with the goal of equipping students and young professionals with proper and full blockchain solutions, IBCOL encourages people to propose solutions to critical societal problems and challenges. 
This year's IBCOL focused on laying the groundwork for the United Nations' goal of peace and prosperity for our planets and people. As a result, it has effectively aligned itself with the UN's 17 Sustainable Development Goals (SDGs).
This year, several Bangladeshi teams won accolades at the global event. Out of these, team EV CHARGESHARE bagged the gold medal in the SDG 7 category of the Olympiad. 
SDG 7 aims to ensure that everyone has access to affordable, reliable, sustainable, and modern energy. The team consisted of team lead Tawsif Zaman, Ishtiak Ahmed Rafin, and Ekra Binta Noor from the Islamic University of Technology (IUT). These students also received the bronze medal as a part of making it to the top 3 of the competition. 
Team EV CHARGESHARE came up with the idea of ChargeShare Dapp (a decentralised app) which primarily connects idle home charging stations to electric vehicles seeking charge through blockchain technology. It is based on a peer-to-peer electric charge-sharing model.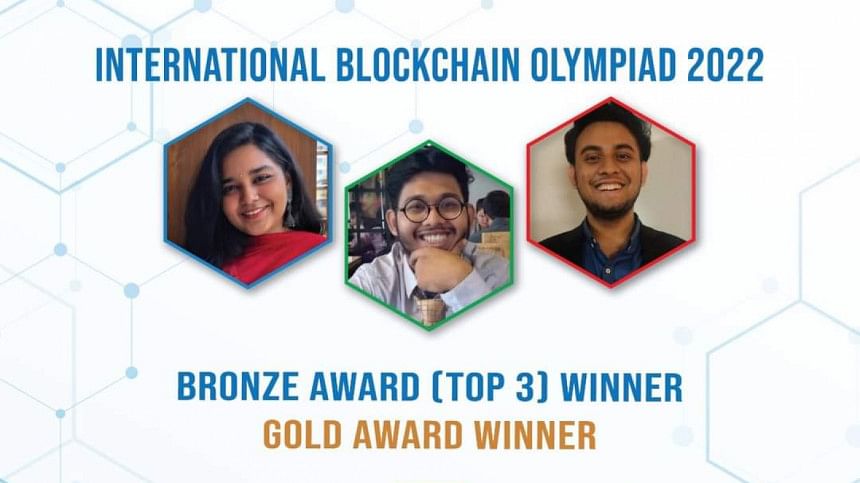 "The number of electric vehicles (EVs) is increasing exponentially but EV users are still hesitant to take them on long journeys because there are few charging stations as opposed to gas stations. Using ChargeShare mitigates this gap as each EV garage with a charging station potentially becomes our client to help provide charge across multiple locations," Tawsif explained.
The team believes that data will be the most valuable asset in the future, and blockchain delivers the maximum amount of security that vast quantities of data exchanges demand. "If we are to keep up with the current world, we must migrate to a decentralised database and blockchain has the potential to simplify all of this. This becomes significantly important as we move into the fourth industrial revolution data generation," Tawsif added. 
As of now, they are working to manufacture IoT-enabled smart plugs that will be blockchain-enabled and provide the user with autonomous charging, and they plan to export these abroad. Since EVs in Bangladesh are already emerging, by the time Bangladesh begins implementing blockchain technology in its industries, the electric vehicle sector would be fully established as well. Therefore, they aspire to become the frontrunners in terms of mitigating the charging issue that EVs are expected to face. The services they would be providing include an app for peer-to-peer charging and plug installation and maintenance. 
Their solution is appealing in several ways, but specifically because it promotes clean and affordable energy as they enable the use of EVs not only as passenger cars but also in various other sectors like electric buses, smart ambulances, and smart logistics. Furthermore, the app is set to become a one-stop solution for the problem, as it allows people to track their charge session and immediately pay through mobile financing and internet banking. 
Maisha Islam Monamee is a student of IBA, DU, and a freelance journalist who likes reading, scribbling, and blogging. Write to her at [email protected]