COVER STORY
The Single-Sex School Effect
In conservative societies such as ours, parents often want to send their kids to single-sex schools. These schools ensure that male and female students receive their education separately by putting them in different buildings or having entire schools designated for each one. Single-sex schools emphasise on delivering high quality education and a stable learning environment that eliminates students from opposite genders interact-ing/causing distractions. While that promise may have come true for some students, we often sweep some serious issues with single-sex education under the rug.
One of the most prominent issues of single-sex education is related to its most important selling points – the near complete lack of exposure to peers of the opposite gender. The implied promise of single-sex schools is about curbing "bad behaviour" at the root by separating boys and girls in order to ensure an academic life free of any sort of interactions.
However, the long-term effects of isolating the genders from each other may be staggering. Raiyan Shahryar, a former student of St. Joseph Higher Secondary School said, "A lot of my friends, including myself, developed problems with socialising with other genders due to our lack of familiarity with them or their behaviour. A lot of my friends still have problems socialising with women due to their lack of understanding; they view women as different beings and don't know how to properly behave around them. So, they prefer not to interact with them altogether."
The parents' perception of how male and female students may interact plays a big role in this conversation as well. More than not, parents may have a traditional worldview that makes them view completely innocent interactions between boys and girls to be "inappropriate." Even though their concerns may be valid in certain cases, this perspective only adds to the stigmatisation of normal, healthy interactions between peers.
In accordance with his own experience, Raiyan added, "The parents of the students in same-sex schools also make talking or interacting with girls a taboo for their sons. A lot of our parents enrolled us into same-sex coaching centres. Overall, the lack of experience and interaction with other genders, along with the deep-rooted sense of taboo from childhood that parents instil in their boys makes socialising hard for them when they finally enter organisations consisting of all genders."
Sherin Chowdhury, mother of two, shared her reasons behind sending her sons to a boys' school, "We used to live in a rural area so I had no choice but to send my two sons to an all-boys' school. In those areas, it is the norm for schools to separate the female students from the male ones. It is also the norm in our society. People pass judgment if they see kids from opposite genders interacting.
"When we moved to Dhaka, my sons attended all-boys' schools here too. But I did not react negatively to them having female friends from coaching centres. Kids can have friends. It is normal. Dividing the kids can lead to many problems in the future. The problems are all very common, unfortunately."
Apart from developing issues with socialisation, the lack of experience with peers can oftentimes end up being harmful. In the future, students may have a difficult time distinguishing proper behaviour from improper behaviour from their peers.
Tashfia Islam*, a former student from Viqarunnisa Noon School & College said, "When I entered university, I called someone a friend who ended up harassing me in the second semester. The warning bells were already ringing, but I told myself that maybe all boys are like this, or that this behaviour is normal. This was because in school, I was never taught right and wrong when it came to what sort of interactions are normal between people of opposing genders. Ultimately, being around boys is not the issue. Being around the wrong people in general is."
Tashfia further added, "Now that we are out of school, we have matured. We can now see how wrong things were there. Honestly, parents should learn that it doesn't matter if we are studying in co-ed schools or not. What they teach us themselves matters. If we were taught to stay away from wrongdoings instead of staying away from an entire gender, things would have worked out a lot better."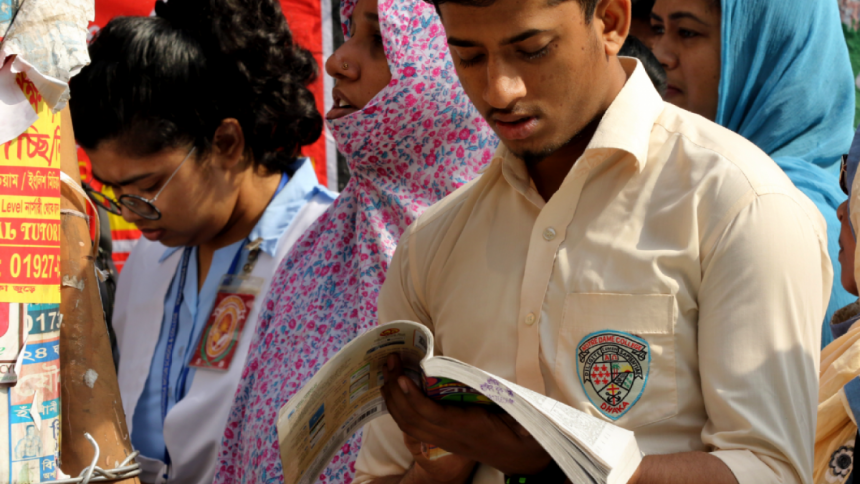 Another problem arises when boundaries are breached. Students may feel a bit too comfortable when they are constantly surrounded by peers who are the same gender as them. As a result, this may give some more leeway for behaving in a manner that may not be appropriate. Even if they do not realise it, the students may end up crossing the boundaries of their classmates, which can often border on being counted as harassment.
"A few students would behave improperly and just casually say, 'It's just us girls.' That's not a valid excuse or reason for their behaviour with others," said Shahira Sarwat, a former student of Maple Leaf International School. She also added, "Everyone has their own sense of comfort and set of boundaries. Even if they made their boundaries clear, some people just did not respect that. Maybe this 'just us girls' excuse would not have become so normalised if they truly realised just how uncomfortable they made the others feel in our own schools."
As for students who are currently enrolled in single-gender schools, the negative effects of their educational environment have already started to set in. Young students that are deprived of normal interactions with their peers can often be deprived of outlets for their typical feelings, such as childhood/teen crushes.
Nusrat Sarwar*, an eighth grader in Maple Leaf International School commented, "This probably isn't something that happens in only girls' schools, but in my experience, I have seen girls develop very unhealthy crushes on male teachers. They become kind of obsessed. My friends from other schools tell me about their crushes and they are all our age. Often, I feel scared that something bad or negative might happen as a result of our school environment. Of course, nothing bad has happened yet. But seeing the news makes me much more scared about what might happen. Someone might take advantage of the situation and do something grim or regrettable."
A student who shifted from a co-education environment to a single-sex school might gain unique insight into the two environments, which is what happened with Ibrarur Rahman Choudhury.
Ibrarur, who graduated from Bir Shreshtha Noor Mohammad Public College said, "Though my shift had changed from co-ed, I still had female friends and my socialising skills were pretty good. Here, I will give the credit to my family. They are very open-minded so the shift to all-boys didn't affect my social skills. But boys in my university, who come from boys' schools/colleges, not all but some of them, often make sexist, body-shaming jokes about women. They are often quite misogynistic."
When asked about whether or not he thought co-education or single-sex education is healthier in his opinion, Ibrarur responded, "When people study in single-sex schools, they share similar mentalities. They don't understand how to be okay with other's opinions. So, I will say that co-ed is very much the healthier option."
The perception of single-sex schools are different between generations, as are priorities. Kamal Hossain, a father of three, commented on sending his kids to single-sex schools, "All my kids were enrolled in single-sex schools. My wife and I chose this system because of the schools' good reputations. Boys and girls being taught separately was an addition. Since we are a religious family, the system matched with our views. The issues with single-sex schools are definitely valid. But I did not see those issues with my kids. So, personally, I do not regret my decision."
It goes without saying that these problems have not been experienced by everyone who studied in single-sex schools, as some people have fond and healthy memories of their school-life. Furthermore, not everyone develops the issues mentioned either. While most of the highlighted issues in this article may not be completely exclusive to single-gender schools, they do represent a fraction of actual students' academic lives.
We need to make room for appropriate discourse on the matters that are generally ignored. The necessary discourse may help to ensure that the students receive their education in a healthy and safe environment, regardless of whether or not they are in coeducational or single-gender schools.
*Names have been changed to protect privacy.
Fatima Jahan Ena likes complaining about capitalism and her forehead. Find her at mail2ena@gmail.com